Students span decades, decadence and despair
674 total views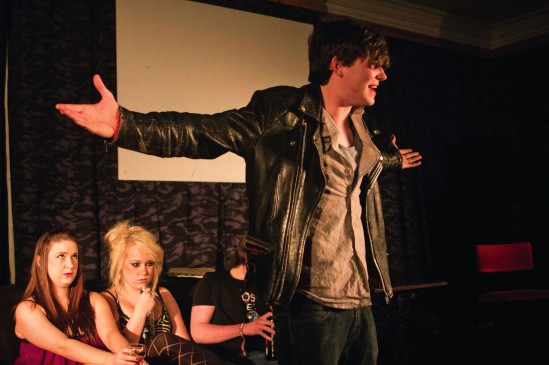 As the end of term draws near, missed deadlines fly by: not just because of laziness, but because a large group of students has been highly busy performing on stage.
Members of the Lancaster University Theatre Group (LUTG), comprised of amateurs, have the distraction of academic work to contend with, but such factors marring the quality of their board treading remains to be seen. Their production of Jim Cartwright's Road, arguably his hardest-hitting work, is the first LUTG play to be produced entirely by first year students, though the cast came from all year groups. "Oh no" was my initial thought on hearing of the experience of the production team. But, to my surprise and subsequent delight, the displays from the exceptional cast made it abundantly clear that Director Josh Coates knew exactly which buttons to make his actors push. Almost every artist on stage thrust upon us shades of the more tragic, unfulfilled lives that we've all overheard as we try to keep our distance, and reminds us why Cartwright won the Samuel Beckett award for his effort.
The same can be said for the suitably dilapidated venue that they chose to stage this play in. Upstairs at the Park Hotel Pub.
For all its bleak charm, the venue delivered the most damaging flaw in this production. Unless you were sat in the first three or four rows, you couldn't see a thing. A combination of relatively level staging, flat seating and cramped conditions rendered most of the play invisible. While one can appreciate the grimy aesthetic created by the location, ideal for emulating neglected council houses, its claustrophobic nature did not lend itself well to the idea that a hefty proportion of the events unfold in an outdoor street.
One out of two ain't bad, and the intimacy created a genuine sense of unease when the ruffians weaved in and out of the audience.
Speaking of unease, let me relate a paradoxical experience: the characters radiated the warmth, charm and humour of the scum as they screamed, slobbed and philosophised. During the interval, I was approached outside by Robin Peters (Scullery), who asked me for a lighter. I obliged, and asked; "How'd it go, you think?" "How did WHAT go?" came the abrupt response, and off he strided to the shops. Until I realized he was still 'in character', I was genuinely unnerved and on edge, and this little exercise highlighted the irrationality in our efforts to avoid such people.
Although originally set in the Conservative savaged North of the 1980s, some alterations to the text (references to Lady Gaga and Jedward) pushes the play forward to the Conservative savaged North of 2011, and the attitudes and behaviours of our grotesque zeroes don't feel a nanosecond out of date. This modernisation went to show that the question, "how'd we get from where we were then to where we are now?" (posed by Jerry, played by Matt Saint) will resonate regardless of time period.
In the spirit of the original production, everyone (bar Robin Peters) plays at least two characters. Many performers make the mistake of neglecting smaller parts, but this cast exploited the gulf that expands between seperate characters tremendously well – Michael Reffold was heartbreakingly sickly and trodden-upon as the dictophone-wielding Professor, but simply by removing his glasses and adopting a slight sneer, he becomes the ugly and lazy Barry. Abbie Jones was superficially very attractive as Lane, the boisterous hussie, but a bowed head and messy hair turned her into Valerie – a plain, beaten housewife. These particular performances stood out as one of the few instances in which it was possible to assuredly believe that you weren't watching the same two actors on stage.
The entire cast shone comedically in at least one of their roles. Be it Alex Skitt as Mr Bald, shouting at his wife (played with Pythonesque aplomb by Luke Weeks) or Matt Saint as Brian engaging in a prolonged exchange of insults with his hookup Marion (Catherine Holdsworth), the cast knew their lines inside-out, and there was a real joy in seeing performers relishing in the knowledge that a laugh was imminent. If there was a comedy award to be handed out, it would go to Peter Pearson, who proved himself to be in possession of great comedic versatility. He was as hysterically funny seriously delivering absurd metaphors (as Skinlad) as he was at portraying a mute cronie who expresses himself through the medium of strutting (as Blowpipe).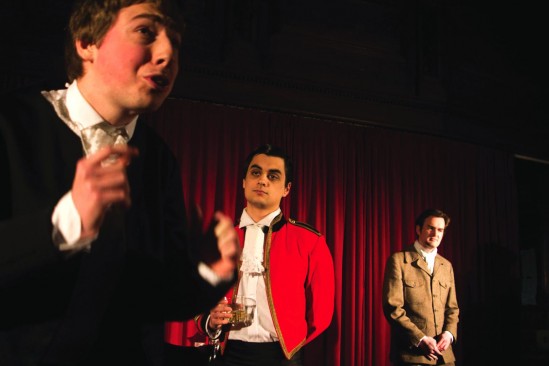 Road proves the folly in underestimating a rookie production team.
The text was handled with evident care and precision by Coates. Were it not for the hideous issue with the seating (which was rectified for the final two performances) and the occasional coughing and conversation heard from the very adjacent dressing room, both of which deprived the cast of the focus they deserved, this production would have been a triumph. Nevertheless, it was a true victory for the underdogs.
From Northern realism to Southern farce, LUTG's production of Richard Sheridan's The Rivals took place at an equally complimentary venue – Lancaster's Town Hall. This venue reduced much of the workload for the stage manager, as it comes ready-equipped with velvet drapes, brass framed paintings and an acoustic-enhancing high ceiling. To accompany the majestic surroundings on offer, baroque music punctuated each scene as period-dressed stage hands removed and replaced scenery. Scene changes were disguised as servants carrying out their duties, and we never left the the Georgian era for the entire two and a half hours.
With the feel of the period taken care of by the surroundings, what of the acting? With regards to amateur productions, there is a recurrance gap between Jacobean and 20th/21st century plays. The Rivals falls into that gap.
There is then a worry that students will lack familiarity with the text. A select few of the players had this problem, and some of their orations were reeled off, leaving the impression that they weren't really understood by the actors delivering them. This at least proved that there is a skill to speaking with conviction outside your own era. It is fortunate that the majority of the cast had a firm hand on the killer lines, and although the fluidity of some scenes was brought down by those less accustomed to such a style, the audience was rightfully responsive to a plethora of uproarious performances. The production team should consider themselves lucky to have secured such a cast, because were they not so engaging and well endowed in the diction department, the play would have been lost on the audience, especially as it's a period piece.
Lauren Davidson and Rachael Hunt took care to ensure that the stereotypes on stage remained animated at all times, and the audience was treated to the sight of 'Fighting' Bob Acres (David Helm) feeling his "valour" rising (and subsequently shrinking) while Sir Lucius O'Trigger, played with an intimidatingly sardonic air by Jon Coleman, egged him on. Leo Patel, playing the best of all the cultural Captain Jacks, was similarly adept to dry delivery, a marvelous contrast to his father's blustering and wailing. Robbie Love delivered a stellar take on the cantankerous Sir Anthony Absolute with obvious knowledge of what makes angry old men funny. He blended shuddering hobbles, greasy faux charm, screeching rages and falling asleep when women speak into one frenzious letch of a man. These recognizable traits also proved, as with the performances in Road, that some caricatures will never become outdated.
It would not be at all possible to sing the praises of the cast without mentioning Matthew Bosley, as Faulkland. With a polymathic display of both physical and vocal comedy, Bosley acted even his most excellent co-stars off the stage in every scene he appeared in. He evidently is blessed with the ability to amuse with a simple turn of the head, or even staying silent. But don't dismiss it as simply comedic acting: he also managed to register despair and longing, highly difficult to get across in the midst of comical acting.
All involved in The Rivals should be commended for being 'epic' through performance alone, a testimony to the talent that Lancaster University has to offer. Both Road and The Rivals are a strong indication that LUTG has versatility and the ability to dip its toes into every genre that the theatre has to offer.