Women's Indoor Hockey Seconds unlucky to draw
521 total views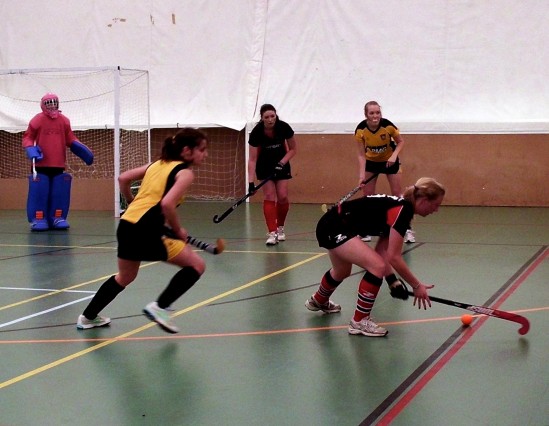 After an extremely fast and competitive game, the Lancaster side drew with York 3-3 in the Women's Indoor Hockey seconds.
Laura Woodhead got a shot at goal relatively early on, putting the away side into the lead despite the opposition's defence.
Both sides were displaying some impressive skill and some incredibly hard hits were being made. Even with the crowd of spectator's from both sides vocalising support for the teams, the Lancaster girls remained focussed and concentrated on the task at hand. York were unable to score before the break.
After the half time team talks, Lancaster came out fighting and just minutes after the break, Laura Woodhead, supported by her teammates, put the goal between the posts once again to increase their lead to 2-0.
Nonetheless, York's determination was apparent and made  their impression after a series of attempts at goal.
It was at this point when the real competition started. In quick succession, two goals were fiercely scored. Lancaster scored, however, merely seconds later – York employed the relaxation of the Lancaster side post-goal to speedily make up the ground that was lost.
This was clearly frustrating for the away-side and it showed in their play. The York spectators were fully behind their team and Lancaster made a couple of mistakes to give the home side a few penalty shots at goal.
Luckily, Lancaster defended these goals well but it was in the closing minutes after a run of excellent play that York managed to equalise, making the final score three a piece.
The captain of the Lancaster seconds, Katie White, told SCAN: "I think we played really well as a team, as it was the first time we have played together. It was extremely disappointing that re drew when we were in front for so long."