Salmon and spinach with tartare cream
636 total views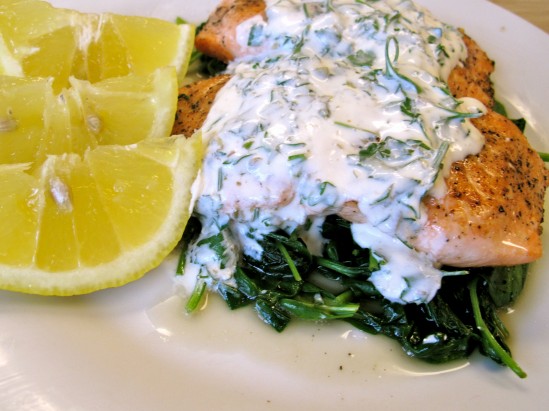 Ingredients
Two salmon fillets
One teaspoon vegetable or sunflower oil
250g bag of baby spinach
Two tablespoon crème fraîche
One half lemon, cut into wedges, plus another half juiced
One tablespoon capers, drained and if desired, slightly crushed
Two tablepoon flat-leaf parsley, chopped
Salt and pepper
Method
In a large non-stick skillet, heat the oil over medium heat. Add salmon fillets, flat side down, cooked until the bottom is browned. Turn salmon and cook until opaque throughout. Set aside.
Increase heat to medium-high. Add spinach in the hot pan, season well with salt and pepper, then cover with lid. Leave until soft for about one minute. Stir once or twice. Spoon spinach onto a plate and top it with the seared salmon.
Drain excess oil. Over medium heat, gently heat the crème fraîche. Add lemon juice, capers and parsley. Spoon the sauce over the salmon and spinach and serve with lemon wedges.
Tips
Choose unsmoked skinless salmon fillets sold in a pack of two.
Cook salmon over medium heat for about three minutes each side. Do not overcook. When cooking, make sure salmon fillets are about two inches apart.
Cook spinach in batches if necessary. Drain excess oil when conveying onto plate.