'Fake beach' mooted as a unique selling point for Lancaster
1,188 total views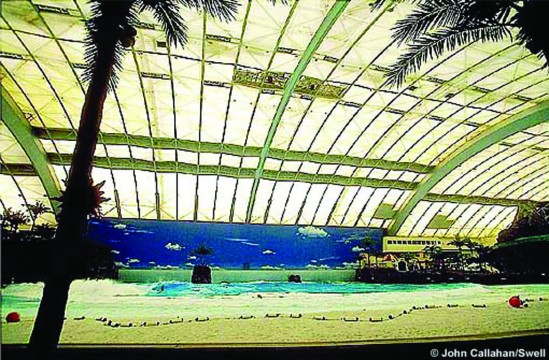 Leaked papers from the University Management Advisory Group (UMAG) outline a plan to plough considerable money into making Lancaster a destination university once fees rise to £9,000 a year.
The leaked document explains the University's concern that compared to other institutions, such as Leeds, Manchester and Liverpool and city of Lancaster doesn't offer much to draw potential students to the University.
Top of the list of suggestions for how to make Lancaster the university of choice for future students is a proposed expansion to the new Sports Centre to include a fake beach. The logic, according to the document, is that many universities boast a music scene but very few can claim to have a surfing scene.
The plans are apparently quite advanced, with potential contractors having already provided quotes and designs. The highest ranked is a proposal by Mitsubishi Heavy Industries Limited, the company behind Japan's famed fake beach The Ocean Dome, part of the Sheraton Seagaia Resort. The Ocean Dome, which is almost 20 years old now, cost upwards of $2bn to build at the time. The designs for Lancaster are far smaller and as such the cost considerably lower. The UMAG paper estimates it at around £10m for completion by 2015. Unsurprisingly given Lancaster's climate, every plan from the different contractors includes a roof.
Initial indications suggest student opinion is split over the possible investment. Marc Handley, Vice President (Sports) for the Students' Union said: "I think this could potentially be a fantastic move by the University. Think about it. York are never going to be able to match us in water sports again. It's as good as a guaranteed Roses win."
His colleague Robin Hughes, Vice President (Academic) was more critical of the proposals. "This is an absolute outrage," he said. "At a time when the University should be concerned about carrying forward a holistic vision of Lancaster as a paradigm of pedagogy, they've literally got their heads in the sand."
Becky Vicars, a first year Lonsdale student was torn by the idea. "On the one hand, as a Languages student I feel there's a lot of investment that could be made there that is being wasted on a hyped up sand pit. But on the other hand, I really wouldn't mind if it meant we got a Hollister or Fat Face on campus."
The University was unavailable for comment.
An editorial on this article can be read here.