Lancaster Men's Indoor Hockey 1sts succumb to ruthless York
465 total views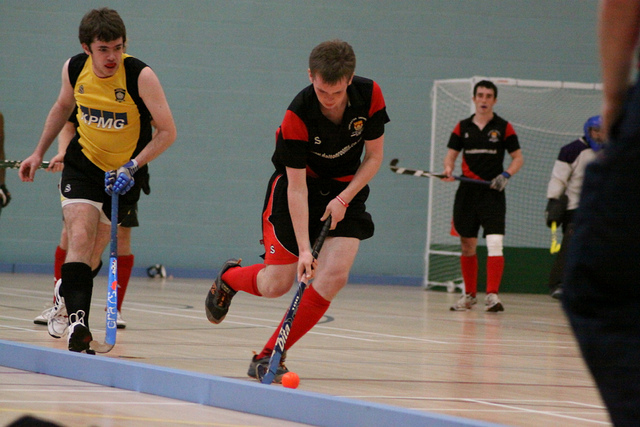 Lancaster 2 – 8 York
A spirited performance by Lancaster nonetheless resulted in comprehensive defeat against their York adversaries in this Men's Indoor Hockey 1sts Roses clash.
Played amidst the backdrop of a highly energetic crowd in the Main Sports Hall, Lancaster made a fairly positive start, soaking up pressure from the opposition with relative ease and producing some positive attacking play. However, it was York who opened the scoring seven minutes in through James Branton, in what was to prove a precursor  to a flurry of first half goals.
Lancaster's response to this setback was both impressive and immediate, promptly equalising the scoreboard. When minutes later Lancaster took a 2-1 lead thanks to a well placed penalty stroke, there was genuine optimism that the home side would go on to secure an overdue victory, having drawn two and lost three of their annual tournament fixtures from 2006-2011.
Yet York seemed galvanised by going behind for the first time in the match, and produced a relentless attacking performance from then on to half time. Lee Watton produced an equaliser before left-back Hugo Christie converted a penalty to re-establish the visitors lead.
Further quick-fire successes by Kris Stragnanan and Christie assured a 5-2 advantage at the break, and the hope was that the interval would provide a necessary opportunity for Lancaster to regroup.
The breathtaking, high scoring nature of the first 20 minutes somewhat relented as play restarted, although the match still continued to be an entertaining spectacle. York continued to dominate possession and monopolise goalmouth action, hitting the post within one minute and earning multiple short corner opportunities. In contempt of the strong defensive effort provided,  the Lancaster rearguard was again breached nine minutes into the second half through a short corner routine converted once more by Christie.
Shortly after a time out, occurring with seven minutes of the contest remaining, York continued to increase their lead with two goals in two minutes from Watton and Laurie Torrington, placing the result beyond all doubt and rewarding their consistent high intensity play.
Lancaster Captain Matt Abell admitted: 'We found it difficult to deal with their three players up-front, who confused us in the first half, and unfortunately we never really recovered.'
The final scoreline of 8-2 gained York two points towards their 2012 Roses tally, and saw their unbeaten streak in this fixture continue for another year, but both sides must be commended for their contribution towards a feircely competitive, highly enjoyable game, ahead of the outdoor hockey fixtures on Saturday.