BBC Presenter speaks to SCAN
547 total views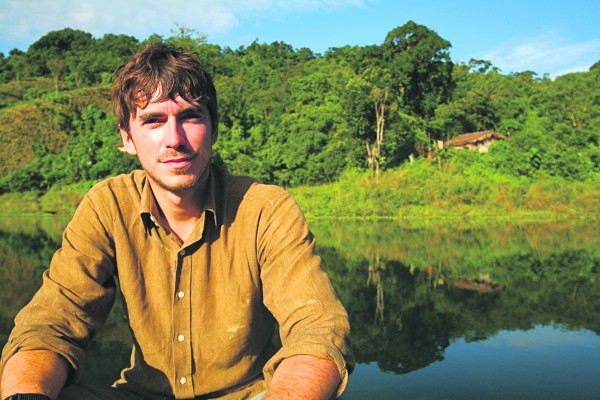 BY Laura Kay
The arrival of BBC television presenter, author and adventurer Simon Reeve to campus was a welcome breath of fresh air for students with exams fast approaching.
Reeve visited the campus on Thursday May 10th with an armful of tales, ranging from exciting to alarming, to deliver an educational and exciting session organised by Lancaster University's Geography Society. Prior to the session, SCAN caught up with the increasingly popular presenter for an interview.
Reeve describes himself as "basically a bit of a TV ponce, who travels exotically on TV programmes which blend travel and issues." He is notable for his previous appearances on Tropic of Capricorn, Tropic of Cancer, and Equator.
When questioned as to his favourite project to date, Reeve chose a series he worked on a several years ago entitled Places That Don't Exist, which centred on "unrecognised countries": essentially, countries "that aren't officially countries."
"There are a surprising number of them in the big wide world. Something like 300 million people live in countries that aren't officially recognised" he explained. One such country is that of "Transnitria" located "between Moldova and Ukraine" with a population of about "800,000 people."
Reeve clarified that in terms of the government, an unofficial country is "not recognised by any other, or almost any other, government other than its own." Consequently, "it doesn't show up on the map as being a different country, but when you get there you discover that there is a border manned by troops." Reeve went on to animatedly describe how many such countries exist, one of his favourites being "Somaliland, which is north of Somalia and is a democratic stable country in a very difficult and dangerous region" yet "nobody will recognise it as a country!"
Reeve also spoke of some of the dangers accompanying his job. "I have had scary moments" he said; one of which was driving on Indian roads whilst filming his most recent documentary, Indian Ocean. He labelled the roads of India as "a source of no small terror" due to the less stringent road safety regulations. "I was driving along dual carriageways there and there were cars coming down the other side of the central reservation. There were trucks and lorries and buses coming straight towards me, sometimes in the same lane as us!"
He also described his time in Mogadishu in Somalia, where they needed to wear a "flak jacket, helmet" and even "blast boxers": a form of armoured underwear. "We were taken to the front line and witnessed urban warfare, essentially, in the 21st century. It's still going on, and that was very obviously a terrifying place to be."
Several years ago Reeve also caught malaria on journey around the equator. "I nearly died, basically" he said, "I thought I was watching the A Team – which is very odd really!"
Reeve also discussed his time as a student, explaining that he got into media "by being a very unsuccessful, unimpressive student." He added: "I failed miserably at academic pursuits and got a D at my English A-level."
Leaving school at 17, a "hopeless" Reeve "got a job as a post-boy on The Sunday Times newspaper", allowing him to get his "foot in the door." Beginning as a "dogsbody" he then went on to write books on terrorism, "nobody read the books when they came out" he said, "but 9/11 happened and the world transformed."
In terms of the advice he would give to students wanting to get into the media, he initially joked "don't do it!" "It is interesting," he went on, "but you've got to be really committed and you've got to really, really work hard. People will say you've got to send out a hundred letters – add a zero to that."
A committed attitude, vivid imagination, and being assertive "in terms of pursuing opportunities when they arise" are qualities that Reeve outlined as being essential. He also suggested building up a portfolio along with different experiences in "several areas of expertise."
Speaking again about his own career, Reeve emphasised that when he's not filming projects he just likes "normal life."
"I get a lot of excitement on my job and my adventures, I love that, but when I'm home I savour the normal things. I savour the fresh water that comes out the tap and the supermarket down the road; that's rare on planet earth, and I feel very blessed to live in a country where that's possible. So, I don't take thing for granted and enjoy the little things."
Simon Reeve's most recent travel documentary, Indian Ocean, is currently being aired on BBC 2. Episodes are presently available on BBC iPlayer for a limited period.