Activities Awards celebrates 2011/2012
490 total views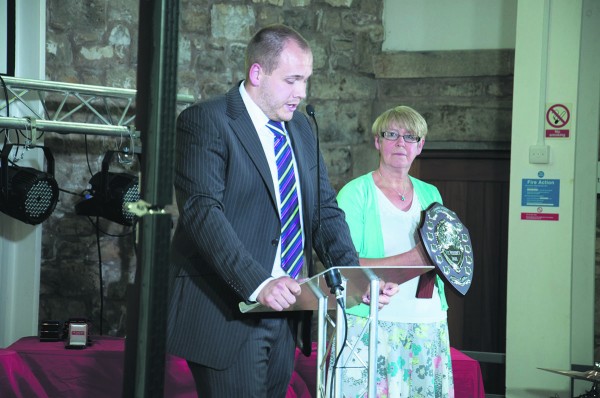 Barker House Farm played host to the inaugural Lancaster University Students' Union (LUSU) Activities Award on Wednesday 13th June.
The decision to change the traditional Sports Awards to Activities Awards reflects the change in the Vice President role associated with activity groups in the Students' Union. Marc Handley, who served as Vice President (Sports) last year, is now the Vice President (Activities) and the position oversees both sporting clubs and societies.
Hosted by Olly Trumble, Vice President (Events and Democracy), the awards were split in to different sections. George Gardiner, LUSU President, was first to present – presenting the awards for the inter college leagues which were dominated by Fylde – the 'sporting college' collecting trophies for both netball leagues and the football B league. The A league was won by Cartmel College.
The George Wyatt Trophy, which encompasses darts, pool and dominoes, was closely fought between Lonsdale and Pendle, winners of the women's dart and men's dart leagues respectively. At the end of the league, Lonsdale came second with 521 points – Pendle were victorious with 531.
Ellie Sutherland and Tanya Nadarajah, LUSU Inter-College Sports Officers, introduced the winners of the Carter Shield events.  One of the most successful colleges was Graduate, who in previous years have struggled to field teams for the majority of events. Thanks to a few select individuals, Graduate achieved great victories in dodgeball, men's basketball and rounders, spurring them on to the runners-up shield. The eventual winners were Fylde, who took individual victories in unihoc, women's basketball, kwik cricket and women's football.
Other awards were given to the winners of the LUSU football and netball handicap leagues, as well as the presentation of seven plaques to clubs who had won the BUCS league within their sporting disciplines.
LUSU awards colours each year to individuals and teams who have achieved sporting success outside of the University. This included five individuals from the archery club, Martin Sutton (rugby league) for representing regionally, Mike Logan (pool) for representing England and Gareth Dunkerley (karate) who represented the British Universities Team at the World University Championship.
The final awards were voted on by Activities Council and selected personally by Handley. The LUSU Society of the Year was awarded to the Athletics Society, whilst Handley presented his Vice President Society of the Year award to the Ballroom Dancing Society.
In similar categories for sport, the Activities Council voted Ultimate Frisbee the LUSU Sports Club of the Year, with Handley award his Vice President accolade to the University Netball Team for their impressive season.
The event was closed with an emotional speech by Handley, who has guided LUSU Activities for two years. Fighting back tears, he thanked the Sports Centre, Facilities, his colleagues at the Students' Union and everyone who has participated in an activity group at Lancaster.