Station: LUTG review
511 total views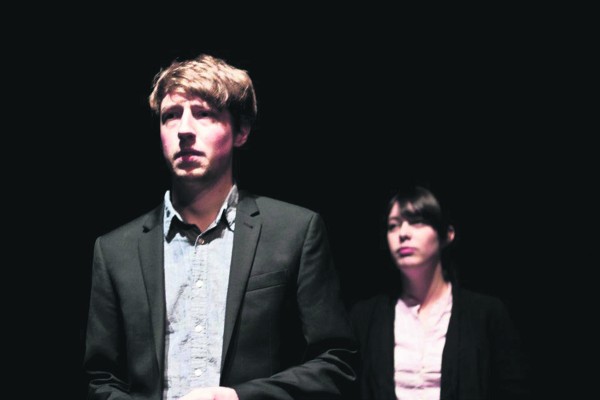 Photo by Ewan McCaffrey
That old aphorism, 'time heals all wounds', will always be suggestive of those most turbulent journeys of self discovery that span several years. There is no character development stronger than that caused by time, and yet, it's a circumstance rarely used for that purpose.
Lancaster University Theatre Group have proven time and time again that, in their case, the standard unease towards the quality of 'amateur dramatics' need not apply – technically and artistically they have consistently punched many miles above their weight.
The society has set themselves a new, far higher hurdle in the form of 'Station', the first play by first-year student Andrew Ainscough, and the first home-grown Theatre Group piece since Tom Markham's 'Honour after Honour' two years ago. Theatre Group is developing a thirst for firsts, and there was always the worry going in that they may have downed more than they can swallow.
Snapping between a quiet train station in the early hours of the morning and loud memories in the early years of their lives, 'Station' traces the history of Thomas (Ross McCaffrey) and Steven (Matthew Bosley), two middle aged men who chance to meet one another on a railway platform after a long time of no see.
With a stilted and distant atmosphere from the off, there is an obvious tension between the two, gradually accounted for by flashbacks to their teens and twenties which are played out before them across the Nuffield Theatre's sprawling desolateness by Luke Weeks and James McCowan as their teenage selves.
The plot is very much a two-piece jigsaw – the older Thomas and Steven will hint at a momentous point in their relationship, said point will be enacted and etcetera. But despite the simplicity of this narrative, Ainscough's characters are doggedly human, and for such a young writer he shows a remarkable aptitude for young dreams and the priorities that shift with age. Most enlightening, of many such straightforward moments, was Lauren's (Ellie Kirby) upset over a miscarriage – seemingly random and yet utterly poignant when her younger self (Abbie Jones) deals with inconsequential teenage dramas with much the same passion.
Despite hitting many emotional bullseyes, the script 'tells' just a little too often – Thomas and Steven will constantly refer to their age and describe each other's traits – a shame, because the rest of the dialogue 'shows' everything we need to see, and the more explicit lines suggest a highly unfounded lack of confidence on the writer's part.
The ever-surprising Matthew Bosley delivered endlessly sullen good as Steven, and worked well with a very jittery, tortured looking genius in Ross McCaffrey. With characters clearly defined by their age, it was a surprise to find that a cast of under 21s (with the exception of PhD student Keely Hawkins, making an excellent LUTG debut) didn't barricade the play's most important theme – the lead actors look young, yet become very old when good staging and lighting makes them look almost like ancient scenery as they watch their fresh faced selves. Luke Weeks and James McCowan converged quite frighteningly well, their mannerisms slowly mirroring those of their counterparts as they become more and more accustomed to each other's presence.
Without a doubt a vaulting baby step by LUTG, 'Station' may well go down as the founding start line for many years of exciting originality from the society to come.