Annual Jailbreak competition aims to help Enactus projects
1,030 total views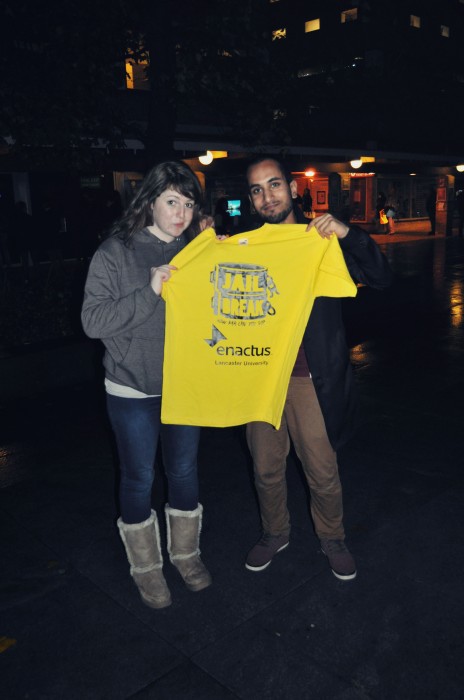 On Friday, Week 5, 39 teams of Lancaster students took part in the annual Jailbreak competition. The competition was run by Enactus, a worldwide organisation which raises money through entrepreneurial projects, combining the talents of both students and businesses.
The candidates, who set off from Alexandra Square at 6pm, equipped with crazy fancy dress, had 36 hours to travel as far away from Lancaster as they could. With no money, the groups relied on help from train lines, airlines, businesses and general members of the public. This year's competition became even more exciting with the contestants being able to travel worldwide, rather than being simply confined to Europe, like they have been in previous years.
The money raised through this year's event will be divided up between Enactus Lancaster's international and local projects. One project, The Brazil project, aims to help ordinary businesses in Brazil make the most of the investment following the Olympic Games and the Zimbabwe Educational Development project focuses on helping young residents of a children's home get into permanent employment. The money will also go to their local project "Difference: Enabled" which works in engaging with autism in the local area, helping to broaden the employment prospects for people with autism.
Jail Break 2012 raised just over £4,000 but unlike previous years, this year Enactus have joined forces with 'Raise2Give' which the event organiser David Williamson hopes will increase the donations and enable candidates to raise more than ever before. Through Raise2Give, the candidates were tracked throughout their thirty six hours and could be located on a map on the Raise2Give website, making the competition more interactive for friends and family and increasing the likelihood of donations. As well as this, Williamson also said it has meant that people who have helped contestants along the way can also more easily donate, which has been difficult for them to do in the past.
Speaking to some of this year's contestants before they set off, third year Sam Ogden –  who is competing with her partner Georgina Harrison – said they wanted to get involved with Jail Break 2013 "to do something different: it's an adventure and it's a good way to raise money". However, the girls haven't received much support, Ogden says "people seem to think it's a terrible idea, all my friends and family think it's really dangerous". Vice President of Enactus Chelsea Quayle also says people have been "quite stingy so far" though both groups have said that they hope the support will build up throughout their weekend of travelling, especially as Quayle's team were aiming to "get out of the country" and to somewhere they've "never been before."
One of last year's winners, Mathew Gillings managed to travel as far as Tenerife with his partner Dean McDermott, with the help of Northern Rail, Monarch Airlines and Thompson. The key to their success was organisation says Gillings, "you've got to be organised if you want to get far and want to take it seriously, but it's going to be just as fun even if you've got no organisation". Fortunately for the winning pair, their plans came together in the last half an hour before they were due to set off last November. Gillings and McDermott returned to the competition again this year with the hopes of getting even further than last time.
More information about the Jailbreak competition can be found at www.raise2give.com/enactus-lancaster-jailbreak-2013/