Australia gain ascendancy in first Ashes Test
441 total views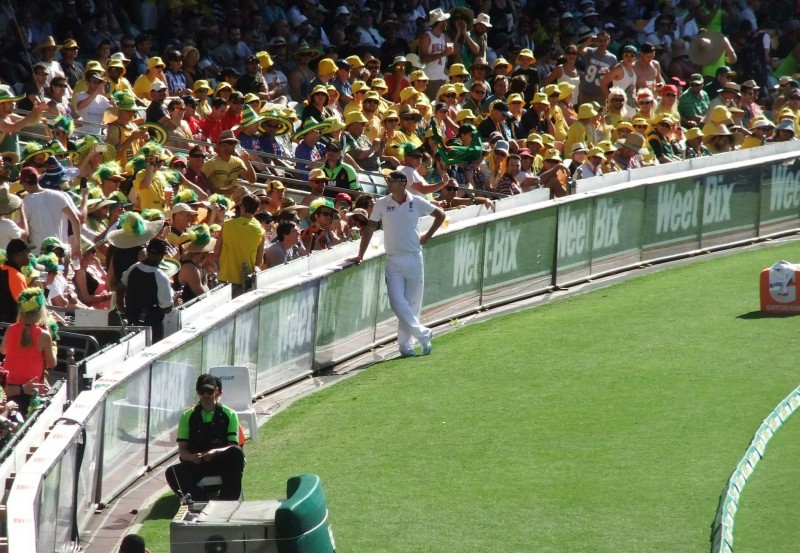 Australia took a huge step towards their first Ashes series victory since 2007 with a mammoth 381 run victory over England inside four days at The Gabba. England's top order failed to deal with the pace and bounce produced by an in-form Mitchell Johnson, as Australia took a 1-0 lead in this winter's Ashes series. While Australia executed their plans perfectly, Andy Flower will want his batting line up to not surrender their wickets so easily like they did in this test match.
Cricket is often broken down into 'mini-battles', the little moments that go on in each session. In the previous Ashes series this summer, England won the majority of these encounters: here at The Gabba, they didn't even turn up for them. Australian's over here are adamant that Mitchell Johnson is now back to his best, Michael Clarke is both the best batsmen and captain in the world, and that they're going to win 5-0. In reality, England lost this match on day two in one session. They crumbled from 82/2to 89/8 and shifted the momentum straight back to Australia, after a very good first day. The little battles were all won by Australia: Johnson vs Trott, Cook vs Clark – it paints a bleak picture for an Englishman down under. So where did it all go wrong?
England started the test well: despite losing the toss, they limited Australia to 100-5 on day one. But as any England cricket fan has seen in recent times, England have lacked the critical edge that South Africa and other teams tend to have. By allowing Mitchell Johnson and Brad Haddin to put on  a substantial partnership of 114, they allowed Australia to reach 295. Like everyone around Brisbane, I was adamant that this total was at least one hundred short: the pitch looked a classic Gabba deck, decent bounce and good for batting. However like Jonathan Trott's dismissal in the over before lunch (strangled down the leg-side needlessly), England collapsed after lunch in dramatic fashion. First Kevin Pietersen was tied down and played a loose shot to midwicket, before Michael Carberry was worked over both by the rejuvenated Johnson and his own tentative approach towards the spin of Nathan Lyon. Lyon, accounted for both Bell and Prior in successive balls, and then Joe Root let the pressure get to him and threw his bat at a wide Johnson delivery edging behind. From 82-1 to 89/8 England lost the game in the space of an hour. Even Stuart Broad's counter attacking 32 didn't help hide the serious cracks in England's top order.
Australia came out and batted like the Australia of old: positive, aggressive cricket. I was fortunate to watch both Clarke and David Warner hit very quick hundreds on the third day, and then see Carberry and Trott fall before stumps on day three. 561 the target, 8 wickets down, two days to bat. Trott's dismissal was awful, his innings was right up there with some of my own down the years; clueless. Everyone in the ground knew that he was going to get some 'chin music' (bouncers), and yet he played a half-hearted shot and hit it down the throat of one of the outfielders. I spent most of the third day telling Australian fans about our last second innings here, Cook and Trott both scoring bit centuries and England declaring 500(check) for one. It was hard to believe a feat possible, especially with Trott departing so meekly. I felt for Carberry, playing onto his own stumps, his delivery summing up England's day really.
 Pietersen and Cook started day four comfortably, and whispers of an England revival, coupled with erratic storms over South East Queensland all pointed to signs that England's unbeaten streak this year might, might just survive. It was wrote for Pietersen this moment: England up against it, his 100th test, a crowd that he had spent the last three days winding up. And yet, he top edged a Johnson short ball to the substitute fielder and England's hopes vanished at that moment. Cook and Bell may of batted the match out, but if Pietersen batted for a long period of time, England will have scored a lot of runs. Bell received a decent delivery from Siddle and Alistair Cook edged Lyon behind. Matt Prior came to the crease, with two golden ducks at The Gabba his only experience of batting here. He managed to get off the mark before playing another pointless shot to leg slip, before Broad and Swann played weak shots to be caught behind the stumps. Rain then threatened to help England but after a few stoppages of play for showers, England's final two wickets fell quickly, giving Australia a huge advantage in this most exciting of series. Mitchell Johnson finished with nine wickets in the match and 100 runs: repaying the faith the selectors have shown in him. He finished as man of the match.
Since the result the unfortunate news emerged that Jonathan Trott has had to return home after a long term stress related problem that surfaced while in Australia. Now with a batting slot up for grabs following Trott's departure, Gary Ballance would appear to be next in line, although Johnny Bairstow could put his case forwards as well. England could move Root up the order, with him opening batting previously for England and Yorkshire this year.
Totals  of 136 and 179 underline England's poor batting performance in this test, and they are easy to see where. Our top order have some serious issues to address before the next test in Adelaide. Jonathan Trott, Kevin Pietersen and Matthew Prior in particular will not want to see either of their dismissals again. All three played loose, very ordinary shots which they could've either left or defended. All three were caught out twice and really need to work hard and both Pietersen and Prior will need to come back much stronger for the second test as Trott watches from home. Carberry was the only top order batter who stood up to the pace of Johnson in the first innings, but by letting Nathan Lyon bog him down, his scoring dried up and he eventually was caught behind. I think Carberry needs to go back to what got him picked: positive batting at the top of the order. If he can stick around and score with Cook at the top of the order, it alleviates the pressure on the middle order.
It's difficult to take positives from this test match from an English point of view. England, in their last five away test series, have posted scores of under 200 in the first innings, highlighting their vulnerability at the start of tours. However, Alistair Cook looked composed before falling just after a rain delay in the second innings, and Joe Root also looked much more like the batter many Yorkshire fans know with his 26 not out in the second innings. While Chris Tremlett returned okay figures in this match, England should be boosted by the return of Tim Bresnan in Adelaide, a very underrated player in my eyes, which should boost their bowling options and lower order batting.
This series is promising to be explosive, with James Anderson and Michael Clarke in particular having a confrontation just before Australia claimed victory. The contempt that the Australian public showed for Stuart Broad throughout the test, 'Broady's a w****r' the only song the Australian fans seemed to know, carried through to the Australian newspapers. The Courier Mail (for anyone who hasn't had the opportunity to read this paper, think of The Daily Mail), had taken to censoring Broad's name and picture; somehow this didn't stop him taking 6 wickets in Australia's first innings.