Michael Schumacher: A man who has lived on the edge
453 total views
Formula One legend Michael Schumacher suffered life threatening injuries after a skiing accident in the French Alps on December 29th, where he sustained serious head injuries after skiing off piste and falling heavily, colliding his head with a rock. Schumacher, now in an induced coma, is in a stable but critical condition recovering from his injuries. Although in tragic circumstances, response to Michael's accident has signified his role as one of the worlds most successful sportsmen over more than a decade, having established himself as the most successful F1 driver of all time.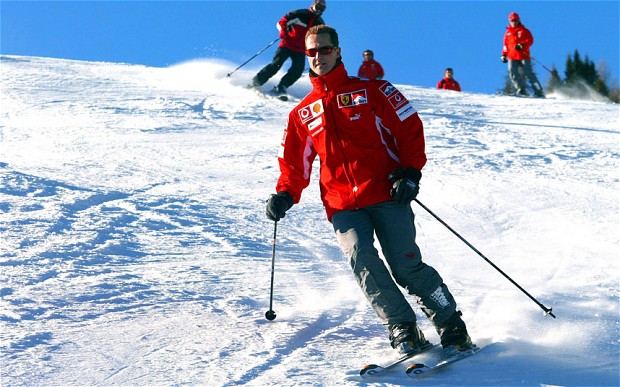 The huge impact Schumacher made upon Formula 1 has been made evident through the vast amount of public support for him and his family during this difficult time. The clinic in which he is being treated is not just surrounded by the world media, but also hundreds of fans who quite poignantly marked Schumacher's 45th birthday on the 3rd of January, with a silent vigil outside the hospital. This action has shown the widespread support for Schumacher's family during this traumatic time, who said they were "deeply grateful" and "utterly overwhelmed" by the action and the worldwide messages of support. Although Schumacher's physical situation has significantly improved, Doctors have still stated that he is "not out of danger" yet.
Skiing with his 14 year old son, Schumacher hit his head whilst on an unmarked slope in the Meribel resort, after skiing off piste. French investigators have stated that Schumacher, a "very good skier", was travelling at a speed "normal for his terrain". Schumacher, who was known as a driver for being risky and ruthless, has suffered because of neither of these attributes, but for bad luck during leisure. These events do however raise an important issue- the dangers of early season skiing off piste. As stated by commander Stephane Bozon, "unfortunately it's a season where going off piste is risky, where the rocks are hidden just below the snow." Fortunately, Schumacher was wearing a helmet, stopping his injuries from being fatal, although skiing fatalities are still a rare occurrence.
Many have recognised the irony that Schumacher had sustained a long career in the very dangerous and high-risk world of Formula One, but suffered horrific injuries when on a family skiing holiday. Schumacher, like most Formula One drivers, retired from the sport but did not give up on life in the fast lane. When asked what gave him a buzz outside of driving he replied, "skydiving" despite having a fear of heights. This is a man whose career was indebted to ruthlessness and risk, and after leaving team Mercedes  and his F1 career with it in 2012, did not look likely to put on his slippers and watch countdown. Throughout his career he was accustomed to close shaves, surviving crashes with little mark to show for it in both 1995 and 1998; In 2009 he had to postpone his initial return to the sport after fracturing his skull in a motorcycle crash. Despite risking his life so regularly, the gravity of his situation now has still brought shock and sadness.
Schumacher's Formula One career can too easily be put down to just statistics. On paper he was the best Formula One driver of all time. He was won more titles than anyone else, recording 7 championship wins over his illustrious career, as well as 91 race wins over his career, 40 more than other driver ever. Many argue that his statistics illustrate a not entirely true picture of his ability, but nevertheless, he was undoubtedly the best driver of his generation. He was a consistently superb driver, but it is hard to recognise whether he was able to do so because of a lack of quality competition or that he was too talented to allow for competition. Many argue the prior, although, as is often the case with Formula One, this comes back to tragedy; In 1994, the year in which Schumacher started to make great waves in the sport, Formula One also suffered its most recent fatality. The death of Ayrton Senna, the driver many consider the best ever (although on paper is far inferior to Schumacher), not only halted the possibility of two of the sport's greatest competitors battling it out, but encapsulated the high-risk and drama surrounding the life of a Formula 1 driver.
The sport's current crop of competitors have taken to social media to show their shock, and support for the Schumacher family. Sebastian Vettel, Romain Grosjean, Felipe Massa and Jenson Button all showing their support, Button tweeted: "My thoughts are with Michael Schumacher at this time. Michael more than anyone has the strength to pull through this." Michael was often seen as an unpopular competitor due to his ruthless attitude behind the wheel, but clearly garners great respect and admiration from anyone involved in F1.
After his retirement in 2012, he said "I prefer to be described as a fighter, someone who never backed down." All fans of the sport will be hoping he can show this mentality now in his fight for life, as much as he did behind the wheel.