Lancaster end 10 year curse in Men's Lacrosse
479 total views
Lancaster men's lacrosse team gave one of the performances of the Roses weekend, gaining a historic win in dramatic circumstances against much fancied York opposition. Despite Lancaster not having won the fixture in ten years, they clinched the end-to-end encounter 6-5, through a superb winner by Lancaster captain Andy Challis. Challis' exploits were much needed after Lancaster let an early 5-1 lead slip, with York taking advantage of a tiring Lancaster squad bringing the match to 5-5, all before the match-winning goal.
Both sides came into the match in excellent form, each team having won all of their league matches this season to claim promotion in their respective divisions. Despite Lancaster's recent form they were very much the underdogs, having last won the Roses fixture in 2004. Nobody seemed to tell the team that though as they got off to a roaring start; immediately Lancaster took advantage of some sloppy York play to open the scoring. Soon after, Lancaster extended their lead further with a pair of goals from Harry Herbert, who gave an outstanding performance throughout, to give them the 3-0 lead. Just before the end of the first quarter York got on the scoreboard but were still behind, 3-1.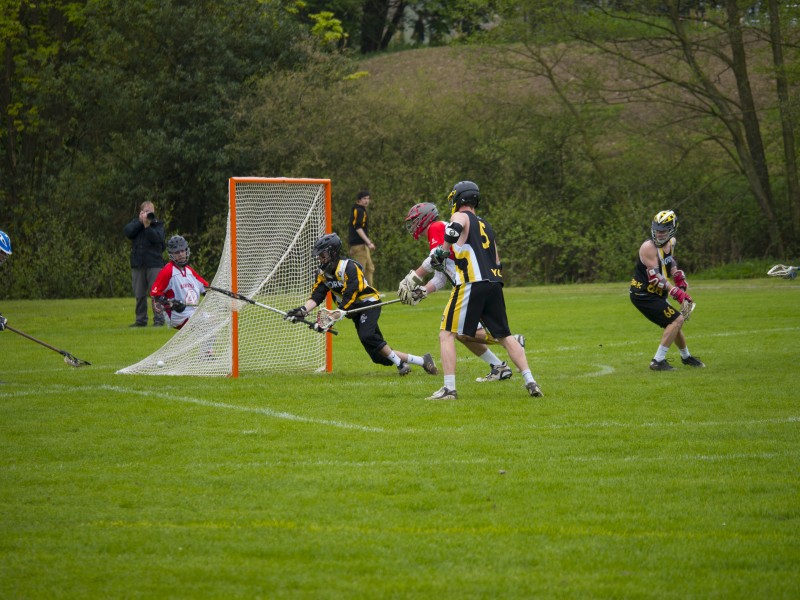 In the second quarter Lancaster maintained their supreme attacking play, as well as defensive discipline, to restore their three goal cushion through a clinical Siddall goal. The score remained 4-1 halfway through, and Lancaster managed to go further ahead after the third quarter began. Herbert gained his much deserved hat-trick with a magnificent solo run, giving Lancaster a dominant 5-1 lead. Nonetheless, York's quality was still evident and as Lancaster players began to suffer from their incredible early work-rate, York got themselves back into the game. They scored twice in quick succession, leaving themselves only 5-3 behind going into the fourth and final quarter.
Lancaster's players looked exhausted and spent, as York built upon their momentum. A Lancaster foul allowed York to use their one man advantage to bring the scoreline to 5-4. The large and noisy crowd pushed Lancaster on, but were unable to stop the team conceding a fifth, with York looking the more likely to win as the two sides drew level at five apiece. Injured players adorned the sidelines as both sides seemed to be suffering from tiredness in this brutal last quarter, but it was Lancaster looking the more likely to crumble.
Nevertheless, there was no stopping Lancaster's captain Andy Challis, who looked like he'd given all there was to give. Under York pressure Challis broke free driving towards the York goal before accurately giving Lancaster the lead once more, to the delight of the home support. Five minutes later and the final whistle was blown. The match was Lancaster's. An incredible performance by all led to equally immense celebrations, with the majority of the crowd running on to the pitch as Champagne was sprayed onto the triumphant team.
Speaking to SCAN after the match, David Clucas from the team said "this is the first time in over a decade that men's lacrosse has been able to defeat York, so it's a momentous win. This was a massive upset victory for us, and the atmosphere at the game was absolutely incredible in helping us get there, and we're very thankful for the great support." Clucas was keen to commend the immense efforts of his team-mates. "It was a solid team performance, with absolutely everyone in Lancaster colours playing out of their skin, with particularly great showings coming from goalie Luke Wilson and attacker Harry Herbert who got a hat-trick of goals." The team spirit and extraordinary effort from the whole team made the triumph sweet, as Lancaster men's lacrosse team etched their mark on Roses this year in dramatic fashion.