Statement sandals
559 total views
Someone once said 'Give a girl the right shoes and she'll conquer the world'? This is a saying a lot of us girls secretly abide by and this summer designers have certainly put their minds to proving it right.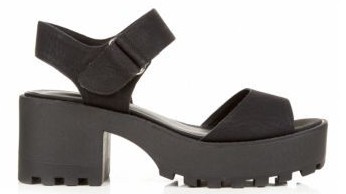 Every year I always seem to find myself stuck for what to go for when it comes to show attire. Flip flops that leave my feet blistered and fall off every two minutes or gladiator sandals that make me look like an extra on Troy. This year I decided to explore what's big on the market for 2014. This season we are seeing the revival of the '90s with chunky heel sandals. The heavy looking shoes, the big square heels. You know – the ugly shoes that actually look great!  But this time the chunkier and higher the heel, the better. Boho chic is totally now and we're all about as many psychedelic patterns so your feet are totally eye-catching. Thin or slightly thick soled sandals made of thousands of straps that cage the feet are the shoes to wear this summer if you want to walk for miles, and miles, and miles, while looking very very chic. Black ones are quite the dark edgy statement, nude ones elongate of course, and white ones (in fewer straps) look posh.
An enviable pair of chunky heel sandals is a staple to see you through spring and summer. Whether you're preparing for some sunshine or a special occasion, the right pair of sandals is on call to give your feet a treat that'll make any outfit look fabulous.