Women's Rugby Firsts make it two wins out of two
912 total views
On Wednesday, Week 5 Women's Rugby Club faced their second game of the season. Their opposition was Keele University (the same team as the previous week), this time to be played at Lancaster.
Due to a combination of injuries from the first game and academic commitments, Keele were unable to field a full team of fifteen players. This meant that Lancaster had to match their opposition's number of players and play twelve against twelve. The advantage for Lancaster however, was an abundance of substitutes that Keele did not have the opportunity of utilising. Another alteration to the game was a decreased playing time. The game was to be played for thirty minutes each way, as opposed to the usual eighty-minute duration.
Lancaster started strong and their first try came in the first ten minutes from Kathy Kinahan, making it 5-0 to the home team. With their usual kicker still suffering from an injury, the kick was missed. However this was to be followed by a second try for Lancaster just a few minutes later, with Abi Graham breaking through the line and dodging past Keele's full back. After a second missed kick it was 10-0 to the reds.
Not long later, another try was on the cards for Lancaster. A strong run from Kinahan, popped onto Graham who ran it in to secure her second try of the game. Again unable to gain the extra two points for the kick, the score stood at 15-0.
After the third try, Keele gained more momentum and applied a fair amount of pressure to Lancaster's defence. The away team were close to securing a try, but a succession of strong tackles meant that Lancaster were able to hold them off. Soon after, Lancaster scored their fourth try of the game, driven through Keele's defensive line by Natasha Davison. The score stood at 20-0, but the home team weren't ready to stop there before half time. A substitution from Lancaster brought Lizzy Goldsbrough on, who ran with the ball straight down the wing, outrunning any players in her path and making it 25-0 just before the half time whistle.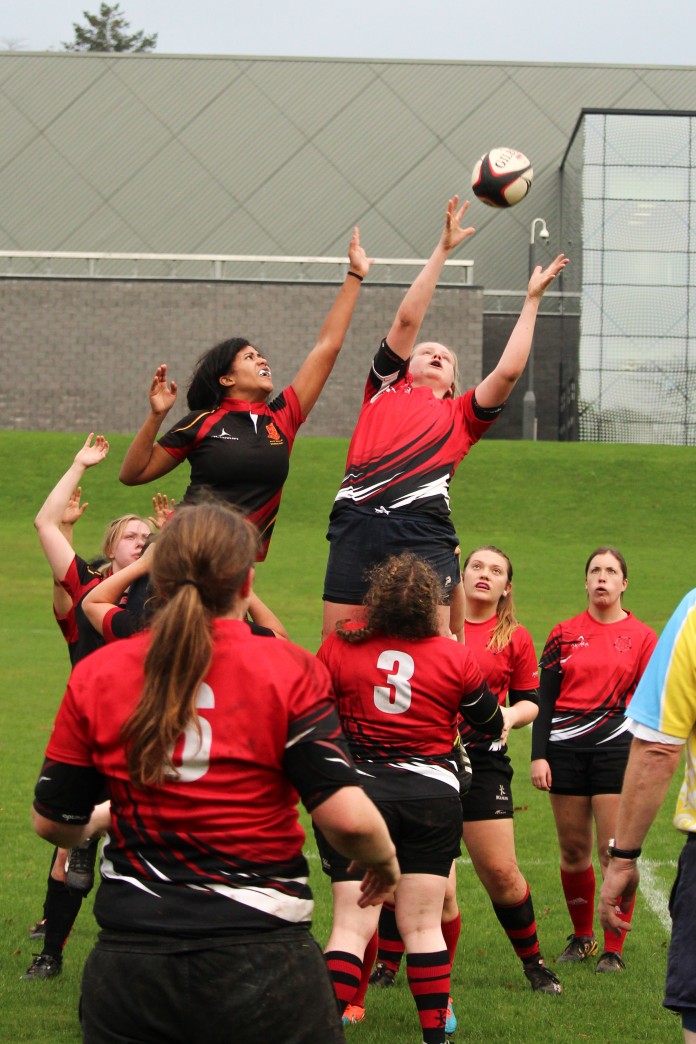 The second half began with an early try for Keele following a few changes in Lancaster's team. Clearly not ready to back down yet, the away team scored, making it 25-5, but were unfortunate to miss their kick. Lancaster came back at the opposition with a try from Rachael Halliday, making it 30-5. This was then soon followed by two successive tries from Liv Budd. The score stood at 40-5 to the home side. A continuation of good passing from Lancaster took them up the field into the opposition's half once more before the end of the game. This led to a try for Laura Brooks and the score ended 45-5, a great result for Lancaster and a true reflection of the way they dominated the game.