Balmain x H&M Collaboration
556 total views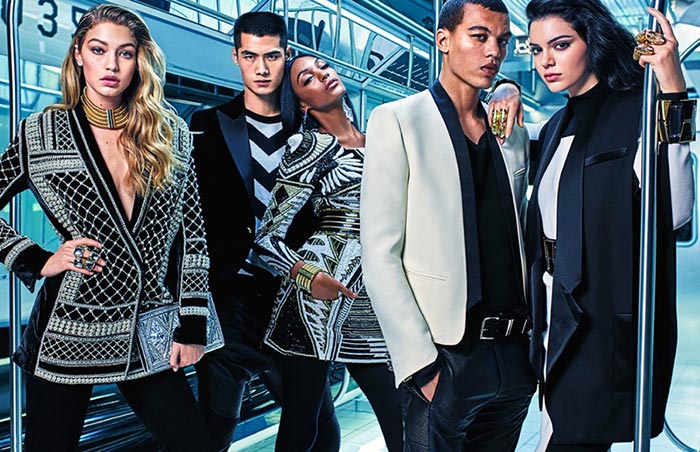 It's that time of year again, the time for yet another outstanding H&M x [insert legendary status fashion label here] collaboration. Early September saw images entering circulation and it wasn't long until speculations ceased and statements finally surfaced. With thanks to this evidence it has been confirmed that this year the spotlight is on Balmain. The collection is set to feature chunky oversized jewellery and embellished dresses reflecting previous Balmain runway collections. The prices however reflect that of H&M's standard, with products starting in the £25 area. Obviously a blessing if you're like me; currently lusting for couture but struggling to fork out for ASOS.
Keep in mind however that our student loans can only go so far and certain items just aren't affordable like my personal favourite from the collection; a pearl-adorned black dress, seen on Kylie Jenner in New York earlier in October, that rocks a price tag of £299.
So when does it go on sale?
The collection is set to go on sale both online and in certain stores at 9 am on November 5th. Those intending to browse online need to be prepared, ensuring you brush up on your Internet sniping skills in the meantime as things WILL get wild. Those shoppers who prefer the in-store experience should be mindful of stampedes resembling those that killed Mufasa in Disney's Lion King. With only nine branches of the High Street store stocking the collection, Lancaster's closest store is Manchester's Marekt Street H&M store. My best advice is to arrive early as queues will likely be overwhelming.
But then what will I even buy?
If you're like me and the majority of our readers, you're probably a student with little if not any spare change for luxuries in the £100+ price range. Each customer is limited to one of each item per category; clothing, shoes and accessories. Personally, I'll be opting for a menswear hoodie or t-shirt (fashion gods be willing), something effortless that'll go with everything in my wardrobe and won't break the bank but can still add that designer feel to any outfit. With any event like this, the key thing to remember is to not stress if you miss out. The point of these limited edition collections is that only a select few manage to grab something, bear in mind Versace for H&M was rumoured to sell out in just half an hour. And if you do miss out, honestly don't fret, we're all doing degrees here so clearly we'll all have enough money to roll around in Balmain post-grad! Don't burst my bubble here guys…