One To Watch: Ashish Gupta
2,295 total views
Ashish Gupta is an eccentric, designing garments co-operative to traditional Western and Eastern styles. Now living solitarily in North-West London, Gupta moved from India having received education in Fine Art. He later moved to London to complete a BA in Fashion Design, then achieving an MA from Central Saint Martins in the year 2000.
Given his notable academic achievements, Gupta planned to follow his passion to Paris, where he planned to set up in a private design studio in the French capital.  However, after an appalling theft of his personal portfolio of work at the Gare du Nord, Gupta instead chose to create clothing exclusively for family and friends. Despite such a setback, Gupta was picked up by Yeda Yun (former head buyer for Browns Focus, now working for Prada's Miu Miu label). Yun placed her first order with him in 2001; his apparel has appeared globally ever since.
His eponymous label, 'Ashish', includes items that are symbolic of Gupta's own heritage and culture, with all of his creations now being handmade in India – his mother even r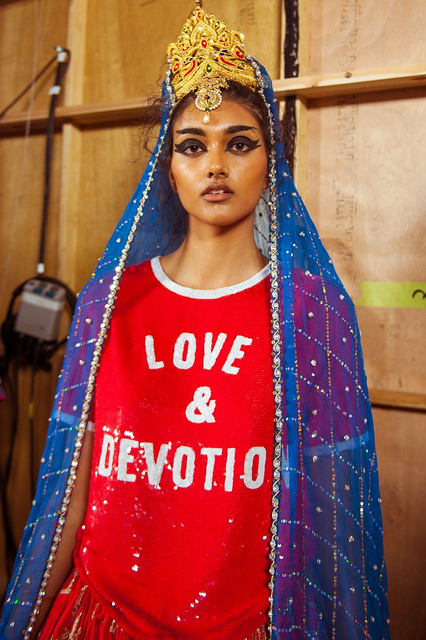 uns the factory where his pieces are put together. Although making persistent reference to his Eastern origin, Gupta feels that he can now finally be himself, having had the opportunity to come to England and explore his admiration for design on a bigger platform. Embellishing his lines with glitter, his fixation on sequins were first regarded as a cheap form of decoration for the artist. However, the skill involved in working with such an embellishment has allowed Gupta to work with fabric from a different perspective. Sequins, in this regard, are tantamount to his brand. 'Ashish' is synonymous of glimmer and shine, just as digital printing may be for another designer.
With a strong ethos of ignoring current trends, and 'doing his own thing', it is clear this approach has earned the brand the well-deserved esteem and respect of fashion critics. Since showcasing his first line in 2004 at London Fashion Week, the designer has claimed the New Generation Award on three occasions, as well as having designed 10 consecutive collections for high-street titan, Topshop. With his garments demanding a sensibility of energy, coolness, modernity and dynamism, it is not surprising to find that Gupta's eye for fashion-forwardness has dressed names from Madonna and Victoria Beckman, to Kelly Osbourne and Lily Allen. With such a solid fashion foundation across the globe, it is not difficult to understand how his principal collections now find themselves distributed throughout Italy, Russia, America and Dubai.
In addition to making Eastern values known within his designs, Gupta has recently manufactured a 15-piece, gender neutral collection in collaboration with high-street brand, River Island. In light of Gupta's heightened fashion consciousness, it is obvious that the Ashish brand is not just about making trendy, cosmopolitan compositions, but is also evolving with the diverse world we now live in. Utilising an all-encompassing, inclusive concept to his lines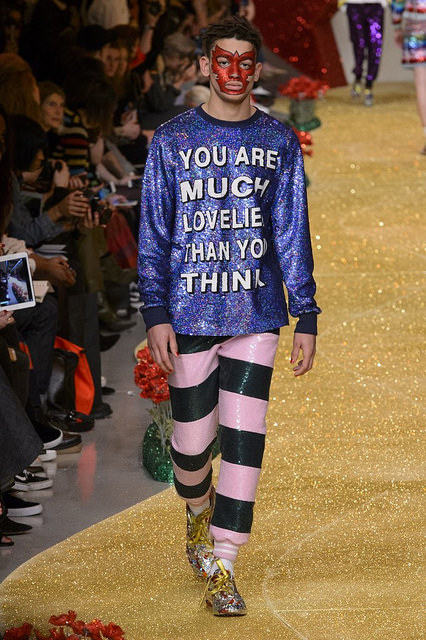 makes Ashish one of the most contemporary designers today. Not only do his clothes tackle topical subject matter, but they also range from glamourous looks, to those that are adaptable for regular day and night wear. This demonstrates Gupta's versatility when it comes to working with a wide range of resources, using his creative liberties to access a larger audience of an array of ages.
Minus the sequins, Gupta also emblazons arbitrary phrases and slogans upon his items.
These emanate a sense of fun and amusement, alongside his more serious messages of cultural awareness. Blending elegancy and flamboyancy throughout his work, Gupta's clothes read of statements such as 'Good Mourning', 'More Glitter Less Twitter', 'Why Be Blue When You Can Be Gay!', and 'Your Wish Is My Command'. Taking pride in topics such as ethnicity, sexuality, and gender thrusts Gupta forward as an icon for people from all walks of life, using his platform to shine the spotlight on those minority groups facing discrimination.
From his sequin saturated items, to establishing the multicultural as something of magnificence and beauty, Ashish demonstrates a colourful panache open for various communities. His capacity to free his works of societal limitations allows his lines to be embraced by people of all social strata, bringing fashion to life for all. View Ashish's collections at www.ashish.co.uk