Lancaster Darts Team complete hat-trick of Championships
594 total views
Lancaster have retained their title of University Darts National Champions for the third year running, winning 7-6 in an extremely tense encounter against York in the final.
Sheffield and Manchester had been crushed by Lancaster in the earlier rounds of the tournament to reach the finals day in York. The semi-finals saw Lancaster up against Liverpool John Moore's and York pitted against Durham.
James Stone, Alex Smith and Simon Rimmington combined perfectly to defeat their opponents and send Lancaster 1-0 up. Doubles partnerships of Dave Saunders and Lee McClelland, Nick O'Malley and Tom Reynolds, and Rich Floyd and John McGathan all won to take Lancaster lead to 4-0.
Smith continued this fine start by winning the first singles match. However, O'Malley and Reynolds, who had combined so well in the doubles, both lost their singles matches and allowed Liverpool to reduce Lancaster's lead to 5-2.
The next game saw McClelland calmly step up to prevent Liverpool's fight back by winning 2-0 including a fantastic 16 dart leg. McGathan lost the next game 2-1 in spite of going 1-0 up courtesy of an 18 dart leg. Floyd then secured Lancaster's place in the final after a very closely fought 2-1 win, to clinch the all important seventh win.
Saunders and Stone then compounded John Moore's defeat, both winning to see the semi-final finish 9-4 to Lancaster. Meanwhile, York beat Durham in the other semi-final 8-5 and secured a chance to avenge their loss at Roses a week earlier.
Lancaster got off to a fine start in the final with Stone, Smith and O'Malley dominating right from the start of the trebles and sending Lancaster 1-0 up. Floyd and McGathan made it 2-0 due to superior finishing, but McClelland and Saunders lost before the newly formed partnership of Rimmington and Reynolds sent Lancaster 3-1 up before the singles.
McGathan was first up in the singles and must have felt like he had come up against steam train, as his opponent relentlessly attacked the treble before coolly checking out under pressure, bringing the score back to 3-2.
Reynolds then put in an outstanding captain's performance for Lancaster by winning 2-0, but Rimmington was unable to capitalise in the next game seeing York pull it back to 4-3.
Smith, unfazed by the huge occasion, stepped up under massive pressure and won 2-0, to take Lancaster 5-3 up and within two games of retaining the National Championship. Stone was nominated to play next for Lancaster, and was unfortunate to lose to the same opponent that had defeated him at Roses.
York's player prevented Lancaster from going within one game of the title and instead brought the score back to 5-4, and further loss for Saunders saw the scoreline levelled at 5-5. A game that was already extremely tense, become even more intense.
McClelland, who had proven to be the person for such situations on many occasions before, was nominated as the player to edge Lancaster closer to victory. However he was extremely unlucky and on numerous occasions was a wire's width away from giving Lancaster the all important 6-5 lead, before his opponent checked out.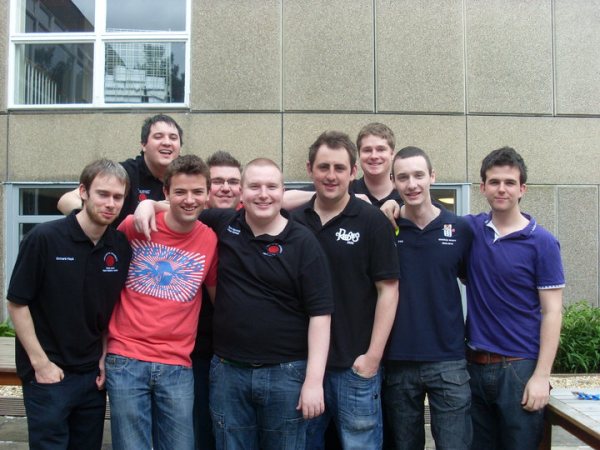 This sent the York players and fans wild and saw the dream of a third title in as many years flash before Lancaster eyes. Floyd had other ideas though; a man with ice running through his veins was cool, calm and collected. He easily won 2-0 sending the final into a decider.
O'Malley was the only player left for Lancaster, and somehow appeared undaunted by the massive occasion. The first leg saw O'Malley easily outscore his opponent and he checked out before his opponent had got anywhere near a double. It was not all plain sailing though, as his opponent hit his double first dart in the second leg to send the match into a decider.
At this point there was an unbearable atmosphere for the players and fans alike. In spite of this, O'Malley dominated from the beginning of the leg, and before the caller had finished saying "Lancaster you require 8" the dart was resting in the bed of double four and the fans and players of Lancaster invaded the oche to commence their wild celebrations.