The Water Witch
449 total views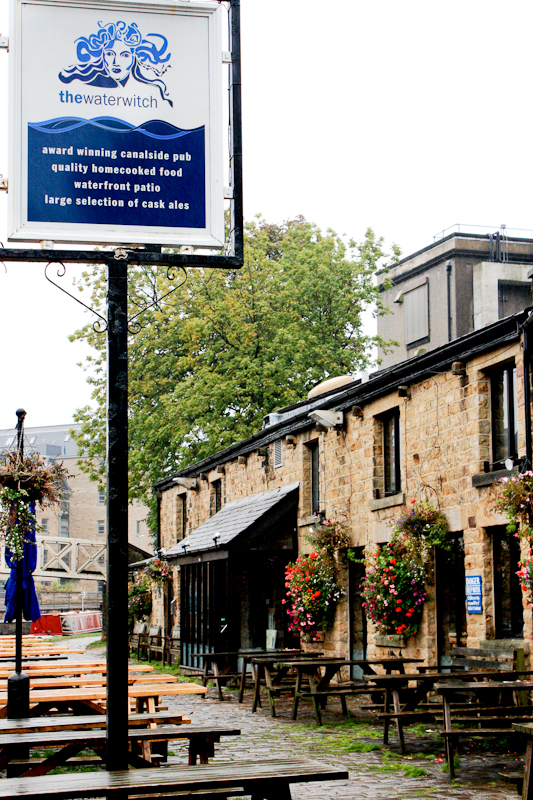 I first went to The Water Witch for the cheese. My girlfriend had recommended that we go and share one of their platters, and who could possibly say no to sitting outside with your significant other on a nice day eating deli food?
The prices are fair considering the options are all local, and the selection is the perfect size so that you can choose quickly, comfortably, and to accommodate all tastes. Most foods were as fresh as could be expected, although we got the last of the smoked salmon which was beginning to discolour around the edges, and much of the complimentary bread was going mouldy. It was a rookie error at an establishment that tries to set itself up rather highly (they have a "younger guest's menu", not a "children's menu"). However, both problems were fixed with a minimum of fuss and the experience was lovely and relaxing thanks to The Water Witch's enviable canalside location. It's optional to share bread with the birds that toddle up and down along the picnic benches outside, but hard not to.
Returning at a later date for an evening meal, I was still disappointed by the silly mistakes. After waiting an hour for the starters, a friend was informed at the latest possible moment that the soup of the day had changed, and if the new pea offering would be okay. It wasn't. Her second choice, the deep fried black pudding, tasted of nothing and had the texture of a meaty cake. The cauliflower fritters made up for the meat's wrongs and are an absolutely divine must, made perfect by the curried mayonnaise that awakens the taste buds. Regrettably, the effect wore off after it took our waitress another half an hour to clear the plates.
There are some great dishes to look at as well as to eat, but the waiting staff must have overestimated how long is spent admiring the chef's occasional eccentricity. The salmon lollipop starters (mini-fillets on a stick) were a pleasant talking point, while their pie was presented in two halves, with the steak, ale, and gravy in a dish, and the pie displayed as a flat pastry laid on top.
More care was generally taken over the main courses; the sirloin steak was served as requested, the sea bass was well cooked, and the pies were appreciated across the board. Nobody felt like dessert because all the mains effortlessly hit the spot, and a secondary, unspoken fear of more waiting and an unintended lock-in was a concern for the table.
It's clear to me that The Water Witch is onto something special with its food, and is casually recommendable. The problem is with the waiting staff who desperately need to communicate with the customer and the kitchen far more, and must check for the odd bit of bad food. Casually recommendable, but not without some risk.
Meat/fish: 8. Vegetarian: 8. Service: 3. Score: 7.