Let's rewind and revive the '50s
498 total views
It's a new year, so what are your resolutions for 2011? Maybe you need to get out of a style rut?  Perhaps you need to add something different and exciting to your closet?  Whatever your pledge here's a trend for the New Year that's guaranteed to make you feel better and last a lot longer than giving up alcohol and junk-food.   
Fashion has been stuck in the 80s for a while but 2011 is the year it moves even further backwards. This season, Grease is the word.  Well, a version of Grease.  I'd never want anyone to idolise Sandy, she's a horrible role model.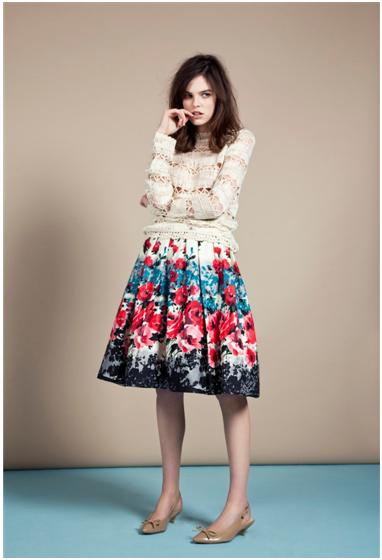 The difference between 50s revival and 50s fancy dress is attitude.  Where a true 50s palette is a cross between pastel and candy, the revival trend is more subtle with off-whites, nudes and muted colours featuring heavily.
Last year the bell-skirt was the essential shape, but for 2011 it's all about the midi-skirt. The midi is characterised from being anywhere below the knee to just above a maxi. Often seen as far too modest and unflattering, the midi-skirt has been a vastly unpopular item in our lifetime. But, if you're brave enough to experiment with this piece, it will pay dividends for your street-style for the next year. 
An equally controversial piece of the 50s trend kit is the kitten heel. Neither as elevating and glamorous as the stiletto, nor as practical as your flats, this shoe sees very little wear nowadays. Nevertheless, the kitten heel is a small detail that will set off your 50s vintage look. 
Men's fashion has also taken a tumble into this time warp, but don't bust out the studded T-bird jacket and hair-gel quite yet.  It's important to keep your outfit eclectic to avoid looking outdated.   The best item to absorb into your wardrobe is a pair of Brothel Creepers to help you channel your inner Teddy Boy. They may look odd and clunky but these bad boys are the newest cool kid shoes on the old block.
How to wear:
The midi-skirt:  The important elements of wearing a midi-skirt for an on trend 50s revival look are pleats and a high cinched waist.  Floral print skirts are also a great way to capitalise on 50s kitsch while staying en vogue by following your revival rulebook. 
The kitten heel: Keep your shoes simple in both outfits with block colours and floral prints.  Pick out a colour detail in your ensemble to match or stick with white and nudes for authentic vintage style.
The brothel creeper: Bang on a pair of these with your skinny jeans for an impressive silhouette.  Socks or no socks, it's up to you!