Stunning victory for Lancaster Ultimate Frisbee
518 total views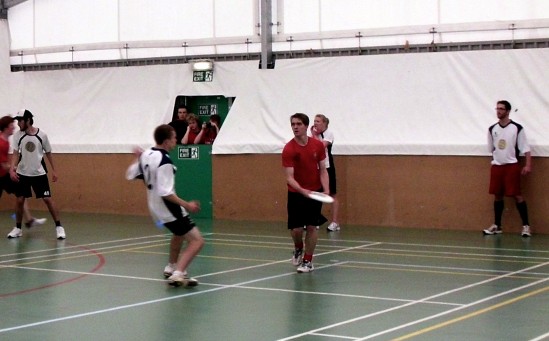 Lancaster played their way into a spectacular 13-4 victory over their York counterparts in the Indoor Ultimate Frisbee.
The game was being played on the basis of first to thirteen or for 30 minutes. It must be said that this is normally considered to be quite long with regard to indoor Ultimate Frisbee.
Lancaster opened the scoring with some fantastic throws and fast play; however, York soon equalized in a similar fashion. The away team then pulled away once more, despite the home team's solid defence.
There was a time period when Lancaster looked likely to score but didn't execute play. James Thomas said: "the end-zones at York are much smaller than those at Lancaster, so the players are not used to it. Once the game progresses more they'll know the size more. It happens with any tournament you go to."
The game continued to be a highly contested match, with both sides showing form, agility and speed. York pulled back to make the score line 4-3, still with the Lancaster side in the lead.
After a near score, Lancaster gave it everything they had and went on to win more points – York were only able to obtain one more to make it 6-4. From this point onwards, the away side gained more confidence and stretched out a remarkable lead from what, at first, looked like to be a close game.
One long pass and a chip over the line made the final score 13-4, which probably didn't justify the competitive nature of the game. Nonetheless, this was another good Lancaster win.
Team: Jon McNaughton (C), Mat Francis (VC), Will Doole, Jonny Quest, Aaron Wilbur, Pete Garnett and Fergus Cuthill.