Review: Pulp live @ Brixton Academy
537 total views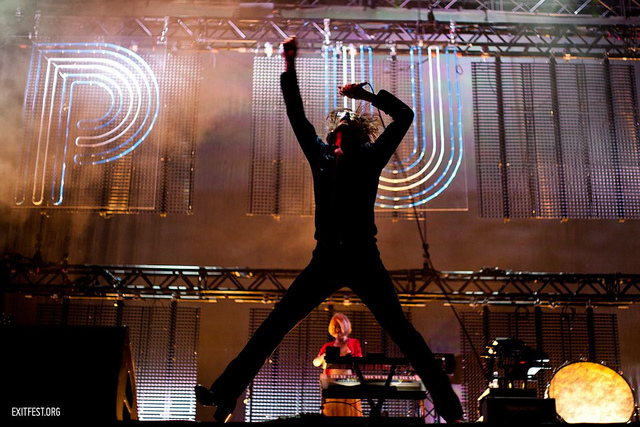 The shops are boarded up and the Tories are in power, but all is not lost; Pulp are back and performing in Brixton Academy.
In recent years, us nineties children have seen a smattering of bands from our childhood reform to headline festivals and carry out sell-out stadium tours. 2011 has marked the turn of Pulp, the most grown-up of all the Brit-poppers, to take to stages across Britain and perform together for the first time in almost ten years. After several apparently fantastic performances (shamefully I only managed to catch the highlights on BB3) at Europe's biggest festivals, the band decided to take their reunion indoors and perform two consecutive concerts at London's Brixton Academy.
Following a fantastic support set from Baxter Drury (certainly worth a Spotify), the audience were teased into a frenzy by Pulp's use of an old-fashioned light projector. As the stage was prepared, tacky green writing was projected into the crowd, commanding us to 'MAKE SOME NOISE!' as though we were at some Butlins-esque event. Silly though the warm-up was, it was certainly successful, and when 'DO YOU REMEMBER THE FIRST TIME?' scrolled across the stage, the atmosphere was euphoric. The show was filled with funny little touches such as the light-show. From Jarvis commanding the audience to sing Happy Birthday Bee Gees style, to our favourite lanky front man's suggestive dance moves in 'This Is Hardcore', it was a clear that tonight's reunion was about enjoyment for fans and performers alike.
Pulp have yet to suggest whether their current reunion is to be permanent, leaving some fans in the audience wondering aloud whether tonight could be the band's last ever performance. I am inclined to think not; Jarvis and co. are having too much of a good time to give up now.
Tonight's set-list showcased Pulp's extraordinary talent for sleaze and wit which has always set the band apart from its lighter and more laddish Brit-pop contemporaries. The inclusion of pre-Different Class hits such as 'Lipgloss', 'Razzmatazz' and 'Sheffield: Sex City' in particular set a dark and seedy tone which the likes of Blur and Oasis could never quite achieve. In these early works, Candida Doyle calmly describes overhearing her neighbours orgasm in unison whilst Jarvis performs an ode to that girl who's living off "lipgloss and cigarettes." Songs such as these remind the listener that Pulp's music isn't just upbeat riffs and clever rhyming; they're dirtier than that.
Mind you, those upbeat riffs and clever rhymes aren't to be sniffed at, and are ever-present in the big hits of Different Class and 'His 'N' Hers'. Songs such as 'Do You Remember the First Time', 'Sorted for E's and Whiz', 'Babies' and of course 'Disco 2000' are performed with remarkable energy and demonstrate just why reunion tours can be so wonderful. Listening to these songs as a teenager, I remember deeply regretting failing to see Pulp perform them live before their split. Tonight provided me with the second chance to dance along to these much-loved hits which I never thought I'd see.
Pulp's later work was also celebrated tonight, and songs from This is Hardcore, an album which to me has always seemed lyrically weaker than the band's earlier work, certainly benefited from being performed live. Accompanied by an eerie visual show and The Boxettes performing backing vocals, Pulp revealed a depth to 'The Fear' which was not so apparent on the recording. 'The Wickerman', from the band's underrated final album provided a surprising choice for second encore, and it was performed beautifully.
Pulp put on a fantastic show, giving fans a fantastic mix of the popular and the obscure, with their usual undercurrent of dark humour running throughout. But tonight wasn't all about nostalgia, and Pulp's biggest hit seemed to take on a new resonance in today's climate. With the slick, well-dressed and privately educated running the country, Jarvis managed to remind us of the importance of celebrating and fighting for the common people. After all, he reminded us, that is what we are.