Lancaster Seconds secure first win
523 total views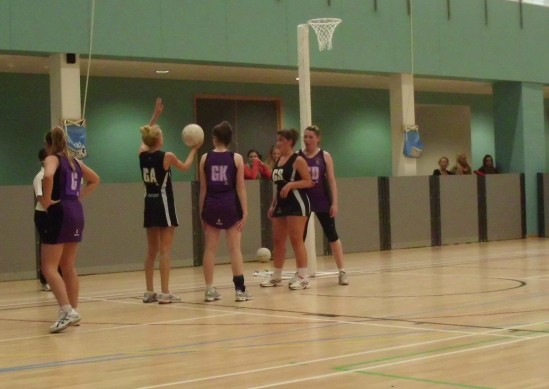 Lancaster 39-33 Manchester
The newly-promoted Lancaster Seconds secured their first win of the season against the Manchester University Fourths in a competitive game that finished 39-33.
The game started with a Manchester centre pass, which led to the away side scoring a quick opening goal.
Lancaster's slow start on the score board was not aided by the fact that the team tried to formulate fast play from the beginning as it meant that poor discipline resulted. However, the ball eventually found its way to scorers Raisa Richardson and Holly Archer who then made more of a presence in the game.
Following Lancaster's more assertive response the score by the end of the first quarter stood at 10 apiece.
The break saw Hannah Wills replace Steph Wood at Wing Attack and Tabatha Lions in place of Olivia Harris at Goal Defence.
The second quarter began with straightforward scores from both sides and solid, fast play between Tabatha Lions and Lydia Mullins prevented Manchester's next attempt on an attack. The ball was delivered down to Lancaster's Holly Archer, who scored following a penalty pass or shot for obstruction at the fault of her Manchester counterpart.
This play was assertively followed by a series of home side goals from both Archer and Richardson which saw them extend the lead to 16-11. It was not until Manchester slowed down the play that they were able to close the deficit by a point.
What followed was a series of overturns from both teams and it was not until Rebecca Fecitt snatched a rebound from a Manchester scoring opportunity that Lancaster were able to break the back-and-forth play to score, making it 18-12.
The home side remained on the winning side when the half-time whistle blew, thanks to Fecitt who prevented an opposition score with only 30 seconds left on the clock. The score was at 20-15 with 30 minutes left.
The third quarter saw the Manchester side start strongly. Their Goal Shooter scored two points in pretty quick succession. However, despite the seemingly sloppy passes and silly mistakes such as footwork, that Archer commented on when the third quarter whistle blew, the score remained in the home-side favour at 30-25.
During the final quarter, Lancaster aimed to maintain and extend their lead further. Fluid play from Lancaster continuously delivered it to the attackers but the Manchester defence appeared to be having more of a commanding role.
After numerous rebounds and interceptions, the home side saw their lead through to an end victory of 39-33, despite the fact that Steph Glasgow had to be replaced with 30 seconds on the clock following a calf injury after a fall.
After the game, Captain Holly Archer stated: "It was our first game of the season and we've never played as a team before. Teams were chosen at the start of the week so today was a bit of trial and error. Despite the slow start, a win is a win and we came off victorious. It is a good start to a great season."