The University must strike a balance
726 total views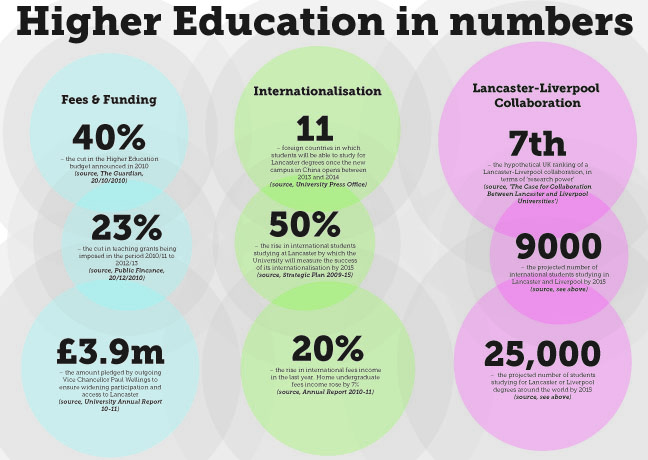 The University is going to find itself walking a very fine tightrope between trying to draw in as many people as possible to negate the impact of budget-cuts, despite the increased fees (especially in the cases of those who might be academically bright but not financially able), whilst maintaining or improving its status and league-table rankings by securing the highest calibre of candidates.
This would, in turn, vindicate the aforementioned fee-increase as well as secure future funding. Furthermore, Lancaster has to achieve all this whilst endeavouring to fulfil its strategies of international expansion and outreach,
inter-university collaboration and campus redevelopment.
In order to offset the Coalition's planned reduction of teaching grants by 80% and capital by over 50%, Lancaster University will be among the many taking advantage of the ability to triple the tuition fee charge to home undergraduates in September 2012.
Previous Vice Chancellor Paul Wellings justified this decision by arguing that "[t]his will allow Lancaster to build on its track record of success in attracting well qualified students from a variety of different backgrounds and to invest further in the student experience."
Wellings pledged a sum of £3.9m to be spent by the University on widening participation through scholarships and bursaries to incoming undergraduates. The aim is to incentivise studying at Lancaster whilst retaining the means of countering financial turbulence borne of Government spending cuts.
Lancaster's statement of Widening Participation is set out in its Office For Fair Access (OFFA)-approved 2012-13 Access Agreement, which states its intention to increase fees whilst providing financial support for a range of categories of
students (such as ethnic minorities, mature and disabled students) deemed most vulnerable to financial difficulty.
Between 2006 and 2009, Lancaster frequently surpassed its targeted percentage of entrants in each specified target group.
In order to achieve the objectives laid down by Lord Browne in his 2011 report on Higher Education, the University must retain its standard of academic provision whilst the Students' Union maintains or enhances the students' university experience.
Browne's objective is to increase the competitive nature of the Higher Education system, with applicants electing their desired destinations based on prospects of prestige, high standards and – crucially – value for the large amounts of money they will be investing in their education.
Entry requirements for some subjects have risen this year in response to the numbers of applicants per place, as one impact of a rising status could be the need for greater discernment in accepting applicants.
For example, the entry requirement to study English Literature has risen from ABB in 2009 to AAA/AAB to now. Entry requirements have risen across the faculties, in departments including English Language, French, Management,
Psychology, Mathematics and Physics.
AAB entry requirements are rapidly becoming more common at Lancaster. The University Press Office has confirmed that five further departments are planning to raise their requirements.
LUSU President George Gardiner is positive about Lancaster increasing the standards which applications must attain. "By increasing their entry requirements it reflects [the University's] ambition to be a top university  and that's definitely a good thing because we want [them] to be striving to be a top university," he said in an interview with SCAN.
However, Gardiner added that "The conditions with that are to make sure that […] they continue to deliver a top-quality education, so the experience of the student who will strive to get AAA or AAB at A-Level needs to be of the quality that they expect.
"Obviously expectations are going big thing coming in this year, and managing that is something that the University and the Students' Union are going to have to do."
In particular, Gardiner called upon the University to provide as much information as possible about student finance to students who may be debt-averse due to a lack of knowledge about the Student Finance Company, for example.
"I think the University has got an obligation to put out a lot of information about the finance that is available but also to continue to make sure that they're offering good resources to first-year students particularly and obviously continuing that on to second and third year," he said.
Such an initiative would be part of Lancaster's policy of widening participation. Gardiner was positive about the "vast diversity of students" at Lancaster as well as the University's "good retention levels," but stressed that support had to be
provided for students "who don't necessarily drop out but still struggle and don't have the support [they need in their degree]."
In the context of the £9000-a-year fees to be paid by students as of September, the LUSU President wants to see more done to eradicate additional course costs such as theatre performances for Theatre Studies students.
He argued that "that's one example where I would argue that the University should be funding that kind of thing.
"Our basic position on it, because course costs are a really complex thing, is that anything that's compulsory or assessment-related should somehow be incorporated into tuition fees."
The increase in entry requirements would aim to discourage students viewing subjects it as a 'soft option' or pursuing them when they have no real interest in the subject.
These measures, among other things, are all indicative of Lancaster's aim to improve the already highly-regarded standards of its teaching and learning and thus enhance the overall student experience.