Who said Lancaster was a sleepy town?
537 total views
Reverb and Circus Records are bringing a new age of life to Lancaster, providing students with the best of live Dubstep. They brought you the now-legendary Flux Pavilion show at Lonsdale Bar, and on Saturday 28th January, you get the next treat: the up-and-coming Brown and Gammon.
For those of you wondering who Brown and Gammon are, then their label is probably the best place to start. Circus Records is the platform for plenty of up and coming DJ's, bringing new sounds and scrapping old conventions on the Dubstep scene. Circus Records have already been pretty damn successful, created by Flux Pavilion and Doctor P, and they're aiming to spot the potential in brand new Dubstep artists and get their names out there.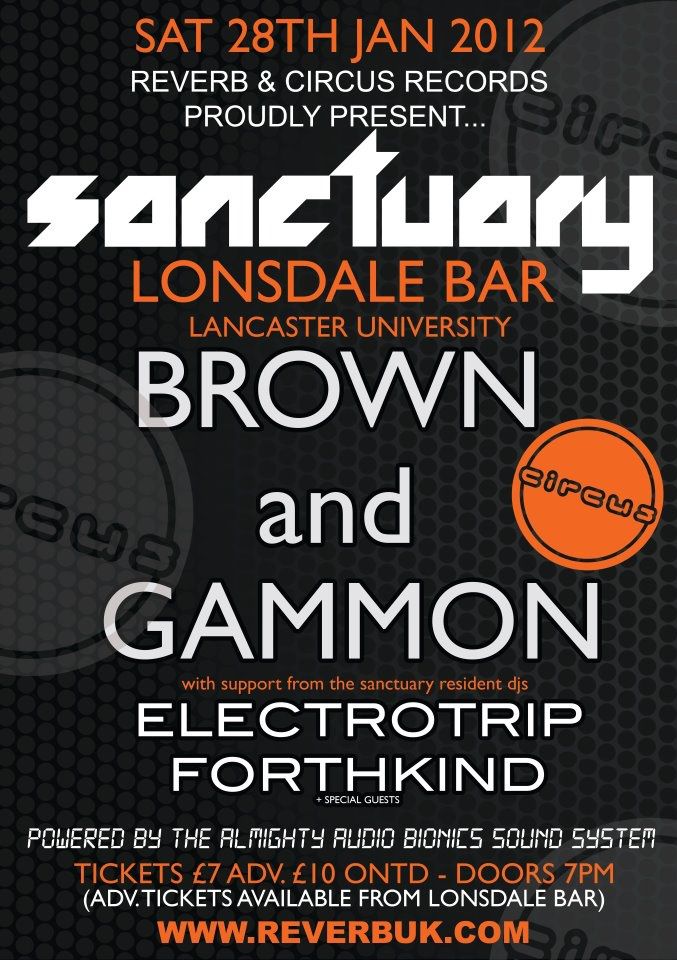 But anyhow, they've been dubbed (no pun intended) as the next big thing for 2012, UK-born Brown and Gammon are bursting onto the Dubstep scene, and it's not hard to see why with tunes such as Painkillers, Be There and Back with a vengeance. Will Moore aka Brown and Gammon, has been creating music in the UK for years, but only recently has his name become well-known. Even in North America, his forthcoming single 'Blow my Mind' was a massive hit, sending his name and music across the globe. He is given frequent slots in the sets of other Circus Records artists on their international tours.
Brown and Gammon hails from Essex, and has set himself apart from the other Dubstep artists by consistently providing bass music with atypical drum patterns, alongside detailed rhythmic variations and a complex composition. His vibrancy stands out on the Dubstep scene, and his backing by Circus Records means we're going to be hearing a lot more from this producer. Flux Pavilion claims that they have had "Brown and Gammon in [their] sights since [they] started the label" and it seems to be a collaboration that really works. "Blow my Mind" was Brown and Gammon's debut single, released in October last year, and it has received an immense amount of positive feedback, thanks to the funky and minimalist production.
If you're still not convinced, check out this video from the last event, when Flux Pavilion came to Lonsdale. It tells you everything you need to know.
Flux Pavillion at Lonsdale Bar
So if you've heard of Brown and Gammon, you will already have your ticket. If not, buy one and experience what they have to offer. Tickets are on sale now to Lancaster students for a discounted price, which includes a pitcher of Red Bull & vodka. These can be bought at Lonsdale bar. Be part of the new Dubstep revolution which is quickly taking over Lancaster's scene. Don't miss out on another epic night.