Six of the best – Bailrigg FM Shows
618 total views
Newspeak
The Bailrigg FM News team is responsible for pumping ten hours of facts, thoughts and opinions out of the Bailrigg antenna each week, with each show in the line-up providing some of the station's very best content.
Newspeak is the News Team's flagship show, condensing all of the news and scandal of the previous week into a high-intensity, high-quality hour of discussion and debate. Headed up by former SCAN Investigations Editor Sam Newsham and a series of regular and guest co-hosts, Newspeak tackles everything from spats at LUSU to spats at the UN. "It's not all about politics though," Newsham told SCAN, "we discuss quite a few political topics but also take in human interest stuff – in the last couple of weeks before term ended we debated the effect of social media on emails and the Leveson inquiry."
The show have also had the pleasure of welcoming a few high-profile political figures on air – "We've had interviews too – we interviewed Clare Short a few weeks ago and played that before debating some of the topics raised," said Newsham. Though in spite of the high-profile guests, the host finds its the students that make the show truly unique – "It gives a student perspective to a lot of national issues – you can hear these things debated on the BBC and other places but you won't hear them being done from a student point of view."
Newspeak airs between 6 and 7pm every Monday.
Humble Sam's Time Travels
Sunday morning is very probably the time when the Studentius Lancastrius population shows its most divergent range of behaviours. A few hardy souls will have hide out in the dark corners of the library. Some will be eating bacon sandwiches after returning to the nest for the weekend. An unfortunate few will be sprawled across the bathroom floor, covered in their own vomit. However, there's one thing that all of these students should also be doing – listening to Humble Sam's Time Travels on Bailrigg FM.
Hosted by the ever-enigmatic 'Humble Sam' (though there are rumours that he might actually be Beethoven), Time Travels is Bailrigg's only show devoted to classical music in its many forms. Expect to hear everything from banging Baroque party bangers to Renaissance ravers, as well as plenty from Beethoven, Mendelssohn, Vivaldi and Bach. But don't expect to hear any Wagner or Chopin – "Did I mention that I absolutely hate Wagner and Chopin?" Sam told us. Of course, you don't have to be an expert of Humble Sam's calibre to enjoy the music – Sam's patient and intelligent explanations of the histories of the composers and their songs are the nicest introduction to Classical Music that you could hope for. So whatever it is you're doing next Sunday morning – pick up the headphones and take a journey through time with Humble Sam.
Humble Sam airs between 11-1 every Sunday.
HMS Ron and Friends
If you turn your ears – or better still, your web browser – towards Bailrigg HQ on a Thursday evening, you'll hear a strange, almost unearthly sound… Whatever could it be? Why, it's the sound of HMS Ron and Friends, its engines chugging into life before heading off into murky, unexplored waters with a boatload of lecturers aboard!
Without a doubt one of Bailrigg's most unique and interesting shows, HMS Ron sees a member of University staff clamber aboard each week to talk with Captain Ronnie Rowlands about their work, their past and their music. "It offers the chance to hear their lecturers out of the formal confines of a lecture theatre, and in a setting where they're highly likely to be open about themselves," said Rowlands, "it puts a personality to the intelligence." The show has drawn some big names throughout its run, with high profile academics and even former Vice-Chancellor Paul Wellings making an appearance.
And whilst hearing their lecturers on air will be a big draw for many, the show is also notable for its music, which is chosen 'Desert Island Discs'-style by the guests. "Musically it stands out because I'm not adhering with an official playlist of the newest (and played to death) music – this is music chosen by people who have lived through many generations of trends," Rowlands told SCAN.
HMS Ron and Friends airs between 7 and 8 pm every Thursday.
The Matt Freeman Perspective
Sitting on the Bailrigg FM management committee – or Mancom, as it is affectionately known – is a notoriously big time commitment. So it's all the more impressive that one of the busiest members of the committee, Programme Controller Matt Freeman, manages to put together one of Bailrigg's most professional and popular shows every week.
The Matt Freeman Perspective is an extremely polished entertainment show that plays excellent music and passes comment on the week's most important (and also, most bizarre) news stories. Well, it's either that or some sort of psychoanalytical submarine that lets us see the mysterious depths of the Programme Controller's mind.
As well as playing a fairly eclectic mix of some of the best music coming out of the UK right now – Freeman mentions Metronomy, Elbow and SBTRKT as particular favourites – he'll also occasionally take a leaf from fellow Bailrigg DJ Humble Sam's book and does a bit of time travelling. "There's also a bit where I dip into a classic NOW album to see if the stuff on there's any better than the Jason Derulo-y stuff we have to put up with normally," Freeman said. "It normally is," he added, an audible note of melancholy ringing in his voice.
The Matt Freeman Perspective airs between 5 and 7 pm every Thursday.
The Sports Show
Sports! Sports! Sports! Lancaster's got lots of them, and I'd imagine a decent chunk of SCAN readers play something, at some level; so it's not particularly shocking to learn that this sporting passion as carried over into Bailrigg FM, where the sporting coverage is extremely popular, and of extremely good quality. Whether it's the latest news on the Roses, debate about the state of the Premiership, or gossip from the Cartmel Darts team you're after, the Bailrigg Sports Show always comes up with the goods.
The show is well known for its dynamic discussions and audience interaction, with the audience being invited to send in their thoughts on the latest campus stories at the start of every episode. "The show in essence is a round up of the weeks sporting events. We try and make this as diverse as possible in terms of varying sport, but we do have a soft spot for football which usually becomes the focus of our discussion," host Arik Johnstone said.
The Sports Team are also heavily involved with Bailrigg's relationship with local football team Lancaster City – "In the past we have had interviews with figures involved with Lancaster City, but we also plan to expand this with future interviews with other local athletes and teams", host Arik Johnstone told SCAN. It's this even mix of the campus-based, local and national that has made Bailrigg's sports output so popular.
The Sports Show is broadcast every Tuesday between 7 and 10pm, and every Saturday between 2 and 6pm.
Angus and Phil's Teatime Takeover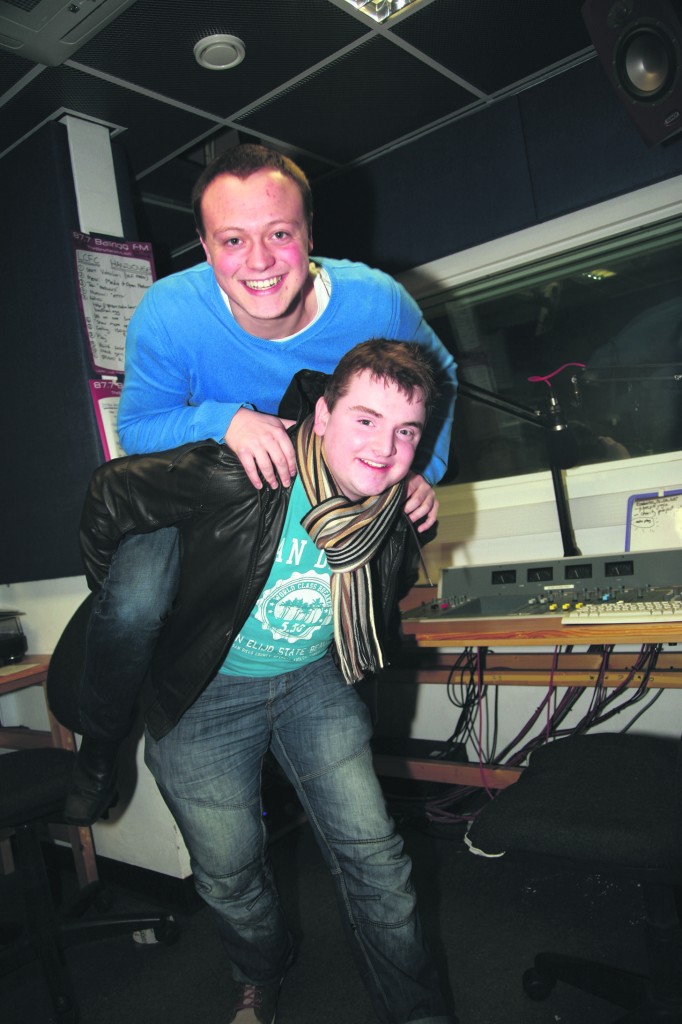 When I first meet Angus and Phil (the two heroes of Bailrigg's Tuesday night tea-time slot) it's to take the pictures for this article. Deciding on their picture isn't easy as some of the other shows, but thankfully the two already had a plan. "We're just gonna' jump on each others' backs and go a bit nuts." As you can see, it worked out quite well.
It's these dynamic, spontaneous and somewhat anarchic traits that come across in their show. The Tea Time Takeover (a beacon of alliterative hope if ever there was one) is an eclectic mix of competitions, features, bizarre quizzes and a constant stream of audience interaction. For example, 'Challenge Angus' is a straight-up battle of intellects between Angus and a listener (example question: name a yellow fruit that doesn't start with B), whereas the downright dangerous sounding 'Who Wants to Beat a Philly on the Air?' absolutely isn't on-air animal abuse but another tricky quiz where a listener challenges 'Philly' to a series of questions asked by his co-host. Their music taste is just as odd as the quizzes, but occasionally they'll even leave that to listeners too, playing a game of 'Record Roulette' and having an audience member choose an entirely random record from Bailrigg's preposterously large CD library.
All in all, it's pretty much the perfect combination of man love and insanity for your standard Tuesday tea time.
Angus and Phil are on air every Tuesday between 5 and 6pm.