Battle of the Bands Review – Heat Two, County
553 total views
Battle of the Bands returned on Thursday night in County Bar, as heat two's hopefuls took to the stage vying for a place in the final. With a headline slot at Campus Festival ultimately up for grabs, as well as a chance to play at Beachbreak Live, it was all to play for.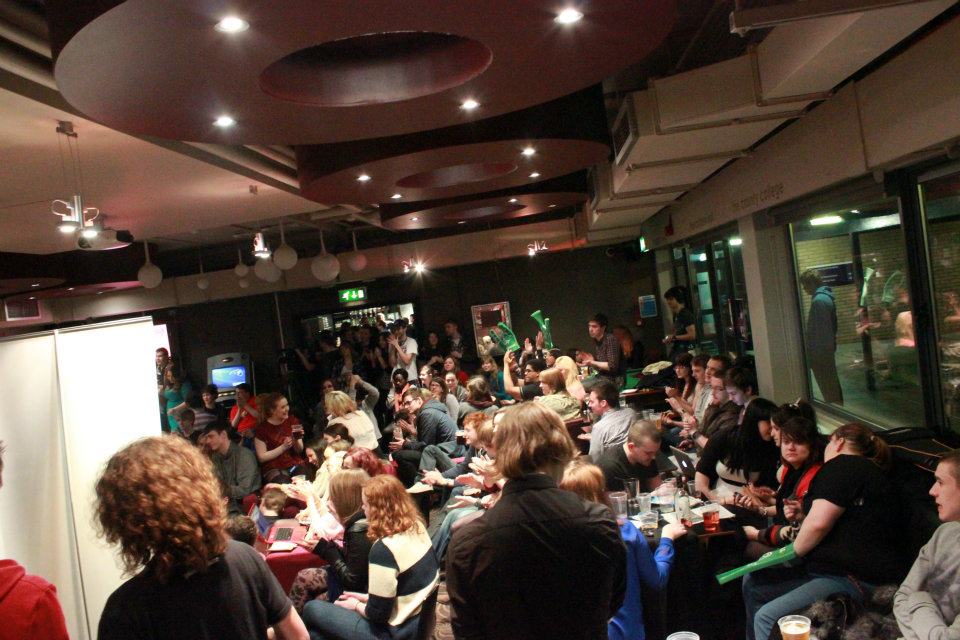 First up was Ska-punk inspired Skant Handful (cue shorts and tartan pants!). The quartet, headed up by Laura Cockran and John Browning, brought an upbeat, frenzied start to proceedings with their bouncy rendition of Rancid's 'Time Bomb', instantly grabbing the attention of a healthy crowd. They allowed little pause for breath before hastily letting rip with a cover of 'Date Rape' by Sublime, continuing much in the same vein. We were actively encouraged to 'relax to' 'Santeria', despite its somewhat dark connotations, before being thrust back into the fast lane with 'Spider Webs'. Browning managed to raise a few eyebrows during this one as he dashed from the stage and opted to support the group from outside, both to the amusement of his bewildered bandmates and the audience! A sharp, punchy bassline underpinned the band's original effort,' Have We Met' and, while we weren't quite skanking along, heads were positively bopping. The stage had been set and things were in full flow come their cheery farewell, which carried the endearing refrain: 'Say goodbye, kiss my ass I hope you die!' .
Next up was I Saved Latin, headed up by SCAN's Culture Editor Joe Henthorn with support from percussionist Tim Farnan, and Jonathan Scott's effects. Shouty vocals, overdriven guitar and some big hair thrashing was the order of the day from Henthorn, who refused to play instruments with any more than five strings and rather aptly described the band as 'post-modernist nutters!' Frank Turner's 'Eulogy' got the ball rolling before tight, snappy drum work undergirded a more stripped back sound. The guitar was abandoned completely in a bid to flout convention, and Henthorn frantically tickled his bass into submission on a cover of Death From Above 1979's 'Little Girl'. Despite a slight technical hiccup with the laptop-powered effects, the momentary misery soon gave way to a sound akin to a spaced-out Super Mario who had swallowed an organ for breakfast, drowned out by Henthorn's defiant assertion: 'I've made up my mind, I'm leaving you behind'. The video game theme continued as ISL ended with 'You Had Me at Hadouken!', and while not everyone was convinced 'right down-diagonal A, is all you ever needed to say', the band managed to induce a clap-a-long outro.
Solo artist Jess French's Jess Falls Over took to the stage next, complete with banner plugging her Facebook page, and offered up the strongest vocals of the night thus far. French proved she was more than just sugary-sweet vocals, displaying an aptitude for song-writing too, most notably on the melodic 'It's Time', which seemed to give a knowing nod to Vanessa Carlton's 'A Thousand Miles'. A cover of 'Work' by Jimmy Eat World saw French pull no punches with the high notes, and she by no means came up short. Despite being the only solo artist to perform on the night, cleverly utilised loops enabled her to create a rich depth of sound, be it guitar tapping, a deft riff or vocals that she could harmonise with. If an admiration for Ed Sheeran wasn't already apparent from the effects, a beautiful rendition of 'Give Me Love' confirmed it. While French briefly succumbed to an over-zealousness to loop, tying herself in knots with one too many, any misgivings were quickly supplanted as we were once again showered by those impressive vocals.
Seven-piece (septet, if you must) Fundamental drew a close to proceedings, and boy did they do so in style. Two saxophonists (Ellie Hanmer, Nick Webb) meant lip-pursing-a-plenty, red cheeks, and jazz hands at the ready as the audience enjoyed a breathtaking climax to a successful evening. Hanmer and Webb proved the inclusion of a saxophone duo was to elevate the sound to a new, exciting dimension rather than merely for novelty value, bouncing notes off each other to delightful effect throughout their set, complimented by talented lead singer, Grace Harper doing her best to upstage French. At times it felt more like New Orleans than Bailrigg, leading the group's three original efforts to be greeted by a rapturous reception. Hats off to guitarist Stuart Colley credited for at least two of them, including the energetic 'Down' which he insists refers to his beloved… instrument. Omnipresent brass, warm bass and the punchy snare held together this accomplished number which just oozed sax appeal. Jet's 'Are You Gonna Be My Girl' brought a close to a really polished performance, Colley massaging a gentle screech from his strings, with some tight solo work, but it was an elaborate cover of Maroon 5's 'Moves Like Jagger' that stood out.
The judges deemed the impressive Jess Falls Over a narrow winner, scoring her 32/40. Fundamental were remarkably close runners up with 31, while third-place went to Skant Handful with 27. Hmm. At one point Harper seized the opportunity for a cheeky lyric replacement during Fundamental's scintillating Jet cover, as she quipped: "Are we gonna win battle of the bands?" Well, notwithstanding the potential for an appearance in the final as a wild-card entry, the outlook seems bleak Grace, though the audience reaction perhaps suggested things could have been different.