Students host sleep-out in aid of UK refugees
559 total views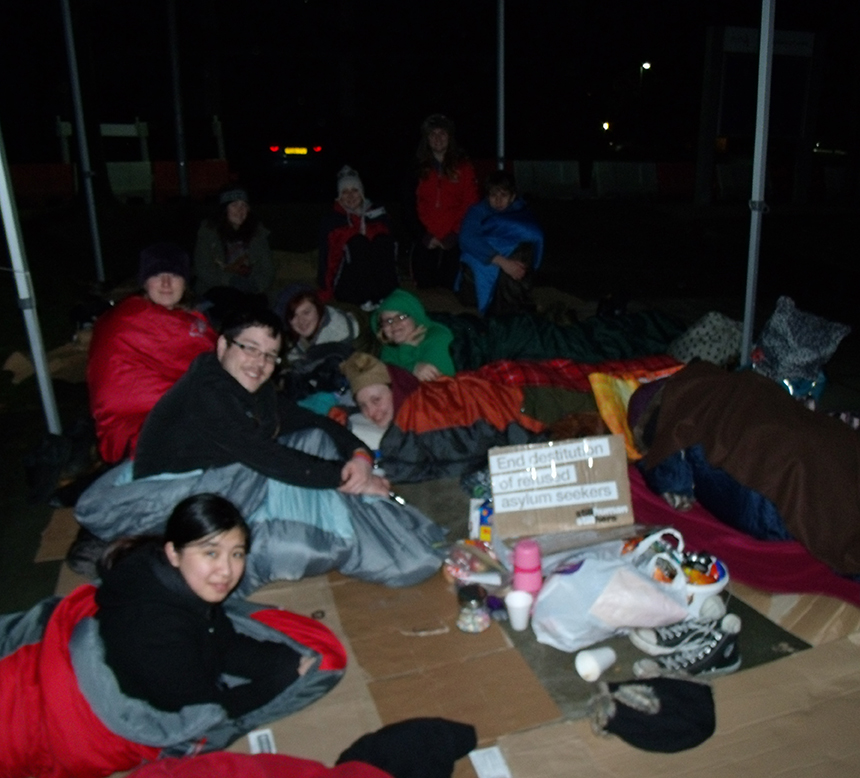 A number of students partook in a 'sleep-out' event during Week 16, aimed at demonstrating and protesting against destitution amongst refused asylum seekers in the UK.
The event, hosted by Lancaster University's Amnesty International Society, took place outside the Chaplaincy Centre between 6:30pm on Wednesday February 22nd and 8am the following morning.
Several of the students involved were present throughout the entirety of the night.
Mark Bevan, President of Amnesty International Society, commented that the purpose of the sleep-out was "to bring to light the issues that refused asylum seekers face every day on British streets," following a successful sleep-out event last year under Amnesty's 'Still Human Still Here' campaign.
Asylum seekers, those seeking refuge in the UK from their home countries due to the threat of violence, sexual abuse or other human rights abuse, represent only a small percentage of immigrants entering the UK per year, with 17,916 asylum applications made in 2010.
There has been some concern regarding misinterpretation of asylum seekers in the media, with global human rights organisation Amnesty International pressing that "many asylum seekers have been denied protection in the UK even though it is acknowledged by the UK Government that it is too dangerous for them to be sent back to their country of origin" and that asylum seekers are "not taking jobs from British workers" as they are "only permitted to seek employment in jobs on the shortage occupations list."
Despite the cold weather and unsettling facts that motivated the sleep-out, the students were generally in high spirits throughout the event, with the arrival of one student with a bag of ready-rolled royal icing proving a particularly unexpected delight. The event also sparked the interest of several passers-by, with one passing student detailing that his mother had been refused asylum in the UK five years previously.
Lauretta Leung, a second year Biomedical Science student, stated that the sleep-out gave "a small taste of what other people are suffering," also mentioning that she was in support of Amnesty International because it "really does make a difference – whether nationally or internationally."
The society's Publicity Officer, Ellie Hedge, believes that "the conditions [asylum seekers] face is unacceptable and it is up to people like us to take a stand and tell the government this treatment cannot be tolerated and things need to change."
An attending County student agreed, commenting that "it's incredibly important that these people aren't forgotten" and that they are "proud to be a member of Amnesty International Society because of all of the good work they do."
Following the success of the sleep-out, Amnesty International Society hopes to host a similar event during February 2013, coinciding with STAR (Student Action for Refugees) Refugee Week.
Amnesty International Society meets at 6pm on Mondays, Furness Lecture Theatre Three. The group have requested SCAN to extend their thanks to LUSU, Lancaster University Security and the Chaplaincy Centre for their support before and during the 2012 sleep-out.