Red Rose Ladies clear up early
585 total views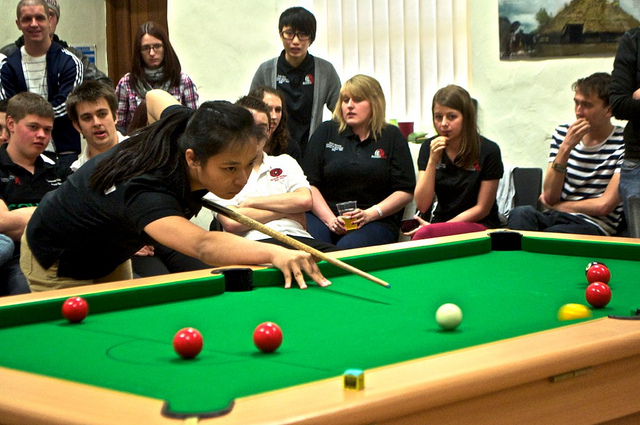 Alongside their counterparts in the Women's Darts, Lancaster Women's Pool were the first to kick off the bar sports this Friday.
In front of a packed Cartmel bar, which resounded to the cheers and taunts of both the Red Rose and White, Lancastrians Helen King and Jackie Zhang were the first to cue off against York.
Zhang and her opponent found themselves courting the black towards the end of their first frame, and she was unlucky to find herself 1-0 down. Her fight back began in her second, which culminated in arguably the biggest controversy of the night, as her shot on the black left the 8 ball teetering on the edge of the pocket. It looked as though Zhang was set to lose her second frame, and hand York their first victory. But seconds later, the black seemed to tip and fall into the pocket, causing several minutes of confusion and heated debate between the two teams as to what the eventual outcome was. Eventually, it was deemed that as the ball had fallen within 10 seconds of the original shot, the win was valid, and Lancaster were back in the game, one frame each. It would prove vital, as Zhang was victorious in her final frame. Lancaster were off to a slow, yet positive start.
Meanwhile, Lonsdale Captain Helen King was victorious in her first frame through some classy placement of the white, but was unlucky to capitalize on her advantage as York clawed their way back to 1-1. But King, like so many times in the college leagues this year, proved her metal, dispatching her opponent effectively to take Lancaster two games clear in a best of nine encounter.
Sarah Jordan was next up, but was met with stiff opposition on the table. Despite winning her first frame, Jordan was beaten in the following two, allowing York to close the gap to 2-1.
When Bowland Captain El Lund stepped up to the table, she showed fantastic ability despite covered pockets and a crowded table. She was unlucky however when her shot on the 8 ball also saw the white pursue its black counterpart down the pocket. One frame down. But Lund was nothing but classy throughout, and cast her bad luck aside to win her next two frames convincingly. 3-1 to Lancaster!
So far, no game had been decided in two frames, all coming down to a deciding game on the third. The fifth game, featuring Lancastrian Cody Ding, would be different. Cody was the first to dispatch her opponent in just two games. This was a vital point, it put Lancaster at a 4-1 advantage. The result of the next game, if it swung in favour of the Red Rose, would see the Women's Pool snatch the vital four points.
Alice Lamb stepped up to the mark in the deciding game, and what a fantastic performance it was. Anyone hoping for a tense finale was left disappointed, as Lamb showed class and finesse that her York counterpart struggled to compete with. After winning her first frame convincingly, she went on to win the second in equal fashion. That was it, Lorna Owen's Women's team had clinched the points in fantastic fashion, 5 points to 1.
Further games were played, though they had little effect on the overall scoreline other than to prove Lancaster's dominance in an evening that saw the Red Rose ladies do little wrong. Huge credit must go to Jenny Grayson, who won her game two frames to one, and ex-Lonsdale Captain Maria Madin. Madin has been on fantastic form all season, and carried her form into her final game for the University, winning two straight frames. Lorna Owen the Captain would go on to too win in similar fashion.
Owen had this to say of her players, "The players were picked from the very best and we had a very strong team from the outset. But to be honest, and 8-1 win was better than we ever expected. I am extremely proud to have one of the most consistent teams on campus and we are all proud to 'be Lancaster'"