Lancaster 3rd Netball Team sets the bar high for Roses 2012
460 total views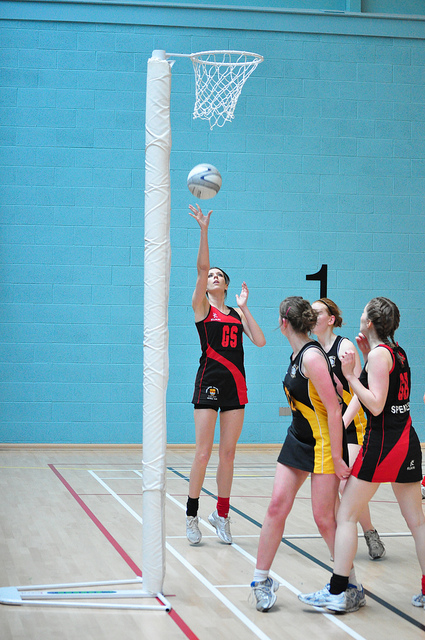 The first of Saturday's three netball games was the Netball 3rd team, whose comfortable win for Lancaster set a high standard for all that were to follow.
Lancaster's performance improved progressively throughout the match, which unfortunately began with a slow pace, undoubtedly accredited to nerves. Despite, Lancaster's victorious effort in securing three goals in the opening minute, York closed the gap, leveling the score to a tied 5-5 mid way through the first quarter.
York, determined to achieve a crucial lead in the opening quarter, played with incredible speed and agility when moving across court, but struggled to compete with Lancaster's sterling defense, intercepting several of York's passes down the court. The score at the end of the first quarter indicates the tight and intense play between Lancaster and York; an 8-7 lead to Lancaster.
Aimee Brown, Captain of the Lancaster Netball 3rds team, said, "The whole team has been really pumped for Roses and the slow start in the first quarter could only have been down to nerves before the big game."
During the second quarter, Lancaster increased the pressure on York, playing with fluent passing, a tighter defense and using every opportunity to score, ultimately achieving a 4-point lead with the score 19-15.
The third quarter saw a York team member fall over and subsequently taken off court. Unable to play, the player was escorted out of the Sports Centre for medical assistance.
York was left shaken from the loss of a valuable team member, shown in the three subsequent goals from Lancaster in quick succession. Despite York's efforts to come fighting back, Lancaster remained just as tight and concluded with a score of 27-20 in the third quarter.
The final 15 minutes of the game saw Lancaster's determination to hold onto their victory so far, eventually achieving an 8-point difference between themselves and York.
The match concluded with a 38-26 win for Lancaster. Brown was delighted with Lancaster's triumph and all the effort the girls put into the game. She said, "We dug deep in the 3rd quarter to manage a fantastic win overall."