Nail that trend
516 total views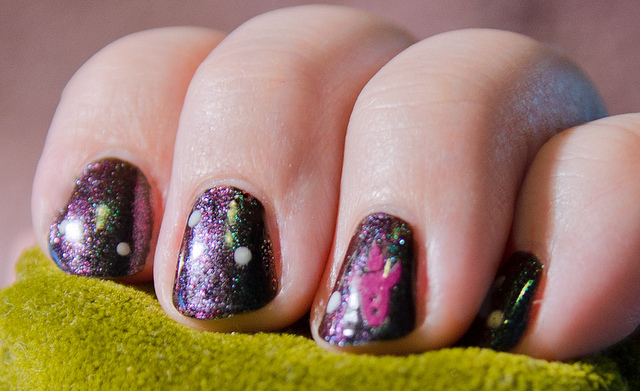 Nail art is the surprise fashion hit of the season, with eye-catching designs being sported by the likes of Jessie J and Zooey Deschanel, and dogstooth-tipped fingers being paraded during Henry Holland's recent catwalk show. While nail wraps might be the simpler way to get in on this trend, it really is far more satisfying – and fun! – to get creative and do it yourself, as I discovered one evening whilst 'writing my essay'.
Nail Rock are one of the top brands for nail wraps, but I didn't really fancy spending close to a tenner on these when, if you're anything like me, I could very easily get them wrong, no matter how simple they claim to be. However, having previously experimented with Barry M's crackle nail-effects and recently admiring my friend's magnetic pink varnish, I wanted to give the statement nail trend a go. I had seen numerous video tutorials and online articles instructing how to create leopard-print or striped nails and, whilst these patterns can look amazing, they just weren't really 'me' – and then I stumbled across…the galaxy nails!
Type those two little words into Google Images (do it, you won't regret it), and you will find a plethora of solar fingertips, the skies of outer space sparkling with stars and supernovas – and all done with a couple of nail polishes and a cocktail stick! This stunning style may look as though it will be hard to achieve but, having personally carried out a trial run, I can confirm that they are far easier than you might expect, and amaze people that see them – minimal effort, for maximum effect!
If you fancy giving galaxy nails a try, there are some great video tutorials on youtube, and also fashion and beauty blogs full of images for inspiration. Scarlett Dixon runs the popular fashion blog scarlettlondon.blog.com, and provides very simple step-by-step written instructions to achieve, which I used to inspire this simple guide below:
Start with a dark blue/black base, and leave to dry.
Use a small piece of sponge, held with tweezers, to dab on a light blue varnish. This looks great if you concentrate the lighter blue more at the top of the nail and leave the bottom half dark.
Using the sponge again, use a white varnish over the light blue, or a white nail art pen. If you don't have white varnish or a nail art pen, then sparing use of a Tippex pen works just as well!
Finish with a silver/gold nail art pen or varnish, or use a glitter varnish to add more stars.
So, even if you're late to the trend, get ahead of the nail art pack and try your hand at galaxy nails for style that is out of this world!