Students stage anti-BAE protest at careers fair
765 total views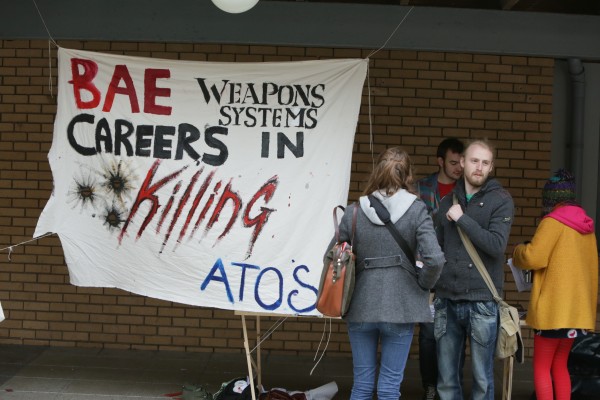 Activists from Lancaster University Against the Cuts, SPEAK, Oxfam and Amnesty International arranged a protest during Lancaster University's annual careers fair on the 7th of November.
Students gathered outside the Great Hall to voice their dissatisfaction with the presence of BAE Systems and Atos at the recruitment event.
The protestors opposed BAE Systems, an international defence company, for their involvement in international arms trading, and handed out flyers calling for the banishment of BAE from future careers fairs.
A large banner bearing the slogan "CAREERS IN KILLING" was hung outside The County College Bar. Other phrases, such as "Atos kills", were written on the nearby pavement in fake blood.
Inside the Great Hall, activists donned blood stained shirts and staged a "die-in" outside BAE Systems' stand, before being moved on by security at the event.
LUAC member Chris Witter spoke to SCAN about why the protest was taking place. He said, "We're very angry at a lot of the companies who are here. Many of them are involved in fraud, corruption and things that we feel are unethical.
"Particularly, we have targeted BAE as an example of companies undermining democracy around the world."
Mr. Witter was keen to emphasise that the protest, although specifically aimed at BAE Systems and Atos, was being held in opposition to other companies present at the event; "Why are we allowing HSBC and Lloyds TSB, with their record of corruption and links to the financial crisis, to recruit? I think this careers fair undermines the whole progressive idea of liberal education."
Literature distributed by the protestors informed attendees of BAE's involvement in manufacturing and selling weapons "indiscriminately around the world to clients in over 100 countries", as well as allegations of "corruption, bribery and trading with human rights abusers" made against the company.
George Holt, a student who was present at the protest, explained why he felt it important to raise awareness of BAE's activities. He told SCAN; "BAE, who sell weaponry to corrupt regimes, are not only sponsored by the university, but they also sponsor courses in the management school. They are now here, not telling students that they're an arms company, and we want them out."
Mr. Holt also criticised the University for allowing BAE Systems to recruit at the fair "The university, which is supposed to be a fair-trade university in a fair-trade town, is going hand in glove with arms merchants who have no interest in human life and liberty beyond their own."
The protest was not the first instance of anti-BAE activism from Lancaster University students. Last year, a motion was proposed at a LUSU General Meeting calling for BAE Systems to be banned from campus, and from sponsoring academic departments. The motion was not passed due to vocal opposition and inquoracy.
Opposition to Atos' presence at the event came in light of their involvement in medically assessing disabled citizens to determine whether or not they are 'fit for work'. Student activists posed as Atos representatives and handed out flyers claiming that the company "derives profit from inflicting misery on disabled people."
Chris Witter said of Atos; "over ten thousand people who were deemed fit for work subsequently died. They are basically hatchet men paid by the government to dismantle the welfare state."
Atos were also accused of delivering "humiliating assessments by badly trained staff" and "[bullying] disabilities campaigners."
While Atos assured SCAN that they fully respect people's right to peaceful protest, they refuted some of the accusations levelled against them by protestors.
A company spokesperson told SCAN; "We do not make decisions on people's benefit entitlement or on welfare policy, but we will continue to make sure that the service we provide is as highly professional and compassionate as it can be."