SCAN Style Diaries
509 total views
Gema is a second year marketing student and fashion blogger from Lithuania. After weeks of admiring her fashion sense, I decided to ask her if I could photograph her outfits every day for a week, and thus, 'Style Diaries' was born.  Having braved torrential rain and blustering winds, we captured Gema's style throughout the course of the week in some of our favourite locations in town and on campus. Gema explains her fashion choices…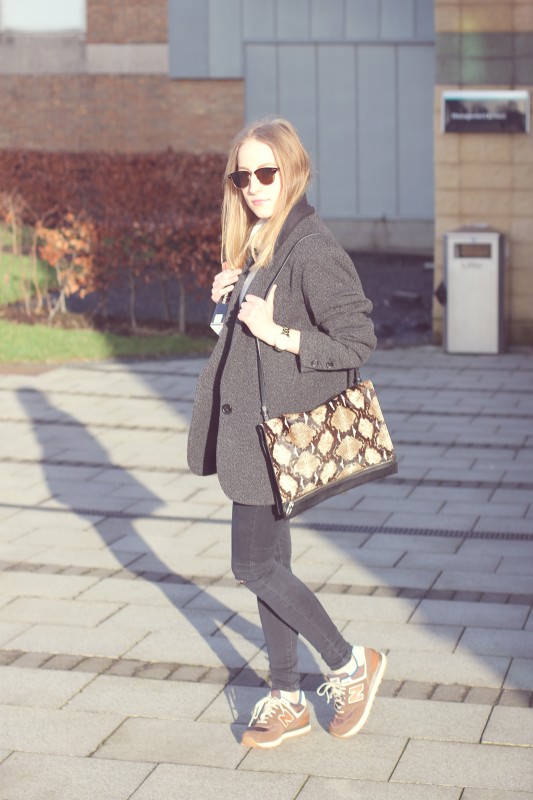 Monday:
To kick Monday off, I was sporting my New Balance trainers and Isabel Marant for H&M coat. This coat is a go-to piece almost everyday as it so versatile, but has its own vibe on the boyfriend cut which is really on trend at the moment. My favourite piece in this outfit however, is my snake print Zara bag that you could wear as an evening clutch, but it is quite spacious so I love it for adding a bit of glamour to my day-to-day uni looks. The sunny weather is hard to come by in Lancaster, so my Ray-Ban-esque Asos sunglasses were obligatory.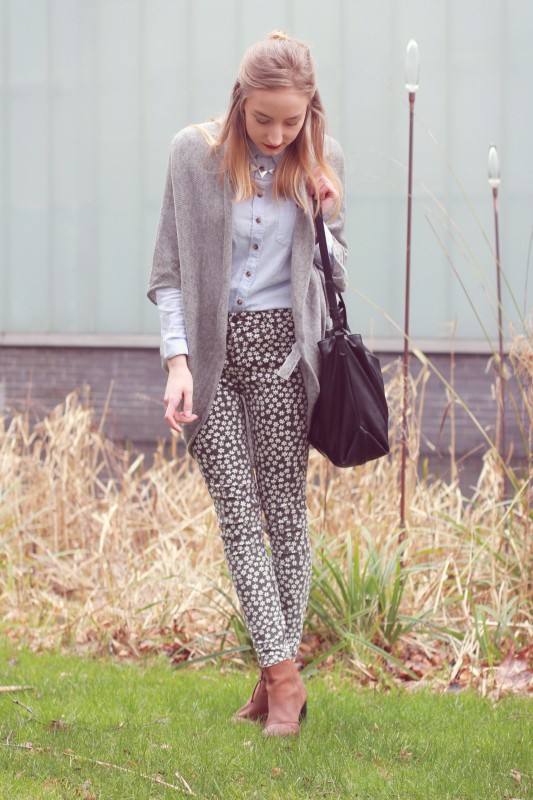 Tuesday:
As the weather was really miserable, I decided to wear my 'sunny' trousers a.k.a. daisy print Topshop Leigh jeans and red lips in order to make it a little bit happier. As for the colours, I wanted to keep them muted with my H&M shirt being light blue (gotta have one of those for a little change from the usual white) and extremely warm grey Zara cardigan. Since Tuesday is the busiest day for me, my black Zara tote came in very handy as well as my Topshop ankle boots, which kept my feet really toasty.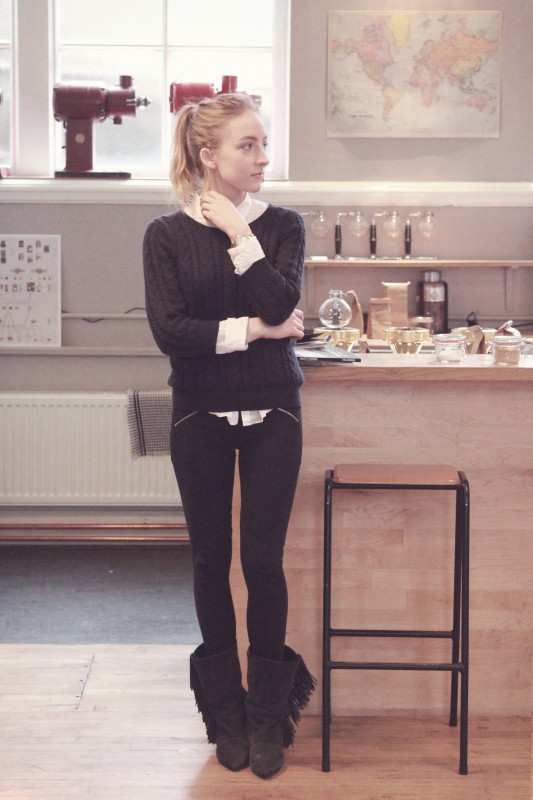 Wednesday:
I don't tend to wear heels on a day-to-day basis – mostly because I have to walk slower in order to keep my balance and let's be honest here, ain't nobody got time for that!  However, Wednesday is my day off uni, which means that I can indulge in lot of treats in my favourite café in town…and that's exactly what I did. My outfit of choice for Wednesday was kind of smart casual with a classic white shirt, a navy sweater and leggings, and my favorite Isabel Marant for H&M fringe boots which I should wear more often. With only a few gold accessories and my hair tied back, I was felt really comfortable to start my day off with great food and endless conversations.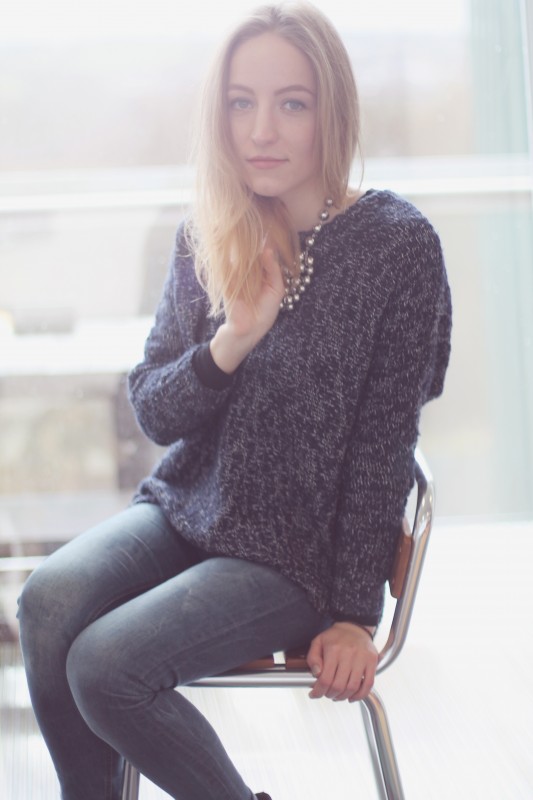 Thursday:
When I'm feeling under the weather, I really can't be bothered with wearing button-ups and blazers, I just want to feel comfortable. That kind of outfit, unfortunately, doesn't always look very fashionable (unless you are Cara Delevingne). Well, as you probably realise I'm not Cara, so I have to find my way through 'cosy yet stylish'. On this occasion I decided to wear a wool sweater instead of a hoodie (still – warm and cosy, but looks more put together) and added a statement necklace. This one is an old one from H&M, but brightens and glams up every outfit. Finishing off with some Topshop Jamie jeans I was ready to face the day.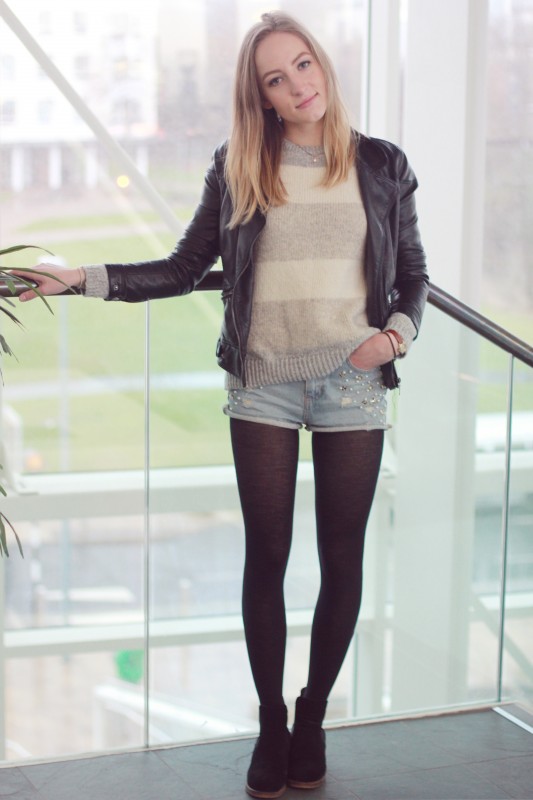 Friday:
On Friday, which was also Valentine's Day, I wanted to wear something a little bit out of my comfort zone.  First, I decided to sport my denim shorts as I'm not very keen on skirts, and also wore my leather jacket which I don't get to wear that often as I'm always freezing. This time however, I chose to wear the warmest sweater I have, which is from Massimo Dutti under it and it worked – I didn't freeze to death! I also wore my River Island satchel, which fitted the same colour scheme as my outfit, and I finished everything off with my tiny golden heart necklace.
Gema's blog can be found here.
Photographs: Mae Reddaway