Interview: Becky Hill
1,010 total views
At 20 years old, Becky Hill from Bewdley has already completed a run to the semi-finals of the first series of BBC's The Voice, and recorded a UK Number 1: her song 'Gecko (Overdrive)' with Oliver Heldens topped the UK Singles Chart. As well as Heldens, Hill has featured on tracks from Wilkinson, MNEK and Rudimental. I went to interview pop's freshest talent, and all round sweetie, before she took to the stage to support Katy B on her Little Red Tour.
How has your tour been so far? Stressful? Enjoyable?
I'm really enjoying it so far, it's kind of like work experience. Supporting somebody else is like conquering your own quest. You're not the main act, you're just trying to get as good as you possibly can as a support act, so in time when you're the main act, you know how the routine of how a tour works. It's very intense; three or four days on, one day off. But it's been really good – Bristol was good last night, but I didn't really enjoy the Roundhouse, only because it was a very stressed situation backstage. I find London audiences quite dry; they don't move a lot.
Which has been your favourite crowd so far then? Or do you find them all fairly similar?
Nottingham was great – really enjoyed it. I also really enjoyed Birmingham, because I had my mum and my dad and my sister in the audience. It was the first one of the tour, I was listing off local areas and people were going 'yep, I'm from there,' and it was very much my own crowd. I find that the further North from London you go, the better the crowds are. Northern people just don't really give as much of a shit. They can just get into things much quicker. But Londoners are cool… they just like to keep it that way.
What's Katy B like?
She's wicked. A really nice down to earth girl. Absolute vibes off her. I'm really enjoying being a part of that whole scene, I think she's a great influence and I'm really learning a lot off her.
You made your name in the reality TV singing competition The Voice, where it's entirely about what you sound like. Do you think that that style of talent show is here to stay, or is it going to die out?
Well firstly I wouldn't say that I made my name on the show. I was hardly noticed on the show, I think I've made my name through hard work in the industry, through my reputation as a writer, and someone who is a capable singer both recorded and live. The Voice is a talent show, a reality talent show, which will always attract a lot of attention, so yeah, it's definitely going to be around for a while.
And what of the other reality shows, which are openly about the commercialisation of any talent, and very much about how you look; how you dress. What do you think about them?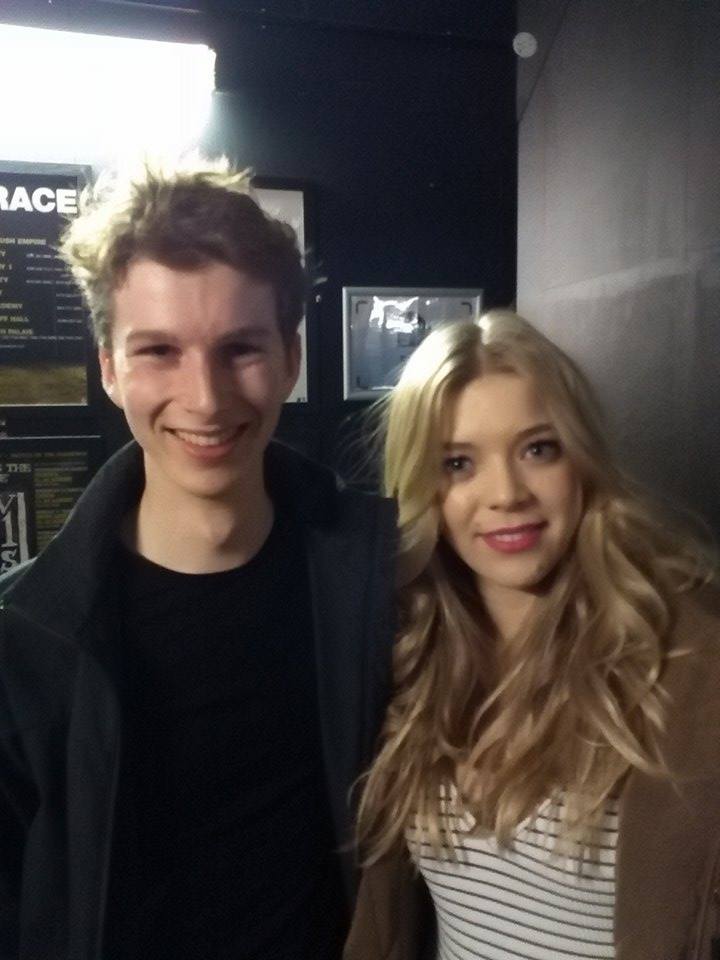 I never applied for any other show. The reason why I went for the first series of The Voice was that I'd never heard anything about it before. I'd heard interviews here and there, and all I knew was that you don't get to see the singer, so appearance is invalid. For someone who's quite conscious about the way I look, it appealed to me a lot more. I also didn't have a dead Nan, a dog with three legs or a blind uncle. I'm from a good family, I've got amazing friends and all the rest of it; I had no sob story so to speak.
Let's talk about your debut album. How's it going? Will we hear any of it tonight?
Yep, I play 5 tracks from the album, which in my mind is done. It just needs to be polished up for release next year. I've really enjoyed being set free to find what kind of music I want make. Two years of writing and about two hundred songs later, we've got the album together, so it's super exciting times for that.
What were your musical influences for the album, and for your writing in general?
I think making the album, I went in with four artists. I didn't really know what kind of sound I wanted to be, only that I wanted to be a mashup between acoustic and electric, so that was all I'd got. I wanted to take acoustic instruments and make them electric sounding. The sound I've got now is less pop, and more electro-nineties, soulful R&B, so lots of differences in one really. The first artist was Ben Howard, because of his classic song writing and timeless album Every Kingdom. Bon Iver was the second, because of their left-field individual approach. I've been a massive fan of theirs since I was 13, so that was definitely something I wanted to incorporate into my album. Then Ellie Goulding, because of her successful career and individual voice. I love how unique she sounds, and her fun, youthful production that she's got going on, which isn't throwaway pop, but sort of cool-pop. Lastly, Passion Pit because the energy in their music was something that I'd never heard. Their first album really pricked my ears up as something that was really cool, energetic and youthful. You get the sense that their first album was really one that they wanted to make.
Which do you prefer between acoustic and electric, both playing and performing?
I don't have a preference. I like a lot of different music – I've been through a lot of musical phases growing up. I've done acoustic sets, and what I like about that, if my voice is up to it, is having the vocal freedom. It's really exciting having that naked vocal. With a full band, what I like is the presence that's on stage. I love my band because they're all very 'vibey,' and they all bring something to the set.
What tips do you have for the performance students at Lancaster – how do you go about being successful and enjoying it while you're at it, as you obviously do?
I have a little theory that a job is a job. I know there's the saying that 'if you do something that you enjoy, you'll never work a day in your life,' and I do something that I enjoy, but there are parts of the job that I definitely don't enjoy. If the positives didn't outweigh the negatives though, I would have stopped a while ago because of the pressure in this industry. My advice to anyone is to go into something that they enjoy. Watch the scales. When the negatives outweigh the positives, then you need to reconsider. If it's the other way around, then that's what I'd go for. You've got to work hard regardless.
What have you got planned, in both the short term and the long term?
Short term, I want to finish the tour. I've got some press and stuff to do before the release of 'Losing', the new single, so release that, and then have an enjoyable Christmas. I want some time at home with my family and friends, and then I'm going to get cracking in 2015. I want to get the ball rolling as quickly as I can and come back with single number two. This might be a stupid thing to say, but in the long term, I want to make eight albums. Eight good albums. Not a lot of artists make eight good, successful, albums, but I want to, so that's my long term goal.
The video for Becky's new song 'Losing' can be seen here, and the single is available to pre-order on iTunes. Leo's review of her gig with Katy B can be found here.