Oscar de la Renta (1932-2014)
1,489 total views
What do Hollywood stars and America's first ladies have in common? A love for Oscar de la Renta and the clothes he created. Sadly, it was just last week the man himself passed away at the age of 82 after battling cancer for the past 8 years, leaving behind not only his family but his legacy too.
Unlike Coco Chanel or Alexander McQueen, de la Renta was never a groundbreaking designer. His approach was more measured, more sophisticated and with the modern woman in mind, to whom his attitude was just as pioneering. His understanding that today's women are "no longer socialites" but rather "work for a salary" is what makes his collections so refreshing; wearable clothes for real women.
This established reputation was long sought after though and began back when he was just 19, making the brave journey from his home in the Dominican Republic to Spain where he wished to study art. Sketching clothes for newspapers to earn extra money, it was in 1956 that his drawings caught the attention of a US ambassador who asked him to design a dress for her daughter's debutante. With a stroke of luck, the dress was featured on the cover of Life magazine and so, de la Renta made his breakthrough.
Following this, he worked for both Cristobal Balenciaga in Madrid and Lanvin and Balmain in Paris. It was in in 1965 though, that with a little encouragement he eventually moved to New York where he launched his own ready-to-wear label.
After years of the designer remaining "the little guy in the back", working tirelessly for the department stores and manufacturers, de la Renta stood out and created an identity for himself in social circles throughout New York. This was a valuable move and allowed him to mix with women of not only serious wealth but also serious influence, such as Jackie Kennedy and Hilary Clinton. Even dressing today's first lady too, Michelle Obama, who earlier this month wore one of his own designs.
Despite illness, de la Renta remained a firm favourite for stars on the red carpet. His blossoming, silk gowns with a carefully placed ruffle here and there graced the figures of Cameron Diaz, Amy Adams, Sarah Jessica Parker and even Amal Alamuddin, who chose de la Renta to design the dress for her wedding to George Clooney.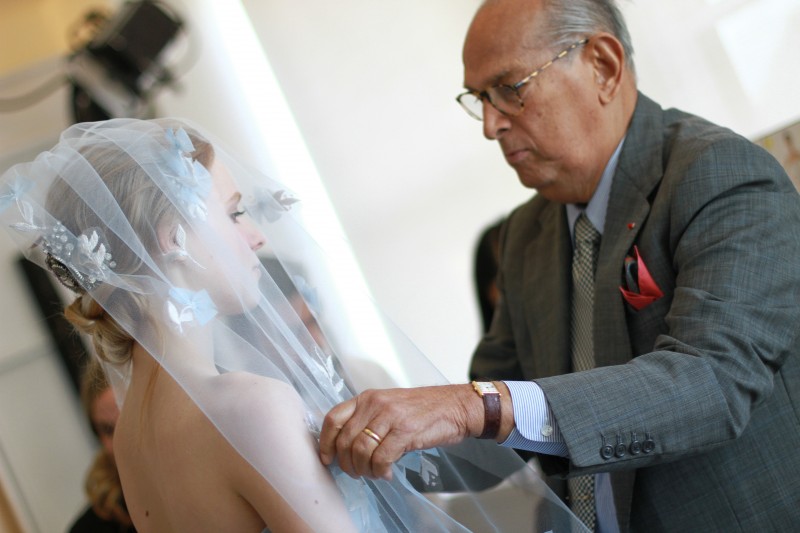 His death is a loss to both the red carpet and the fashion industry, but I am sure his legacy will live on, for he was one of the few designers who knew women inside out and understood that whilst "fashion is about dressing according to what's fashionable. Style is more about being yourself". He embodied this message in the manner he wore his pinstriped shirt, silk tie and pocket-handkerchief to each and every show and a message I believe we can all take from him.