The Rise of the Celebrity Model
641 total views
First it was Kendall Jenner for Marc Jacobs, now Justin Bieber for Calvin Klein, it seems celebrities are no longer satisfied with dominating just one aspect of our society, but rather need confirmation of their beauty and worth in the form of a highly publicised fashion campaign too.
After walking for Marc Jacobs during New York Fashion week last February, Kendall has transitioned from reality star into a high fashion, high in demand model. Her showcase on Jacob's runway, with bleached eyebrows and a daringly sheer top, sparked attention and since then her modelling portfolio has grown to include Fendi, Dolce & Gabanna, Givenchy and campaigns for Marc Jacobs and Karl Lagerfeld. Her latest campaign for Marc Jacobs sees her alongside supermodels Karlie Kloss, Adriana Lima and Joan Smalls. Sporting edgy black bobs and military inspired clothing, the campaign oozes an androgynous look, deeming Kendal almost entirely unrecognisable from her usual polished image.
However, your reputation precedes you and never more so than when you're a part of the Kardashian clan. For Kendall's transition to fashion royalty did not go unnoticed amongst critics, with one model, Arisce Wanzer, even writing a damning open letter to the star suggesting Kendall has only ever heard 'yes' in response to her wants and requests, this being an addition to the list and one a phone call from her 'mommy' to a fashion house made possible.
Just as Kendall's celebrity status hands her opportunities on a silver platter, Justin Beiber seems to have acquired the same lucky fortune, recently having been announced as the new face of Calvin Klein. Whilst the global brand Calvin Klein has come to epitomise what is cool and effortless, Bieber on the other hand, is decidedly less so. Calvin Klein campaigns are renowned for being sultry and sexy but Bieber's campaign seems to miss this vital element, instead portraying an arrogant looking teenage boy unsure of how to pose with the much more experienced supermodel Lara Stone.
Whilst his youth should be an advantage, appealing to Calvin Klein's younger audience, the untouched images that leaked just a day later prove Bieber to be a far cry from the bulk of a man he initially appears; an embarrassing revelation.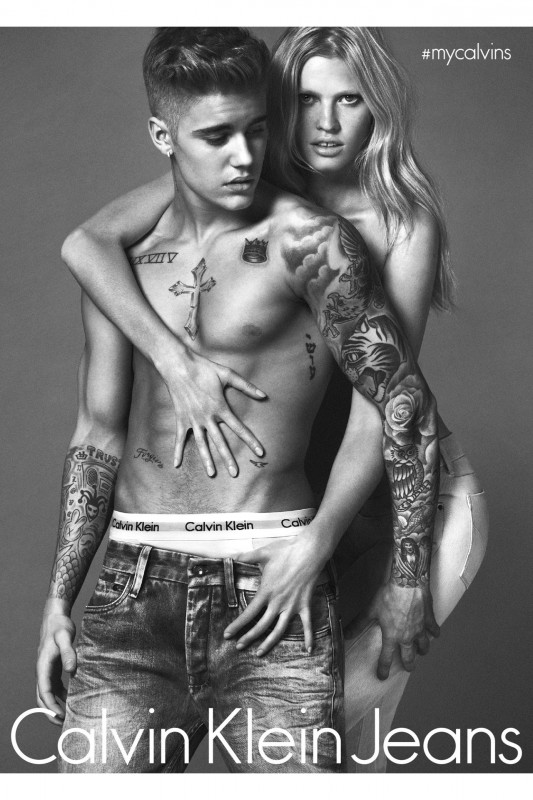 Holding the title for the most tweeted about music artist of 2014, it seems Calvin Klein chose Bieber to face their campaign in an attempt to take advantage of his online presence and global popularity, perhaps hoping for the same success that Estee Lauder reeled in when, after announcing their new contract with Kendall Jenner, their Instagram likes rose by 50,000 within a day. Unfortunately, it seems Calvin Klein underestimated the age of their customers whom unlike pre-teen girls think Bieber to be less than cool.
Causing such a number of conflicted opinions, Bieber has ventured out of his comfort zone into a whole new industry that perhaps neither he nor we were ready for and sadly it seems design houses are one by one cashing in, milking both Bieber and Kendall's fame for as much as they're worth. Once upon a time fashion week was about spotting the 'one to watch' for the coming year, the excitement at new talent and those rare breakthrough moments (think Kate Moss). Unfortunately, models have been temporarily overshadowed by celebrities, happy to pay their way in and steal the limelight.
Whether Marc Jacobs and Calvin Klein see rising profits from their celebrity endorsed campaigns is yet to be seen. However, if the age of Kendall and Biebers fans is anything to go by, the big brands will be lucky if their new younger audiences even have the pocket money to afford a phone case let alone an outfit!