How to Bake Healthily: Baking on a Budget
943 total views
At times like this, we all need a distraction. As all of us are turning to comfort eating and raiding the kitchen cupboards, I've found myself baking more and more.
After a week of chocolate based sickly indulgences, including rather rustic looking cherry pie (shown below), I found myself deciding to try and turn the tide. Sure, I still want to bake, but how can I make it vaguely healthy with what I've got in the house?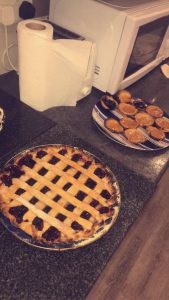 Stage 1, find some good recipes. For me, BBC Good Food was a great place to start. I found myself rooting through the cupboards once more and seeing what I have.
My advice would be to do the same. See what you have and see if any of the recipes you like the look of have a similar ingredients list. Quite often you can swap out certain ingredients depending on what you have and what flavours you prefer.
The first healthier piece of baking I did was a fruity teacake (otherwise known as fruit loaf or tea loaf) from the BBC Good Food's website (also available as an app). The ingredients list is below, along with a picture of how it turned out.
300g mixture dried berries and cherries
225ml hot tea
Juice 1 orange (about 75ml/2½fl oz) plus zest
50g butter
100g light brown sugar
1 egg
225g self-raising flour
4 tbsp demerara sugar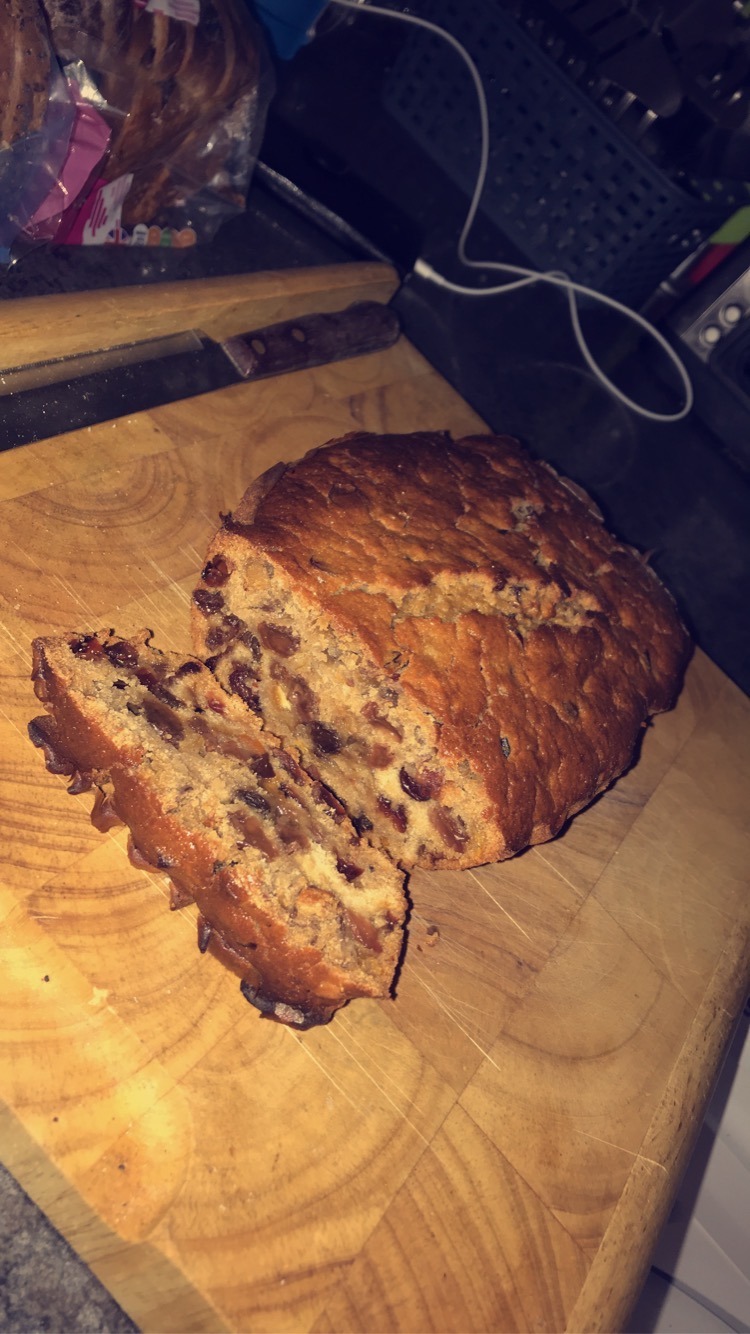 A little disclaimer. The recipe obviously has a set time and heat to cook the tea loaf. However, I would say that this is dependent on personal taste. Some people like a stodgier, slightly wetter loaf. In this case you ought to not keep it in too long. If you prefer a sturdier, slightly more cakey loaf then leave it in a little bit longer. As a top tip, putting a skewer in the loaf to see if it comes out dry is a good rule of thumb. Also, with this recipe, you can swap out mixture of dried berries and cherries for any dried fruit to suit your taste: sultanas, raisins, cranberries, whatever takes your fancy. Not only this, but whatever tea you prefer just swap that in too! This is a super easy, healthy recipe and the only part that takes time is soaking the fruit in the tea beforehand.
On this website there are 15 recipes under the tag 'Healthy treat recipes' and there are a further 38 under the 'Cheap baking recipes' for those of us who are counting the pennies at this troubling time. Baking can be a form of therapy. As sports editor and a psychology student I talk about the therapeutic benefits of exercise all the time. For me I think we can find calming vibes in anything that we enjoy. Anything that helps us escape. So, get the music playing, get your baking essentials out and enjoy yourself! It's the least we deserve at a time like this.
Here are a few helpful websites for baking cheaply and/or healthily: