Christmas Gift Wrapping: A Guide
434 total views
I am a Christmas fanatic. I'm ready to deck the halls and blast Christmas music before Halloween has even started. From baubles to Bublé, I love everything about the festive season and that includes wrapping presents. Perhaps some of you have the gift-wrapping ability of Smithy in Gavin and Stacey and use tin foil as an alternative to paper and tape. Or maybe you like wrapping gifts but are always underwhelmed with the result. Whatever the situation, I hope you find these tips and tricks useful!
Plan Ahead
What gifts are you going to buy? How big are they going to be? How many are you going to have to wrap? Before you go out and buy your supplies, think about how much paper and tape you're going to need. There's nothing worse than getting to the end of a roll with one present to go.
Think of the Environment
A roll of pretty wrapping paper for 99p seems like a bargain, especially when it's turned into confetti come Christmas morning. However, it's important to consider the environment as well as the aesthetic. Recyclable wrapping paper does exist, and it doesn't have to break the bank! All of Wilko's wrapping paper is 100% recyclable and costs no more than £1.50 a roll.
Sticking Station
If you don't have a tape dispenser (I don't), I recommend pre-cutting your tape. It will save you the hassle of trying to do it one-handed, or whilst your big toe holds the paper in place.
Wrap Diagonally…No, Seriously
If you've ever found yourself with only a little bit of paper left and one final gift to wrap, this tip is genius! Place your gift diagonally in the middle of the paper, then bring each side to cover your gift. There are plenty of tutorials on YouTube showing you how, and it's worth trying out as it will save you wrapping paper (and money).
Choose a Theme
Having a consistent colour scheme is the easiest way to give your presents that WOW factor. I tend to choose one patterned paper and then buy gift tags and ribbon to match. Again, I would recommend Wilko as an affordable, yet stylish, option.
Bags and Boxes are your Best Friends
Whether it's an awkwardly shaped gift or you just really can't wrap, boxes and gift bags can hide a multitude of sins. They're great as an alternative to wrapping – just hide the gift in tissue paper instead.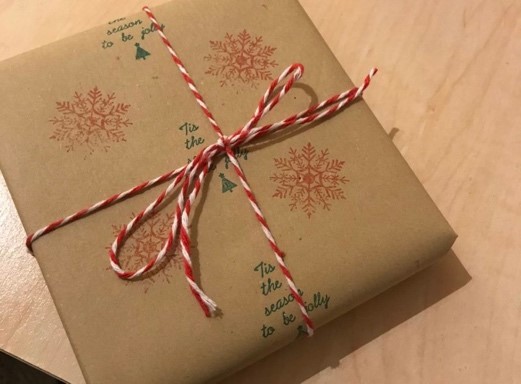 "Brown paper packages, tied up with string"
Using brown Kraft paper has become a trend in gift-wrapping in recent years. It's great for the environment, highly economical, and gives you the freedom to decorate however you'd like. If you've got a younger sibling or family member, let them create personalised paper by drawing a Christmassy picture. Or buy a Christmas stamp set (which you can find cheap online) and get creative!
Dress them up
At some point in your life, you've probably tied tinsel on your outfit to make it 'festive'. The same logic applies to gift-wrapping. Using ribbons or string to decorate your gifts takes minimal effort, but it's a small touch that makes your gift feel extra special.
It's Not a Chore!
Like decorating the tree or going ice-skating, wrapping gifts can be a fun, Christmassy activity. So, carve out some time, put on a Christmas film and enjoy yourself!
Ultimately, how your gifts look really doesn't matter. The thought behind them is what counts the most. But if like me, you really love Christmas, there is no harm in going the whole hog (or, should I say 'turkey'?).