Where will Tennis be Without the 'Big 3'?
478 total views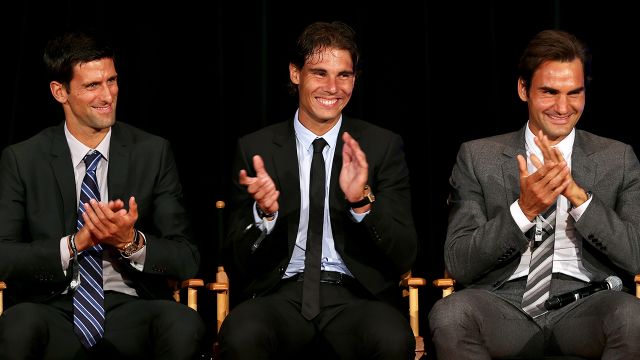 Since 2008 tennis has been monopolized by three men: Roger Federer, Rafael Nadal, and Novak Djokovic. Federer won his first title in 2003, Nadal in 2005, and Djokovic in 2008, and since then, just two other men have won multiple grand slams. However, the 'big 3' are aging; Federer is 39, Nadal is 34, and Djokovic is 33. Aside from Federer (who is a freak of nature), most high-level athletes tend to retire in their mid-30s, begging the question, how will tennis fare without the three greatest male players of all time?
To understand why this is even a debate, you must understand the magnitude of what these three players have achieved. In pure tennis terms, their dominance is unprecedented. Nadal and Federer are the only two male players to have won 20 grand slams, and Djokovic is 3rd on the all-time list with 17.
Federer has won $130 million in career prize money, and in recent times earns roughly $100 million per year in commercial endorsements. Nadal's commercial salary was $26 million last year, and Djokovic's was $32 million. Sports need athletes that transcend the sport; think Ronaldo or Messi – the majority of people who don't have an interest in football know their names and the same goes for the likes of Michael Jordan, Usain Bolt, or Muhammad Ali.
Similarly, a large majority of people at least know the name Federer, as well as the other two but perhaps to a lesser extent. Without the 'big 3', tennis isn't part of people's common knowledge, and risks a decline in commercial interest and therefore global participation when they retire. However, as an optimist, I think there are a few players currently under 30 who have the potential to reach the heights that their aging predecessors have.
The best place to start is Dominic Thiem. The Austrian is 27 years old and the first player outside of the 'big 3' to win a slam since Stanislas Wawrinka in 2016. He won the US Open in 2020, remarkably coming back from two sets down to beat Alexander Zverev. Thiem is an abrasive player; at 6'1" his serve is not as dominant as other players so rely on solid defense and forcing weaker shots onto his punishing forehand. Commercially, he has just a brief history, featuring in Vogue in 2017 and founding his own football club, but he has perhaps been limited since his Grand Slam was won during the lockdown.
Aside from Thiem, no other player under 30 has a grand slam, but there are multiple players who can maintain tennis' publicity and take the back pages of newspapers. In pure tennis terms, the most recent example would be Daniil Medvedev. The big Russian just won the ATP Finals, and in doing so beat all three top seeds. Medvedev loves to play the pantomime villain, the sort of role that Djokovic plays sometimes, or like Nick Kyrgios but with the work rate to back it up. It's worth searching up videos of the 2019 US Open where Medvedev has a great time with the crowds. If Medvedev keeps up his form and persona, he can disguise his rather basic playing style and become a well-decorated player.
Alexander Zverev is also a grand slam finalist and is perhaps a more viable replacement for the 'big 3' in that his playstyle is more eccentric and he is more marketable. You'd do well to find a better backhand and he has a good relationship with the media – as well as several high-profile commercial deals.
Tennis strives on rivalries, the 'big 3' themselves have fierce battles, think Nadal vs Federer at Wimbledon in 2008, or Djokovic vs Nadal in Australia in 2012 – the longest grand slam final in history. The heat of an intense rivalry makes for great viewing given the gladiatorial nature of tennis. Medvedev's matches against fellow ATP Finals winner Stefanos Tsitsipas are always worth watching ever since their incredible bust-up in Miami 2018 – which is worth a YouTube search.
Nick Kyrgios is also bound to have some sort of rivalry with just about anybody he plays which is always worth watching – he can produce some great pantomime, frustration, and pure unmatched brilliance. Kyrgios is somewhat an enigma. He, as John McEnroe said, is the most talented player in the game at the moment, yet seriously lacks the mindset to capitalise. Nonetheless, he is certainly a player worth following.
There are players of Kyrgios's flair that are also worth watching: Denis Shapavalov has an extraordinary jumping backhand, and if he wins a big game, he may treat you to a pretty awful freestyle rap. Diego Shwartzman is interesting to watch as he is just 5'7", meaning he is dwarfed by most opponents and brings a unique playstyle that epitomises technique and precision due to his natural disadvantage.
As I was writing this article, I asked my mum (who loves her tennis) what she thought about tennis' next generation. She, like many tennis fans, is bored of the constant domination of the big 3 and loves to support the underdog, but once the 'big 3' retire there will be no underdog.
Whether you love to watch art in motion when the 'big 3' play, or whether you want their reign over, tennis is still worth watching once they're gone. The sport has the potential to maintain its greatness, largely due to the underrated quality of Thiem, Medvedev, and Zverev, or the X-Factor provided by the likes of Schwartzman or Shapavalov who also have the potential to reach the top.
The void that the 'big 3' will leave will inevitably lead to a big scrap between a whole multitude of young players with everything prove and nothing to lose – and with every grand slam being unpredictable and exciting. Whilst players may not reach the $100 million commercial heights of Federer or reach the individual heights to transcend a sport, tennis will certainly be worth following for the foreseeable future and beyond.