A conversation with Elvira Florence
876 total views
I spoke to Elvira Gothlin who was inspired over lockdown to take up sewing, a passion that grew into a small business called Florence Designs.
Follow her on Instagram at @byflorencedesigns and check out her designs on Depop, @madebyflorence.
1. Could you tell me a little bit about yourself and your relationship with fashion; has it always been important to you?
I am from Sweden but grew up in a few different countries before coming to the UK for uni in 2017. I have always loved fashion, mainly from an entertainment standpoint. I like watching fashion shows and admiring beautiful pieces and checking out other people's unique styles. It wasn't until lockdown that I started thinking more about how I dress and how I would love to be bolder with my fashion choices etc. That's also partly why I started making my own clothing in lockdown, to try new styles and shapes without committing to buying so many new pieces.
2. What is the story behind 'By Florence'? How did it all start?
Everything began in lockdown when I started using my sewing machine which hadn't been touched for years. I had a lot of extra time on my hands, and I have always wanted to try and make my own clothes. I figured, how hard could it be? A dozen broken needles and a couple of tears later I finally made my first piece, a pair of trousers that were so lopsided the bum area was on my thigh. I scaled it back and started sewing smaller, easier pieces and trying new techniques from youtube and TikTok.
Eventually, I became confident enough to post sewing videos on TikTok, which is where I got my first customer. I made a custom green satin corset for a girl in the US, and I loved it so much I decided to make more pieces and list them on my Depop. I gained some traction and now I have a small business going!
3. What inspires your designs?
I keep my designs pretty simple but make them unique with cool patterned fabric and colors. I have a few basic sewing patterns (the shapes that are cut out and sewed together to create the piece) that I drafted, such as a basic 'bodice' which I can then turn into all sorts of tops. Lots of my inspiration comes from Pinterest, TikTok and Instagram.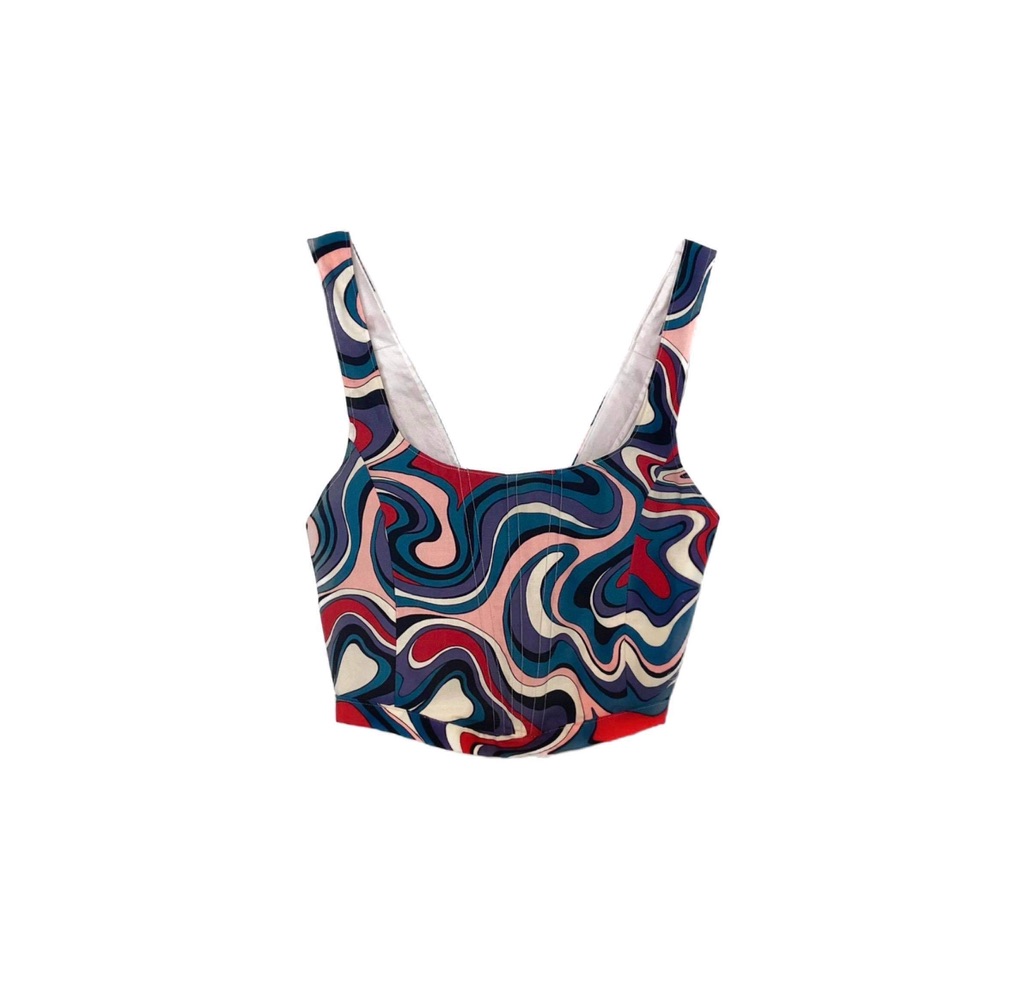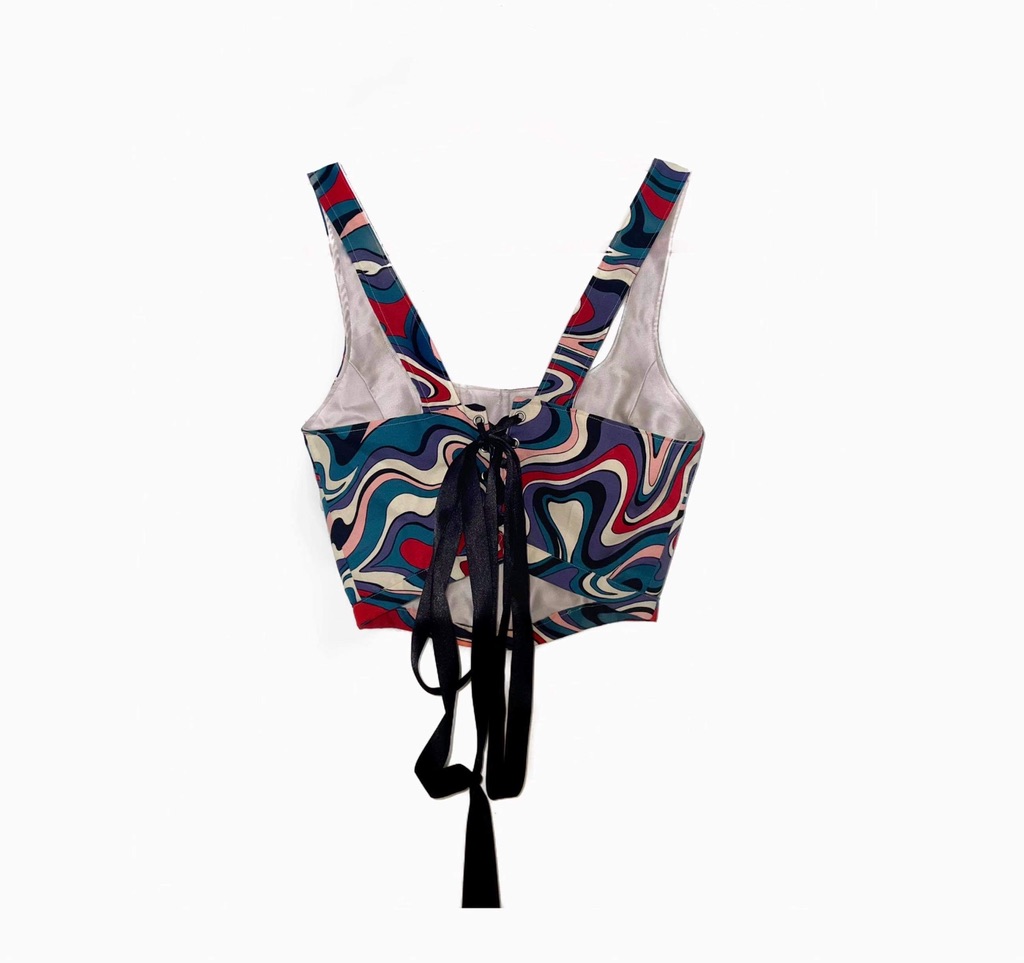 4. If you could describe the ethos of your business in three words, what would they be and why?
I would say 'inclusive, unique and fun.'
I try to be inclusive by offering my pieces to be custom made to any size, and specific requirements whether that be shorter pant legs for someone petite or longer arms for taller people! I also feel like many of my items are very unique, especially if I use vintage fabric that isn't made anymore. I also designed a spiral long sleeve top, which I haven't seen before and I think it's pretty special. The last word for me is fun! I want people to get excited when they open my parcels, I pay a lot of attention to my packaging, making sure it feels like a special gift. I also love to throw in freebies like matching scrunchies.
If I could add a fourth word, I would gently throw in 'sustainable'. I make a conscious effort to be more environmentally friendly through my plastic-free packaging and using fabric scraps for smaller projects. Everything is also made to order, which means I don't risk stock being unsold and wasted. In the future, I would love to upgrade to more sustainable fabric and only use natural fibers: something which is quite hard to do when starting up as they are more expensive.
5. Lancaster town is full of vintage and charity shops which are ideal for shopping more sustainably, has that impacted the way you shop and view shopping? Do you think much of the student body share your ambitions?
It has absolutely affected the way I shop. I try to only buy second hand or make things myself, and being in Lancaster makes that quite easy. The charity shops have plenty of nice stock, and I've been to a few kilo vintage sales which were great and affordable. I think young people in general have a good understanding of how to shop more sustainably, and I see lots of uni students going to the charity shop or shopping at small businesses instead of large fast fashion brands, which is great!
6. There is plenty of advice surrounding sustainability in fashion, is there something that you think is overlooked?
I think there is a lot of great information and sustainable fashion advocates out there who put out great advice. One thing I would say is the most sustainable thing is to wear items you truly love regardless of the current 'trends' because the trend cycle is shorter than ever and hard to keep up with.
7. I would say that people are more supportive of small businesses recently, do you agree? Do you think this will last?
People are super supportive of small business which is amazing and I have met some incredible people online because of this. I try my best to shop small rather than from corporations now and I love it because small businesses usually put in more effort into their customer experience through things like packaging or hand written notes. I think the move towards smaller businesses will last, but there will always be the issue of price. Large corporations can cut costs in a way that smaller businesses cannot, so in the end it all depends on customer trends and if they are willing to pay a bit more.
8. What would be one piece of advice that you would give to anyone starting a small business?
I would say to do something you truly love and to go for it by starting small. Try a few things out and see if it works, there's nothing wrong with changing course multiple times, I've done it myself. Not every idea is going to work or be successful, but steady perseverance over a long period will pay off and you will get there.
9. This all began with Covid in the background, what impact did it have to play?
Covid has been tough on everyone and I could never discount the toll it has had on our mental health and wellbeing, so I will try to take a positive spin on this instead. Covid had a huge impact on me, as I probably would not have even started sewing if I wasn't in lockdown. It has also meant that more people have started all sorts of hobbies and have turned online to find others who do the same thing. I've met so many people on TikTok and Instagram who love sewing and started during lockdown, so it has helped me find a really positive and fun environment.
I'm so thankful for all the people I have met online who have given me sewing tips and how we always help each other, I don't think that community would have formed if we had all been at school, uni or work.
10. What is the biggest struggle that you had to, or are having to, overcome?
It's hard not to compare yourself to other creatives and small businesses, and I am guilty of that. I try to remember that we are all in different chapters of our journey and that one person's success doesn't minimize your own.