"I've been immortalised in a college chant"
1,487 total views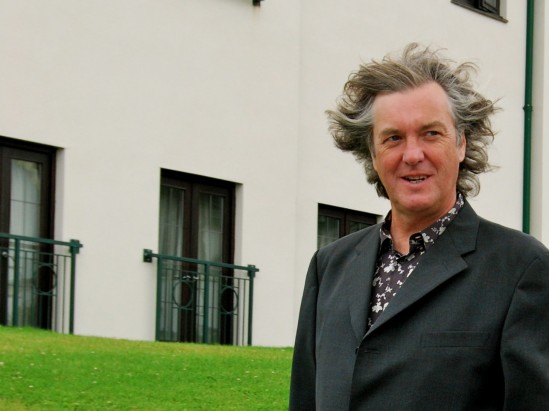 A former music student here, James May is perhaps best known for his role in BBC's Top Gear alongside Jeremy Clarkson and Richard Hammond. He has written several books and presented a number of his own TV shows Including James May's Toy Stories.
Upon meeting the legendary 'Captain Slow' I asked him how he spent his time here since his arrival the previous evening. "I went out on the campus last night, exploring a few bits that I remember. I actually remembered better than I remembered I remember… I didn't really get here in time to go to Lancaster, and I have to go home this evening because I've got to go into work tomorrow. What I'd like to do is bring my girlfriend Sarah up here, she's never been to Northern England and I want to bring her to Lancaster."
James then began to reminisce about his favourite drinking establishments whilst he was at university. "The Plough was there when I was there, it was really the 'old farts' pub full of elderly chaps complaining about things. I gather it may have switched round a little now. I remember the Brown Cow, the Blue Anchor and the Pendle Witch down by the river. Oh, and the Sugarhouse obviously. We used to love the Sugarhouse, because, well it was cheap mainly. Cheap, and safe. In the way that you knew where you were, that your mates would be there."
Asides from the memorable nights out at Sugar, I asked whether James had any memorable moments from his experiences at Lancaster, to which he responded, "If you mean great moments of academic achievement, no. There weren't very many of those. Oh, I broke a window with a football here, in the Biology building and never owned up to it. I think I can probably admit to that now."
As we continued to walk around campus, James began to point out areas he remembered from his time here. "This road here, used to be, in the olden days, a little country lane. We used to ride our bicycles down to Galgate. We did a lot of riding bicycles, we were poor, but happy."
As a fellow Pendle student (more evidence that Pendle are awesome) I asked James about rivalry between colleges. "I was in the old Pendle. There used to be some friendly animosity between Pendle and County. They thought they were a bit posh up there, or a bit more clever or established. We nicked their Christmas tree once."
James didn't remember there being any college chants whilst he was a student, and I couldn't resist reciting Pendle's "Pendle all the way, Pendle all the way, James May, James May, Pendle all the way". He was rather impressed, "That's very nice! I've been immortalised in a college chant".
James remarked upon the "brilliance" of Lancaster's college system and how it was one of the things that attracted him to the University. "I think that the thing that's good about it, is that if you go to any other University and study music, then you're just going to end up with a load of musicians, which is to be avoided really. With the college system here, you just end up with people studying in all different areas. It's a good way of mixing people up".
I asked if he felt that his experiences at Lancaster helped to develop his career in any way. He thought about it for a moment, before replying "I didn't end up doing what I aimed to do. I ended up doing this by accident, but now that I'm in it I think that the things I learnt here were very important. Even if you're a bit of a ropey student like I was, going to a University, especially a non-stuffy modern one like this, is a great experience".
On Top Gear, I asked if Jezza was the 'Simon Cowell' of the team. James responded with good humour, "Do you mean obnoxious, and horrible to look at? Yes, I suppose he is". I also asked about his first car whilst he was a student. "I had a yellow Vauxhall Cavalier 1.6L which my dad gave me. It wasn't actually very old, but it had done a massive mileage. That was the car I brought here, but lots of people didn't have cars back then. It was useful to have a car but I didn't use it that much other than going to and from home. It was quite nice occasionally to all pile in the car and go for a picnic or something. We used to go to Morecambe and go to the pier and the funfair, but I gather students don't go there much any more which is a shame".
When I brought up his other shows, James spoke about his enjoyment of filming James May's Toy Stories. "It was very difficult to do but very fun. My favourite toy is probably Lego. Lego or Meccano. Anything constructive".
James continued to reminisce about his memories from Lancaster, including falling asleep in most of his lectures, spending pretty much all of his time drinking and one of his pastimes of trying to run across the top of the spine without touching the ground. A sport still enjoyed by students today.
As our walk around campus came to an end, and James was putting on his graduation gown to accept his degree, I asked what was next in his career. "I'm working on a series about useful skills which is going to be on at some time around Christmas. Then there's more Top Gear and our road trip in the Autumn. I've got a DVD with Richard Hammond and I've just finished writing a book which will be out in September. The book is called 'How to Land an Airbus A330: and Other Vital Skills for the Modern Man'. It's about useful things that you might need to know one day, such as how to deliver twins or escape from Buckingham Palace".
After being handed a copy of SCAN, James was impressed with how the newspaper has developed over the years. During his time in Lancaster he wrote a few articles which he believed sparked his interest in journalism. As a keen journalist, this was nice to hear and gave a great end to a fantastic chat with a rather inspiring man. James May all the way!