You shall go to the ball
397 total views
It's that time of year again.  The nights have drawn in, the Coca-Cola advert has become a daily occurrence and there seems to be a little magic in the air.  The countdown to Christmas has truly begun, even for the sane amongst us who don't start shopping for gifts in July.
But there is an even more important date on the horizon for fashion followers; the date of your college Christmas ball.  It comes just once a year; the opportunity to be disappointed in what looked like a promising three-course meal, destroy the interior of a respectable hotel and, most importantly, to put on the gladdest of your rags.
If you don't know where to begin finding your perfect ball dress, let Fashion Forecast be your fairy Godmother and have a look at this season's trend for party-wear.
Christmas is a time of excess, so allow your festive frock to be loud.  When you walk into the ballroom, you don't want to fade into the background against a multitude of re-used prom dresses.  If you've got the confidence, you can command the attention of the room with this molten hot trend.  Forget frankincense and myrrh, the only gift worth giving this Christmas is gold.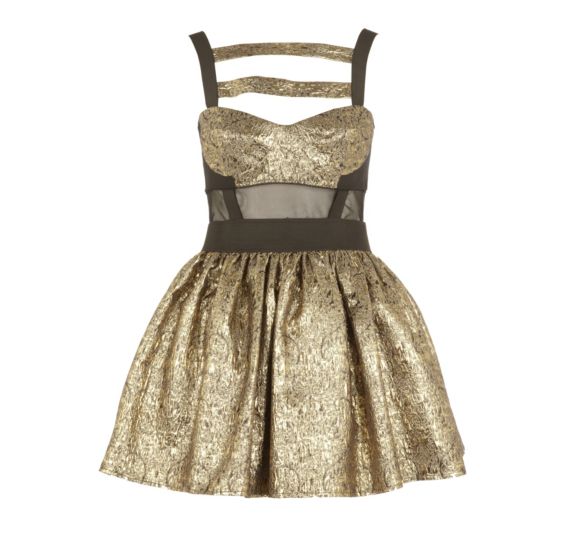 Maybe it's the inherent festiveness or maybe it's the chance to look like a present that's in need of unwrapping that makes this colour so appetising for the Christmas ball, but whatever it is, the look is fierce and standout.
The gold dress can be styled differently depending on your own personality.   Sequins are instantly glamorous and perfectly festive for this special time of year.   Detailing will elevate the sequins to a different level, adding a touch of sophistication, which is perhaps lacking in many sequined styles.  The cut out neckline and detailing around the waist of this River Island dress (right) adds an element of elegance to a short style and prevents it from becoming too Katie Pricesque.
If your style is more vintage than glamour puss, there are options open to you outside of sequins.  Gold doesn't have to be only used in blocks.  Trimming, frills and piping detail all give the same Christmas effect to a dress and aren't as overpowering as block sequins.
This gold flapper dress from Dorothy Perkins is perfect for old-style Hollywood glam, while still retaining a vintage edge.  Team it with some pearls and funky feathered headwear and the dress, though more subtle than the sequins, will scream for everyone to look in your direction.
Styling
Coats are for goats – Though it's easier said than done in this arctic north, the gold dress is all about the impact on entrance.  Keep your diva image alive by not layering with coats or cardigans.
Shoe-shine – This trend works perfectly with a pair of black heels, but why compromise on your one chance to shine.  Let them see your metallic, sparkly, jewel-encrusted, hypnotic feet.
Hat Hair – Hair-wear is acceptable if not encouraged at a formal event.  Something small and pretty can set an outfit off, but keep your make-up plain if you decide on a hat.
Essential wear – A napkin, gravy stains are not a good dress detail.