General Meeting fails to reach quorum
781 total views
Despite a delayed start, Tuesday's General Meeting of the Students' Union failed to reach quorum. 200 students were required to attend the meeting in order to discuss the meeting's business, which included four motions submitted by Chris Witter. The motions were submitted on behalf of the Lancaster University Against Cuts (LUAC) group and included a proposed Vote of No Confidence (VNC) towards NUS President Aaron Porter.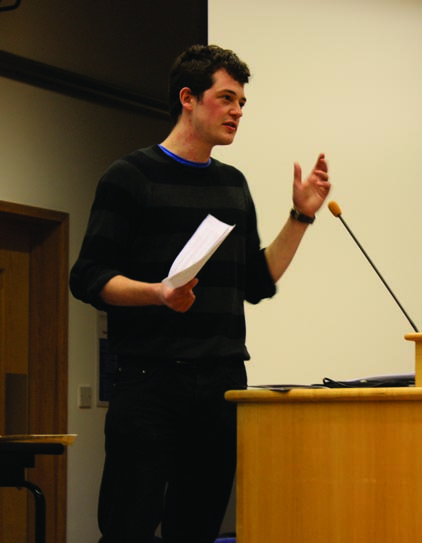 Due to start at 7pm, the meeting began shortly after 7.15pm, with the announcement that quorum had not been achieved. Vice President (Finance, Events, Democracy and Societies) Matt Windsor suggested to Witter that he stayed behind after the meeting to discuss his opinions. After a short conversation, it was agreed that the motions would be discussed as the first item at the meeting, but it was made clear that the discussions would not result in union policy and no vote would take place on the motions submitted by Witter.
In the first motion, which proposed the VNC of Aaron Porter, Witter produced a statement from the NUS President, written in response to LUAC's arguments. Witter declared "it was a fucking insult" and claimed the response may not have even been written by Porter, but instead by a member of NUS staff.
Further discussions took place on three other motions, during which a member of the audience proposed the meeting had lost its sense of purpose. Chairing the meeting, Windsor responded that "it's pretty pointless if we're not discussing things as a Students' Union". Windsor then arranged to meet with LUAC after the meeting to discuss ways in which they could take their motions forward for further discussion within the student body.
Immediately after the meeting, there appeared to be a sense of disappointment. Witter described the meeting as "heated", whilst another member of LUAC, Beau Bulman, summarised: "I am so disappointed about how defeatist everyone is. 'Oh there's been a vote so there is nothing we can do'. I mean this is crap. Throughout the representative history of England, people came back time and time again because they weren't happy. The Suffragettes, they came back, they kept fighting, they didn't give up and look what happened."
LUSU President, Robbie Pickles, said: "I am extremely disappointed that the turnout wasn't high enough to reach quoracy. We did more to publicise this general meeting than in most previous years. I strongly hope at another date this term, we can discuss and vote upon the proposals put to the general meeting today. It is fundamentally vital that the Students' Union listens to its membership but also that those it takes it lead from are representative of the broad views of the student body."
With the George Fox Lecture Theatre emptying, Windsor explained his decision to allow the discussions of the motion.
"Even though the procedures of the Students' Union stated clearly that there were not enough students in attendance to pass democratic policy that would represent the entire spectrum of student opinion, I took the decision to allow the debate to take place as discussion and collaboration is vital for the success of the student union movement."