Pendle Rooms opening night universally praised
611 total views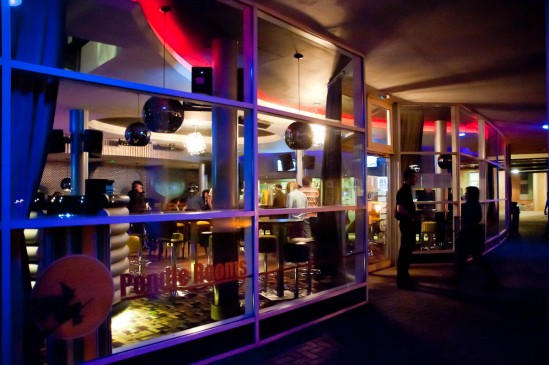 Pendle College's bar reopened on Friday, February 19 after a long-awaited refurbishment, and having been rebranded as the Pendle Rooms met with great success.
The doors opened at 8pm to those with student ID, with bouncers on hand on the door for the opening night. A constant crowd to get into the venue and the queues at the bar itself indicated that the night was going well.
Inside the effects of the refurbishment were obvious. Beneath glass chandeliers and a multi-coloured lighting rig the night lasted until 2am. A new sound system has been installed and flat-screen televisions have been mounted behind the bar. Surrounded by new booths, new furniture, a new bar, and an attention-catching ceiling that sports a mix of modern light fixtures, the overall appearance is that of a high-end club.
Solo act Danny Gruff kicked off the performances. As the evening progressed, the new stage featured acts such as the band Vinyl Jacket and the Safe & Sound DJs.
Pendle College residents were impressed by the new bar. "Basically, it was horrible before," said Nick Bilous, sitting with a group of his flatmates on stools around a tall, smart-looking black table. "It was described as an airport lounge," said Sarah Evans. "It went from that to a chic hangout place."
"It's more sophisticated," added Sophie Halliday. "More classy." This sentiment was agreed with by others at the night. "It's up-market but chilled," said Pendle resident, Hayley Smith. "It looks more like a bar now," Fani Neophytou, sitting near one of the new booths remarked. "Before, it was a big space with some chairs and a few tables."
Some who attended were more impressed by the attraction the bar had over the crowds present. "Look at all these people," said Kate Henderson, a Pendle College resident. "It makes you happy to be in Pendle. We're all coming together and we're all having fun." By 8.30 pm it was standing-room-only.
While most of Pendle College turned up for the opening night, the crowd also contained a mix of students from other colleges. A few Lancaster University staff members also attended the event.
Anne Stubbins, the Senior Tutor for Pendle College and Jill Harpley, Pendle College's Administrator were both present. Both women remarked on the improvements to the new space. "It's a place we can belong to," said Harpley, before being surrounded by Pendle students. "When you're outside you want to go in," added Stubbins.
The bar's refurbishment has introduced the possibility of a more varied night out for students, with some opting to use it as a venue in its own right. "The new one has people in it," said Jen Draper. "I think I could stay here and not go to town if it stays this busy."
Others, however, would use it as a place to start their evening. Pendle resident Nate Shehata said that while "it has quite the club feel to it" he appreciated Pendle's new bar for the opposite reason Draper gave. "I can see it being a good prep place before going out onto the town to the actual clubs," he said.
Friday's festivities will be followed by more events to come, including a DJ battle on Saturday of week six and a Quiz followed by acts by two comedians on the Sunday.