Milk bottle legs be gone!
744 total views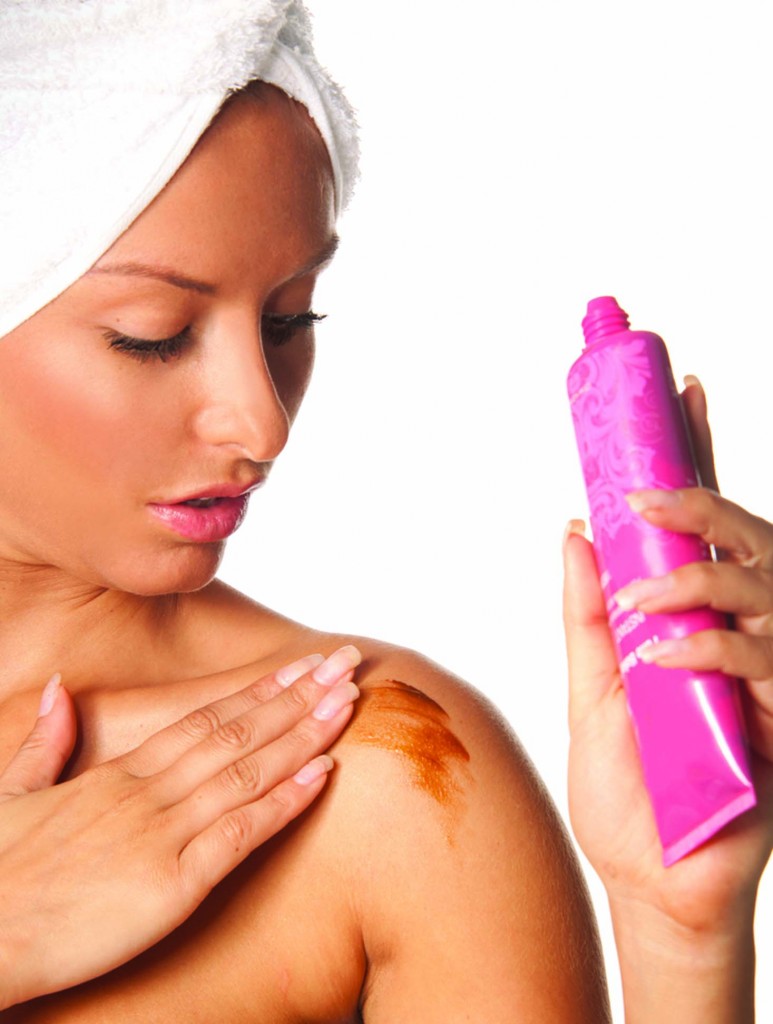 The sun is officially on holiday. It's packed its bags and decided Lancaster isn't for him. For most of us we accept this and realise that our campus has its own climate. We wrap up, don the coats and jackets and face the fact that the only part of our body to be seen by anyone until the end of May will be our arms; if they're lucky. For some of us winter may signal hibernation underneath layers of jumpers but it doesn't prompt the disappearance of that summer glow. The woolly glove comes off; the tanning glove comes on and out comes the fake bake.
Fake tan is a best friend to many, making girls, and occasionally guys, feel like they've been on a trip to the Bahamas, when actually they've probably just been eating a Greggs in the Learning Zone. But what really is the big fascination with looking bronzed all year around? Why can't we just let nature take its course and let pale be perfect for winter?
To a fake tan virgin, the process of getting smothered in liquid sun doesn't seem like a simple one, especially with the risk of looking tangoed. But regardless of the impending fear of the unknown, a high percentage of us will definitely have tried it, or thought about diving in at the orange end at some point. Personally, I over did it, forgot I'd put it on and woke up confused and looking like a rejected jelly baby. It wasn't pretty. However, for the tanning pros amongst us, the exfoliating, applying, then running around half naked trying not to stain the furniture, is a frequent and natural part of a beauty regime, especially when a night out is looming and skin will be showcased aplenty.
For many women, a little bit of a tan, whether from a sunshine coast or out of a bottle from Boots can provide that extra bit of confidence to wear a particular outfit and feel comfortable flashing the flesh. From cheap and cheerful wash offs to spray tans for special occasions, the desire to look temporarily sun soaked is a welcomed notion for many and not one we'd consider particularly abnormal, especially in student filled chilly Lancaster. For others however, that desire for the summer sparkle is taken to the extreme, with tanning becoming not a subtle application for a night on the town but a potentially fatal obsession.
American news outlet Msnbc recently conducted a study to conclude that the risk of skin cancer jumps by 75% when people start using tanning beds before the age of 30. Yes, getting those legs out after a summer of hibernation is a horrifying prospect at times, but surely shedding the Twilight look isn't worth risking your health for? Fake tan, although sometimes criticised for giving birth to the burden of streaky legs or tangerine hands, is the sensible solution to those desires to shun the effects of winter. On the other hand Sun beds, however great for instantly banishing the pale paranoia, carry a serious health warning worth noticing.
Ideally, everyone should be happy in their own skin, embracing the pale and interesting look to let the natural glow prevail. But for those unsatisfied with a pale complexion, grab a good foundation or break out a bottle of St.Tropez. Having that summer glow can be an easy affordable goal just waiting to be experimented with if you have the time, patience and inclination. However, be warned, one dodgy application can leave you mentally scarred for life. Trust me, a netball match with orange highlighters for legs can't be easily forgotten.