Men vs. Shopping
448 total views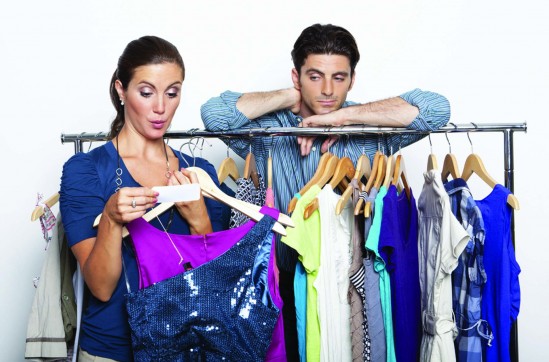 For a lot of lads shopping is the single most fearful thing. This phobia can range from an irrational, intense fear of sales racks and dressing rooms to breaking out into a cold sweat at the mention of all activities associated with spending your pennies. Ever since Jack stupidly traded his Mum's prized cow for a bag of magic beans it seems as if lads have been cursed with a loathing for shopping. The genius who came up with ASDA, Tesco or Sainsbury's deliveries has helped men all around overcome the boredom of the weekly food shop but going into town or to a shopping centre is a completely different story.
So let's think about the rationality of these fears. Going shopping on your own makes you look like a loner, with the exception being the days leading up to Valentine's Day, when men are generally on a mission looking serious or confused and it's generally accepted that it's natural for them to be out having a browse. Shopping actually on the day that the gift is required, like Valentine's Day, leads many people to look at us and put us in the bad books. But if you hate shopping, naturally you're going to put it off for as long as possible.
There is something worse however; shopping with your Mum. This experience takes you back to the days when you were younger, holding her hand though the town centre and running off with a giggle, hiding in the changing rooms while she's browsing in Ethel Austin's. But you're not 17 anymore, you have to grow up. We're at that odd age now where we're not being taken to town by her because we're too young, and not taking her to town because she's too old. But if she gives you 20 of the Queen's head on the sly and tells you to go and buy something nice, the trip is definitely worth it!
Maybe she's not the only special lady in your life you'd go shopping with, maybe you go shopping with your girlfriend? This one can be a great day out and is definitely socially acceptable. Take her to her favourite places Topshop, River Island to name a few and she'll love you forever. Standing outside the changing rooms while she tries on half the shop will be worth it just to see her happy face when she's reduced her 200 purchases to a more understandable 198.
The truth is that not all men are petrified of shopping. Yes ladies, you read it here first. Despite the hustle and bustle of the ignorant zombie-like pedestrians walking in lines through Manchester or London, or the emptiness of your bank account when you get back home, shopping these days offers more than ever before. I'm not just talking about the inevitable, ever pleasing run and glide on supermarket trolleys, just think of the Trafford Centre; where else could you eat a McDonalds on the Titanic? So with big wheels, Christmas markets and carnivals in loads of cities up and down the country it seems as if finally society is saying 'Lads, we know you have to come to us, so we're going to make it as enjoyable as possible.'