Universities' union calls for strike action next week
2,118 total views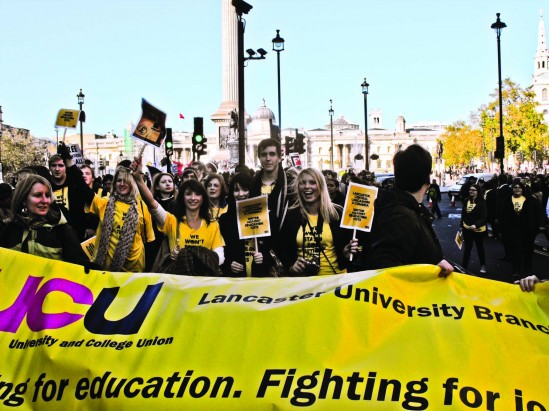 Members of The Universities and College Union (UCU) are expected to strike on March 22 and March 24 over disputes about pensions and job security.
The union, which includes many Lancaster University lecturers and teaching staff, balloted its members during Week Seven on whether it should strike.
Two ballots were issued. The first regarded employers' failure to engage with the Union's concerns over job security and pay. The second regarded the Universities Superannuation Scheme (USS), which is the principle final salary pension scheme provided by universities for their staff.
A low turnout for the ballot was put down to the short time allocated for voting.
The results of the ballot were announced on March 10, and revealed a substantial majority in favour of the strike about the USS changes, and a small majority in favour of the strike relating to pay. Officials of UCU are still keen to communicate more with the USS Trustees.
So far 63 universities have decided on strike action this month, which will effect over a million students unless UCU's disputes are resolved.
Strike days will occur across England on March 22 and across the UK on the March 24. The dates for strikes at Lancaster are still under discussion. UCU members at Lancaster have mandated the Union to call strike action, both over pay and job security and over the proposed detrimental changes to the USS pension scheme.
Lancaster University is currently proposing a number of staff redundancies, both across support staffing in Facilities and also some senior lecturing posts in teaching departments.
There has also been a redundancy freeze in some departments which has already had an impact on teaching quality.
LUSU President Robbie Pickles said he wants to meet with UCU local representatives before agreeing to support the strike. He added: "I would also have to be satisfied that this strike has a clear objective or is likely to achieve anything at all.
"If this strike is damaging to students but achieves nothing for academics I couldn't justify supporting it whilst also acting in the best interests of LUSU's members."
UCU has regularly defended students' against soaring costs and declining teaching quality, and stood in solidarity with student protesters in London during the November student fees protests. Many other universities' students' unions have already pledged to support the strikes, which primarily concern changes to staff pensions.
Politics student Ben Smith commented: "I agree with teaching staff striking, as whilst there won't be any redundancies, the recruitment freeze placed upon departments because of massive budget cuts in the government's teaching budget will make Lancaster University a less competitive institution for present and future students."
However, English Literature student Zoe George disagreed, saying "considering how common strikes seem to be these days, you have to wonder whether strikes have lost their effectiveness".
The strike could be called off if an agreement is reached between UCU and the university employers. UCU General Secretary, Sally Hunt, said: "University staff really value their pension rights and have made their views of these detrimental changes crystal clear. However, action is always a last resort and I am ready and willing to clear my diary to meet the employers through ACAS immediately.
"We can avoid widespread disruption on campus, but both sides must be prepared to go that extra mile and move quickly. The ball is in the employers' court and we await their response."
Universities face an 80% cut to their teaching budgets starting from 2012, which was announced in the comprehensive spending review, and as part of the £1.8bn government cuts, universities are set to lose £190m between April and July this year as teaching and research budgets are slashed.
Up to 100 universities (two-thirds of the total) are planning to make collective redundancies. Thames Valley University has announced it is closing an entire campus. At Surrey University 65 staff are at risk and 550 staff at London Metropolitan University (one quarter of the workforce) face redundancy.
Any strike action is likely to co-ordinate in some way with the TUC National Day of Action planned for March 26.