Inagural fight night a big success
527 total views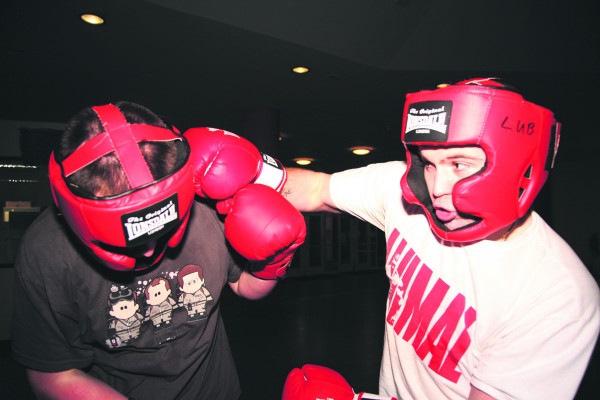 Lancaster's boxing society hosted its first ever inter-house competition on 1st March. There were no clear expectations laid out but what a night it turned out to be.
The night took off with Ryan Austin winning the first fight over three rounds against Sam Levy setting a very quick pace for proceeding match-ups.
Sean Connor and Matt Preston followed up and slugged it out to the finish with the only official draw of the night.
Matt Whitehead then gave an inspiring performance to overcome the giant Dave Preston rounding off the first three fights.
An extra exhibition match saw Mikail Shaikh take on Pete in a very technical contest adding a different dynamic to the event, which was proceeded by Tom Cunningham taking the third competitive victory of the night against Krishan Mistry.
The sixth fight of the night saw Tom Bryan victorious against Arik Johnstone in a defensive yet very skilful match, with several well-timed counters being the deciding factor between the two.
Two more exceptionally speedy fighters drew against each other next as Ben Dagger took on Ed Rob. Both put in a great effort but a better display on the night swung the match in the favour of the latter.
Liam Fitzpatrick then took on Danny Summer in a fight that also demonstrated great composure from both sides with both fighters' movement and combinations tactically adjusted. Fitzpatrick triumphed overall in what can only be described as a close fought match-up.
The intensity of the night went up a gear as Adam Ogden overcame a nightmarish first round to beat Ronan Szelesi in the ultimate comeback of the night. Ogden just managed to keep himself ahead in the fight with a good sense of movement and body shots scoring a greater total of connections. This brought the fight to an end before the third round had even finished, despite taking several resilient hooks to the head.
The penultimate fight of the night saw Whitehead enter the ring for the second time to take on Ben J. Moore. The first round began fairly evenly although the second came to an abrupt end as Moore placed his opponent in a worrying state, taking the victory.
After all was cleared to continue, the night finished with the main event, seeing Mikail Shaikh enter the ring once again to take on Kaiser Cordova.
After an explosive start Cordova lost his footing on occasion but impressively sustained Shaikh's rallies as he fired back to keep his opponent at distance. The second round began with Shaikh throwing combinations left, right and centre. Shaikh eventually took victory in the third round through one last outburst of strikes that were simply unstoppable, finishing all of the bouts of the night.
To sum the night up in terms of its impact and importance, boxing President, Sam Levy, commented: "The night was a fantastic example for our members to show off all the skills they have learnt over the year. Everyone did really well and did themselves a massive credit. All the support we received from people just coming to watch was overwhelming, it was amazing to see so many people there."
He continued: "The night went so well I really hope that the Fight Night can become a major end of term event in the L.U.B calendar in the future."