Alex Square comes alive as students look to send a message
798 total views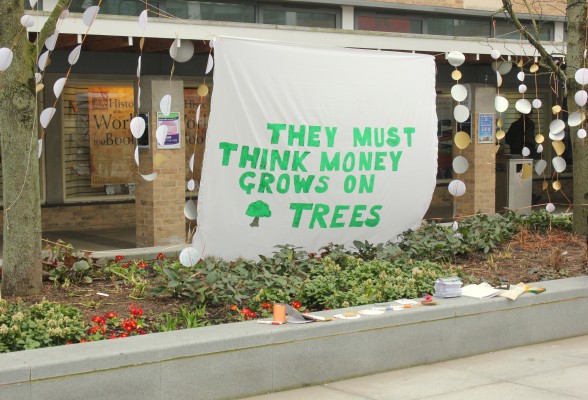 Wednesday 14th March saw a number of student groups converge upon Alexandra Square to raise awareness of a range of issues in the Higher Education sector.
This week is the National Union of Students' (NUS) Action Week, in which the NUS are seeking to raise awareness of the recently-shelved Higher Education bill and concerns about the privatisation of universities.
Lancaster University Students' Union (LUSU) were promoting the NUS's Come Clean campaign, which aims to pressure universities to provide more information to students on the hidden costs of courses.
Students were invited to write hidden costs which they had experienced onto pieces of card which were then attached to a 'money tree', alongside a banner reading "they must think money grows on trees."
Speaking to SCAN in Alexandra Square, LUSU President George Gardiner explained that "we're trying to inform and educate students on the effects of the Government's proposed changes [to Higher Education].
"We want the University to come clean on the costs that students are facing beyond tuition fees, so we want them to come clean and be transparent about course costs [such as] books, field trips, printing, lab coats, all the different things you can think of that are costing students to do a degree."
LUSU Vice President (Equality, Welfare and Diversity) Matt Saint was positive about the reaction to events in the Square, particularly the presence of other student groups alongside LUSU.
"People seem to be enjoying it, there's a lot of other things going on as well in the Square today around the same message. We've got the free market, the free cash machine and lots of other groups are out talking about things to do with cuts, which is great," he said.
Second year student Ronnie Rowlands stressed to SCAN the importance of sending a message to University management as well as to students.
"I'm actually made up to see LUSU giving a real visual presence here right in front of University House, which is sometimes considered to be too rare," he said.
"The University don't publicise these costs in their prospectuses. I came here to do Theatre Studies in the first year, no-one told me that I had to go and see about eight compulsory shows, no-one told me that I had to subscribe to Live at LICA, I did none of those things on principle and I pass with a 2:1."
Saint corroborated on this point, explaining that "we've been flyering as well to inform people about the HE bill being dropped and what implications that could have, such as if it's not properly discussed in parliament we could end up with taxpayers' money going to fund unregulated universities, which isn't really fair.
"[This is as well as] sending a clear message to University House that they need to be doing more on telling people what their course is going to cost."
Saint added that after the visual campaigns taking place this week "it's going to be about lobbying the University more and more to actually provide information to potential students and to provide current students with clear mechanisms of how to claim back money if they need to for certain things, because you can do it, it's just not very clear."
The NUS also called upon students to walk out of classes on Wednesday to send a message to Universities and the Government.
While LUSU did not organise a coordinated walkout, President Gardiner said that "we're supporting students who've chosen to walk out today, we've not actively coordinated one though.
"What we wanted the focus of this week to be was on educating people and informing people and trying to get the University to come clean."
However, Kate Fitzhenry, a member of Lancaster University Against Cuts (LUAC), felt that LUSU should have coordinated a walkout.
"They said they didn't want to call for a walkout because they didn't think it would be constructive, but I don't think things like that are about being constructive or destructive, it's about making a statement," she said.
"Our University and our Students' Union are not doing enough. I really like them as individuals, I'm not trying to slander them, but […] they should have called the walkout. You don't have to walk out if you don't want to, but they should have known about it."
Also present in Alexandra Square was a free shop run by Lancaster student Ellie Best, as part of the ongoing National Student Money Week.
I decided to run a free shop to show that actually a lot of the time we don't need to use money because so many people have things they don't want and don't need that if you ask around you can redistribute it to people who do need things and do want them," Best told SCAN.
She continued, "it's really nice to see a smile put on people's faces. I think a lot of people don't understand that you can get stuff for free, a lot of people think that I'm going to trick them or charge them."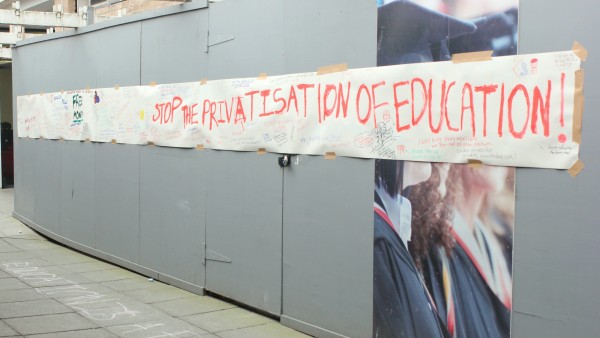 The Free Shop was run in conjunction with members of Occupy Lancaster, part of the global anti-capitalist movement which has arisen in the last few months, who have run a similar venture in Lancaster.
Best was pleased to see awareness being raised of the recently-dropped Higher Education bill, which the NUS argue would at least have facilitated debate on issues surrounding the privatisation of education.
"Even though it's officially been dropped, it just means it doesn't have to go through some of the stages of Parliament, it can go in as secondary legislation without debate and a lot quieter, so actually now it's more dangerous now it's officially been dropped," she said.
The academics' union, University and Colleges Union (UCU), were present in Alexandra Square in a show of solidarity with students. LUSU and in particular members of Lancaster University Against Cuts (LUAC) have previously supported UCU in their ongoing dispute with employers over pensions.
One UCU member told SCAN that it was "important for UCU to show solidarity with students in the same way as they showed solidarity with us."
Members of LUAC also staffed a stall and provided literature about the privatisation of Higher Education, as well as continuing to campaign on other issues such as the University's Business Process Review and the exploitation of postgraduate teaching assistants.
LUAC member Chris Witter told SCAN that "We're here to give a bit of an edge to events today, and offer an alternative and say we're still not happy, we still haven't gone away. The BPR is still going on and we're still really worried that admin staff are going to be made redundant."
LUAC also brought a creative edge to proceedings, inviting students to sign and write slogans on a mural along the spine in protest against the privatisation of education.