Lancaster prove themselves the better side in Indoor Frisbee Mixed
470 total views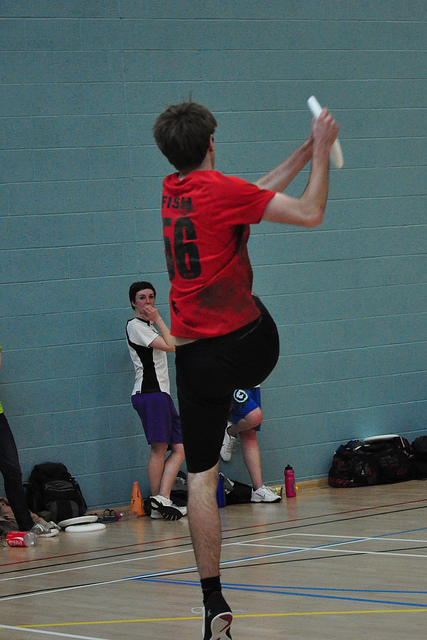 Following the Open and Women's events, the Indoor Frisbee Mixed competition worth another two points began.
What should be noted however, is that there was a women's only game played in between, which was the first of it's kind in Roses. Only an exhibition match, the game was close but ended 9-4 to York. This was probably a wise choice on Lancaster's behalf to keep it an exhibition match considering that the York Women's team are 3rd in the country.
The mixed competition rules are that there must be a minimum of two girls on each side playing at any one time. But every time a point is scored the line out is formed again, and players can be changed. The rules are that the team with the disc at the line out chooses the number of girls, so can up the minimum of two if they choose.
Lancaster started with the disc this time, but mistakes in communication meant it was dropped and the turnover meant York scored first. Defence from Lancaster remained strong and it was soon made 1-1 by Captain Will Doole.
The game seemed much closer from the offset than the previous Open game, as shown by a joint grab of the disc from Lancaster and York players in the end zone on an attempt at one point.
Solid York defence made it hard for Lancaster to successfully break from the stack on many an occasion. But a series of end to end long throws from the duo of Peter Garnett and Will Doole quickly brought the score up to 2-1.
A show of promise, but some slick down the line throwing from York brought the scores level again at 2 all.
A Lancaster women's player did stoop over in exhaustion on the sidelines at this point, probably due to the quick succession of games, but she was fine.
The score remained a draw at seven minutes to go, with questions on the sideline of whether it would remain so in which case the points would be split one each.
An American "import", Cristian Felice made many a great attempt, but was denied by York. Lancaster show their strength as a team, and essentially their higher competition standings in scoring four more times.
Some brilliant interceptions kept York off the scoreboard and Lancaster secured the win 6-2.
Great support from the sideline obviously enhanced their confidence, but at the end of the day Lancaster came across as the better side. York Captain, Jamie Smith, said: 'Both sides were well spirited, but the scoreline showed the strength of the Lancaster team.'
Four points for Lancaster in total, and congratulations to the Indoor Frisbee sides, both of which played well. Now to Saturday's outdoor competitions starting at 13:00 on the football pitches by the astro.