York defeat Lancaster by 33 runs in low scoring game
497 total views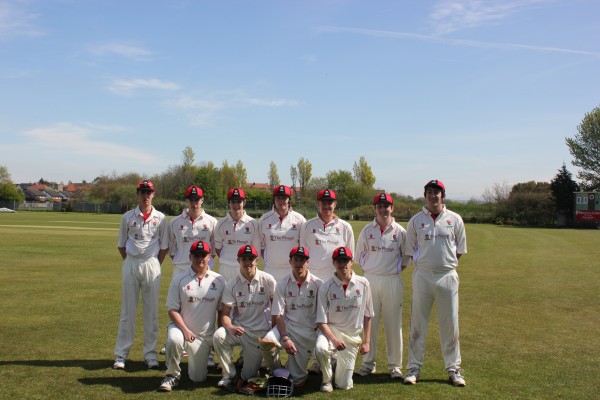 Alex McDonald's all-round performance and Charlie Alsop's fierce opening bowling spell meant Callum Steel's five wicket haul was in vain as York beat Lancaster by a comfortable margin of 33 runs in the Men's 2nd team match.
The Match began with Lancaster winning the toss on a bright sunny day and Captain Adam Heayns deciding to ball first on a green top wicket. With three quickies in his arsena,l he wanted to bowl out York within 160 and chase it down with a batting line up stretching till number 10. His decision almost seemed to have backfired at one stage when Alex Mcdonald and Rory Walker took Lancaster's bowling apart and York was looking good to get 230 on a bowler's paradise.
Lancaster needed some luck and they got it when Walker was run out right after the drinks break, but this did not seem to slow Mcdonald and he continued to hit attacking shots against the spinners. Callum Steel who was taken for a few elegant boundaries by Ben Cooke in his first spell used the old ball to perfection and removed Mcdonald and Brierley in one over to bring the game even.
On a pitch difficult for batsmen, York's middle order struggled against Steel's pace and swing and from being 138/4 at one stage collapsed to 160 all out. Steel eventually took  five with Walsh taking two wickets.
The Job was half done for Lancaster and it was left to the batsmen to do their bit. York, (considered by many to be a batting powerhouse with not many quality bowlers in their arsenal), were staring at a crushing defeat at half time.
This was all about to change in a matter of 10 minutes when Charlie Alsop took two wickets in his first over to bring the game even. York used the new ball splendidly and their dominance was evident in the fact that Lancaster got their first boundary in the 18th over.
At 39 for 2 just when Lancaster was rebuilding, Tomkins was run out by a direct throw from mid off. What started after that was a middle order collapse very similar to what we witnessed with York in their innings as 39/2 at one stage crumbled to 75/8.
It was looking to be an embarrassing defeat for the home side in Morecambe, but Josh Wolcott and Ben Ingham had other plans. Both showed tremendous fighting spirit in the middle over's to take Lancaster to 126, their partnership showed that the right way of batting on this pitch was to stay there for a couple of over's before you could play your shots. This was something York's did really well.
Just when the game looked all set to go down to the wire, Josh Wolcott perished for a well made
30. Ingham's innings came to the end in the subsequent over and York had won a comfortable game in Morecambe.
The game demonstrated Lancaster's need to work on their middle order which proved to be their second middle order collapse this season. However, the side has a lot of positives to take from the game and the fighting spirit they showcased time after time during the game is one of them.
York would be disappointed with their middle order as they should have crossed 200 to seal the game in the first half, but they would be more than happy with their bowlers rescuing the batsmen.